On 22nd evening, Rashtriya Rifles gunner Pitabas Majhi had called up his wife Bedamati from Uri, telliing her that he would be at home on 25th.
But little did Majhi, 30, a gunner with Army's elite counter-insurgency unit 34 Rashtriya Rifles Battalion since 2008, know that his body would arrive at his native village Danajhola in Komna block of Nuapara district. "He seemed so happy and told his wife that his leave application has been approved and he would dance after reaching home," said his uncle Bhuban Singh Majhi. The young gunner married since 2013 was expecting his first child in a month's time and was expectedly eager to meet his wife.
Shortly after he spoke to his wife, the tribal Armyman went on a combing operation in Uri and was injured in gunfire. Majhi's family member tried speaking to him next day, but the phone was unreachable. "We got restive but we had no other way to contact him. On September 23, we heard unconfirmed news of Pitabas having been injured. My daughter-in-law stopped eating," said Majhi's father Rudra Singh Majhi. The final confirmation came yesterday evening when a team from Komna police station reached their home and told about the young Armyman succumbing to his injuries at the 92 Base Hospital of the Army in Srinagar.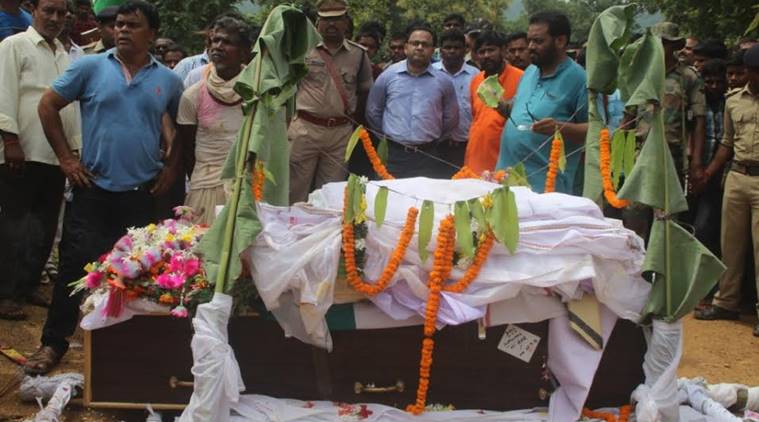 As the tricolour-draped body of Majhi in a casket arrived from Raipur and reached Danajhla, thousands of people lined up both sides of village road to have a glimpse of him. Slogans of "Pitabas Majhi Amar Rahe" and "Bharat Mata ki jai" rent the air. Nuapara district collector Mohammed Alam and SP MS Sampat laid wreaths on the casket amid 21 gun salute by local police. Majhi was later cremated in his own paddyfield as per local tribal customs. "He was the first Army recruit from our village. We will always miss him," said schoolmate Akshay Panigrahi.
Majhi, who had last come home on August 26 during Rathyatra was the mainstay of the household. He had made their house a concrete one last year with his salary. "He was instrumental in looking after his 5 other brothers and their families with his own income," said his uncle.
The Indian Express website has been rated GREEN for its credibility and trustworthiness by Newsguard, a global service that rates news sources for their journalistic standards.