Updated: December 11, 2015 12:36:36 am
With the Ganga flowing quietly behind it, this abandoned ashram in Rishikesh has received many pilgrims over the years. They have picked their way through the thick undergrowth to reach the dilapidated Maharishi Mahesh Yogi ashram that once briefly housed the Beatles.
Now, the pilgrims can look forward to a new temple.
Uttarakhand's Forest Department, under whom these premises fall, has converted the ashram into an eco-friendly tourist destination, offering bird walks and nature trails. Abandoned since 1997, it was thrown open to public on Tuesday.
Watch 'The Beatles' Come Back To Life In A Corner Of Uttarakhand

It was in February 1968 that the Beatles turned up in Rishikesh to learn transcendental meditation from Maharishi Mahesh Yogi. The now-derelict, igloo-shaped Chaurasi Kutiya cottages was where they were holed up, lost in meditation and music.
They are said to have written 48 songs here in just seven weeks, many of which made it to their famous White Album. Ringo Starr is said to have left within 10 days after his stomach couldn't cope with the spicy food, followed by Paul McCartney three weeks later. John Lennon and George Harrison stayed on for eight weeks.
Legends about the band continue to echo in the premises. It is said that Lennon wrote 'I am so tired', during his stay with the Maharishi, after being deprived of booze, drugs and tobacco, and getting little sleep.
All did not end well with the trip, as the group and their friends were particularly left troubled by the onslaught of monkeys and mosquitoes.
Perhaps, they would have approved of the refurbishments. The ashram, which falls in the Rajaji National Park, has been given a facelift and sports clean floors and new toilets.
"We have cleared the floors and walls of all creepers and have removed cobwebs and garbage from the meditation cells and halls. We are introducing a nature and bird walk. Later, we plan to open a cafeteria," said Rajendra Nautiyal, ranger of the Rajaji National Park's Gauri Range.
But the biggest draw remains the artwork on the walls of the yoga hall. In 2012, Canadian artist Pan Trinity Das came here and with the help of a bunch of travelling artists, painted colourful strokes of pop art and black-and-white portraits of the Beatles alongside those of spiritual teachers, including Yogi and the Dalai Lama. On another wall are splashed the lyrics of the Beatles's 'Here Comes the Sun' and 'Let It Be'.
Das called this hall the Beatles Cathedral Gallery and the name has stuck. But the 30-year-old wonders if he will be able to paint now under the supervision of guards and officials.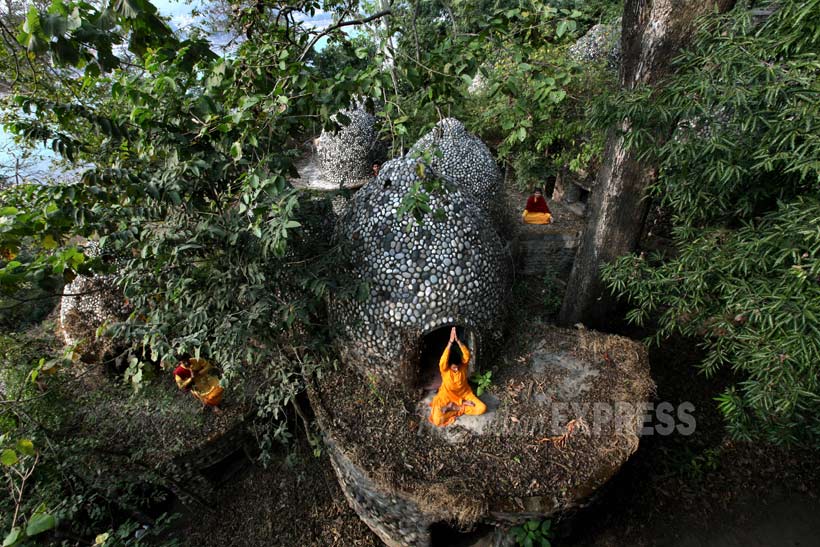 Speaking to The Indian Express over phone from California, the artist said, "I haven't been invited for the opening but I wonder if we will still be allowed to paint. Earlier, we could directly gain entry inside the forest without any supervision and permission and paint but I doubt if it will be the same."
On their part, the forest officials have decided not to touch the art work, except for repainting some walls that have been overrun by graffiti. "No one will be allowed to draw on the walls anymore. But an artist can take permission and paint since it's the artwork here that is its biggest draw," said Nautiyal.
Uttarakhand Forest Minister Dinesh Aggarwal, who was the chief guest on the opening, said, "This is our state's treasure and its opening is an important landmark for us. We plan to include a yoga learning centre and meditation classes at a later stage. Our aim is to ensure that visitors don't simply come for the Beatles connection but to learn the magic of nature, meditation and yoga."
The entry fee for Indian tourists is Rs 150, and Rs 600 for foreigners. The backpackers are clearly not happy. "Earlier, nobody had to buy tickets but Rs 600 is too much for us. It's what we would pay for three nights in a hotel here," said Patricia Gonzalez, 33, from Spain.