The coming few months promise interesting times for sugar and wheat. The reason for it isn't just their tight domestic supply position: Sugar is retailing at Rs 42 per kg in Delhi, as against Rs 30 a year ago, while government wheat stocks, at 268.79 lakh tonnes (lt) as on August 1, are the lowest for this date in eight years.
The interest is also augmented by the fact that Uttar Pradesh (UP) and Punjab — the former, India's largest sugarcane as well as wheat producer, and the latter, the biggest contributor of wheat to the Central pool — are headed for Assembly polls, most likely to be held in January-February. Election time is when the voice of Punjab's estimated 10 lakh-plus wheat farmers and UP's 25 lakh or so cane growers may count no less than the more vocal urban consumers.
Two decisions in this regard will hold particular significance. The first relates to the Centre's minimum support price (MSP) for the 2016-17 wheat crop planted in November-December. The second has to do with the UP government's State Advised Price (SAP) for sugarcane to be crushed by mills in the new 2016-17 season (October-September). In both cases, there is political pressure, and also perhaps some economic rationale, to sharply raise prices.
In wheat, open market prices in UP mandis like Etawah, Hardoi and Shahjahanpur are ruling at around Rs 1,650 per quintal, compared to the current MSP of Rs 1,525. Last year at this time, prices in the same markets were Rs 1,400-1,450, below even the then MSP of Rs 1,450 per quintal. In southern markets, flour mills are buying wheat now at Rs 2,050-2,100/quintal.
"There's very little wheat in the open market or even with the government. And our worry is that the next crop will arrive only from March," notes S Pramod Kumar, executive director of Sunil Agro Foods Ltd, a Bengaluru-based miller.
Contrast this to the surplus situation in 2015-16, when the Centre allowed the Food Corporation of India to make open market sales of 75.06 lt of wheat from its godowns to millers and other bulk consumers. That flexibility is no longer there when its stocks have depleted to 268.79 lt, as compared to 367.78 lt on August 1, 2015 and 381.08 lt on the same date of the preceding year.
All this, then, makes for a seemingly strong economic case to hike the MSP for wheat significantly this time. The neutralising factor here, though, could be low international prices. The landed price of Australian prime white wheat in India is now $ 230-240 per tonne or under Rs 1,600/quintal. Grain from Ukraine, Russia and France is available even cheaper at $ 200-205 a tonne or roughly 1,350 per quintal. The only thing preventing large-scale imports is a 25.75 per cent customs duty, whose removal would, of course, be politically suicidal at this point.
The case for raising the SAP of sugarcane rests on much firmer ground. The UP government has kept the SAP flat at Rs 280 per quintal since the 2012-13 sugar season. Four years of no raise may be justification enough for granting growers an increase in 2016-17. This is even more so when the average ex-factory prices of sugar in UP has gone up from a low of Rs 22.54 per kg in July 2015 to about Rs 36 now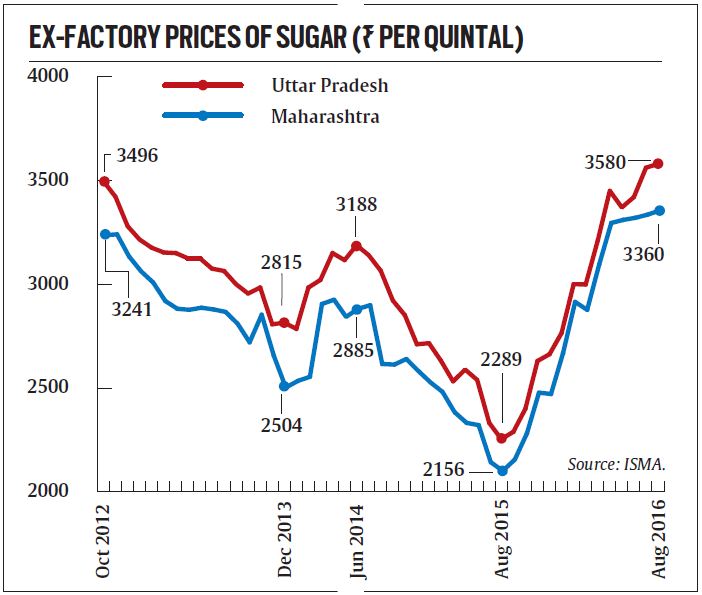 "The only reason why UP mills haven't paid higher cane price is because of their average sugar realisations falling from Rs 31.90 per kg in 2012-13 to Rs 30.01 and Rs 25.64 in the following two seasons. Today's realisations are just above what they were in October 2012 and at these levels, some increase in SAP should be possible," said Abinash Verma, director-general, Indian Sugar Mills Association (ISMA).
According to a UP miller, farmers can be paid 75 per cent of the realisations from sugar sales. Thus, if the SAP is set at Rs 300 per quintal and sugar recovery from the cane is 10.6 per cent — which was the average recorded in the 2015-16 season — the corresponding ex-factory price for sugar would have to be Rs 38 per kg. "Will the Centre allow us at least that price, enabling us to pay a cane price of Rs 300 per quintal?", he asked.
The Centre has, for now, been quite hawkish with respect to sugar prices. On May 19, it withdrew a subsidy of Rs 4.50 per quintal for cane crushed by mills that was conditional upon their meeting pre-fixed export targets. This was followed by the clamping of a 20 per cent duty on sugar exports on June 16. More recent has been the move mandating mills not to hold stocks amounting to more than 37 per cent of their 'available' sugar (from production during the 2015-16 season) as on September 30 and 24 per cent at the end of October 31.
"The whole objective is to force mills to sell sugar and ensure the market is well supplied during the festival period, especially Dussehra and Diwali that fall on October 11 and October 30, respectively," an industry observer pointed out. But this, he felt, is extreme short-term thinking. The real impact of the supply shortfall in sugar is going to be felt only in the coming season. "It's actually better to have mills holding stocks now, rather than offloading these for this Dussehra and Diwali".
ISMA expects opening stocks of sugar for October 1 at 72 lt. With estimated production of 232 lt in 2016-17, domestic consumption of 260 lt and zero exports, the season may end with stocks of about 44 lt. But there are others who believe that the 232 lt output estimate may be on the higher side, as it takes Maharashtra's production at 61.5 lt and Karnataka's at 32.2 lt.
Given the extent of drought in these two states last year — whose effects on production of sugarcane, which is a 12-month crop, will be felt only in 2016-17 — they don't rule out the possibility of India's sugar output falling to even 220 lt, from 251 lt and 283.10 lt in the preceding two seasons. That would leave closing stocks at 32 lt, equivalent to one-and-a-half months of consumption. Either way, it leaves a precarious supply situation in sugar far more serious than for wheat. In the latter's case, there is at least comfort from low global prices, which isn't so with sugar.
Even if raw sugar is allowed to be imported duty free at today's prices of 20 cents a pound, the cost of processing and producing whites from it at a mill close to the ports will not be less than Rs 35 per kg. It would be even higher if processed in the hinterland. And international prices, needless to say, will shoot up the moment India starts importing.
That being the case, it makes no economic sense to artificially suppress sugar prices, what is what the Centre is doing at present. Nor does it make any political sense to have a build-up of cane payment arrears during January-February, just when voting in UP is underway.