EVIDENCE is emerging that contradicts the denial put out by Albasit Khan, the former Essar employee who allegedly handled the tapping of VVIPs for five years, and forwarded by Essar. Both Khan and Essar said yesterday that they had nothing to do with the tapping of VVIPs, as alleged in Supreme Court lawyer Suren Uppal's complaint to the Prime Minister, first reported in The Indian Express.
But Khan, Uppal says, left behind in the lawyer's Noida basement office a voluminous set of papers and logbooks that he may find hard to explain. These include: a set of handwritten logbooks and diaries which list telephone numbers; call timings and snapshots of conversation. A 2002 company notebook (with Essar logo on each page) has been used, for instance, to list precise call timings against every date and the targeted telephone number.
Watch | Essar Phone Tapping: Centre To Order Police Probe
There are six handwritten logbooks and Uppal says they were left behind by Khan. "Khan had brought these logbooks from Mumbai and used to refer to them when we were together hearing the tapped conversations one by one for preparing transcripts and the complaints," Uppal told The Indian Express.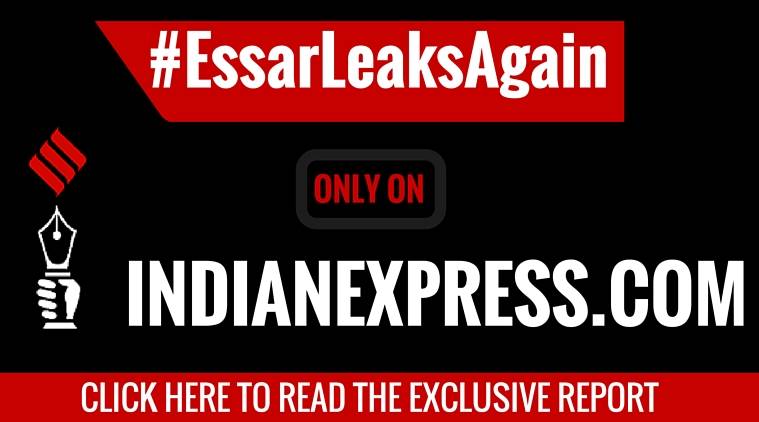 "Suddenly around April 21, things changed and he severed all communication with me. It was two weeks later that we found the logbooks left behind in a bag in my office." The Indian Express has obtained the logbooks and a scrutiny shows that they could hold the key to deciphering the entire interception.
For, these logs include:
* Albasit Khan's listing of tasks to be performed for the company's in-house security and surveillance.
* Outlining what needs to be done for the "external setup".
* Objectives are spelled out. "Focus on competition/expose their designs and dealings/penetrate into their network/disrupt their activities."
* Then some "areas" are scribbled in the same page: "mobile conversations/computers/surveillance tracking."
* A bulky logbook lists several pre-paid BPL numbers and the "target numbers" which were allegedly to be tapped via triangular interception.
* This log includes a listing of numbers of important people like Suresh Prabhu, Praful Patel and Rajiv Mehrishi and gives brief snapshots (just a few words) of conversations, against date and precise time.
* Some examples of scribblings, clues only for those who are familiar with the contents of the phone chats: "shredding papers on large scale" or ''middleman judge deal Gorakhpur or "ticket issue for Gujarat election" and this entry "MDA/Amar: duration 13.09 sec time 3:15 pm (politics)".
[related-post]
Watch Video: What's making news
These entries assume meaning only when matched with transcripts of matching conversations which have been handwritten in three other large-sized notebooks. Uppal and his staff are now in the process of making detailed transcripts of all 20 compact discs of allegedly intercepted conversations but they admit the actual number of CDs would be many, many more.
"Albasit had told me that initially they would record the conversations in cassettes which were later transferred onto CDs. He told me there was enough to fill an entire room but this would also include recordings of internal telephone surveillance done on Essar senior staff which is how conversations of the Essar bosses are also with me. In all, I think there would be 200-300 CDs out of which I only have 20," Uppal said.
That the database is formidable is evident in the fact of three handwritten volumes with transcripts. Each page contains a distinct purported chats which is numbered A,B, C and runs into, say, 50 or 100 exchanges in each.
Some pages have been captioned thus: "politics", "Kirit Somaiya", "Gas petroleum Strategy"," "Enron MSPCS Pollution Board", "excess deficit charge" and so on. All the logbooks of the Essar Tapes are with The Indian Express and a scrutiny of these three conversation logbooks (they are not detailed transcripts) expose what certainly appears to be corporate influence peddling with any number of freewheeling chats between corporates and politicians on Government policy, Cabinet formation. Judicial pronouncements and the role of the media.
At this stage, pending verification of these chats, The Indian Express is not specifying the details of conversations or naming the VVIPs who allegedly figure in these.