Until a couple of years ago, the guar economy of western and northern Rajasthan was on a roll. Farmers and traders of guar, not to speak of exporters of the gum produced from the seeds of this desi wonder bean, were making tonnes of money.
The source of it was mainly the US shale exploration industry that used guar-gum as a vital ingredient in the 'fracking' or hydraulic fracturing process to extract oil and gas from rocks. Between 2009-10 and 2012-13, India's guar-gum meal exports soared from about $241 million to over $3.9 billion, on the back of high global crude prices and the revolution in extraction of hydrocarbons trapped within fine-grained sedimentary shale rock formations.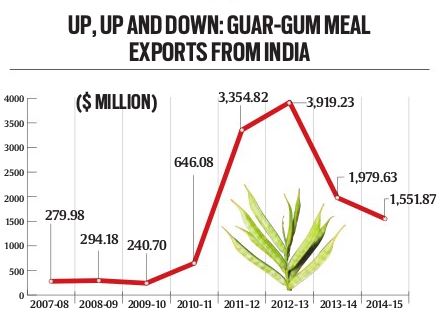 On March 21, 2012, spot prices of guar-seed hit a record of Rs 30,432 per quintal in Jodhpur. On the same day, the three-month futures price for guar-gum at the National Commodity and Derivatives Exchange peaked at Rs 96,660 per quintal. The excessive price volatility and speculation led to the Forward Markets Commission even banning futures trading in guar-seed and guar-gum.
[related-post]
That situation, however, has completely reversed today. From $3.9 billion in 2012-13, guar-gum meal exports plummeted to just above $1.5 billion in 2014-15. The current fiscal has registered a further decline — to $284.32 million during April-August 2015, as against $ 672.87 million in the same period of last year. The collapse of export demand is also reflected in domestic prices. Last week, guar-seed was trading in Jodhpur at Rs 3,933 per quintal, while the November delivery guar-gum futures contract was quoted at Rs 8,380 per quintal — a far cry from their March 2012 highs!
Guar represents a classic case of a crop in a traditional agrarian economy linked to global trade and vulnerable to market shocks. India produces around 80 per cent of the world's guar-seed, with Pakistan's share of 15 per cent making it a distant No. 2 player. 70 per cent of India's guar-seed, in turn, is produced in Rajasthan, followed by Haryana (10 per cent) and Punjab and Gujarat (5 per cent each). The major guar-growing areas in Rajasthan include the northern districts of Bikaner, Ganganagar, Hanumangarh and Churu, and the western belt of Jaisalmer, Barmer and Jodhpur.
Guar is a relatively drought-tolerant crop sown towards end-July and harvested during November. The seed from the harvested pods have about 35 per cent endosperm content. The gum is extracted from the grounded endosperm — the part of the seed that surrounds the embryo and provides nutrition to it — while the balance germ and husk portions are processed into protein-rich meal known as korma and churi fed to cattle.
The guar-gum is used as a thickening agent in the fracking fluid — basically water and suspended sands — that is injected at high-pressure to create cracks in shale rock formations and allow the gas/oil to flow out from them. Before the shale boom, guar-gum was consumed largely in the food industry as a binder, thickener and stabiliser, while fetching around $2,000 a tonne. But by 2012, prices were close to $30,000 per tonne, as US hydrocarbon drilling services firms like Halliburton, Schlumberger and Baker Hughes began stockpiling the gum.
"International prices have come down to $1,200 per tonne. Most factories have shut down. Production is now roughly 50 tonnes a day, compared to 2,000 tonnes in 2011-12," says SK Sharma, secretary of the Jodhpur-based Guar Gum Manufacturers Association of India.
While the fall in international crude prices, considerably slowing down investments in shale exploration and drilling, is the main reason for the present state of affairs, Sharma also blames the Centre. "Our export subsidies under schemes such as Vishesh Krishi and Gram Udyog Yojana have been discontinued. Our industry was making in India for the world even before the current government announced Make in India. Now, we are only waiting for achche din," he adds.
Hari Singh, who grows guar in almost half of his 40 bigha (28 acres) land in Sinthal village near Bikaner, is more hopeful. He, like many other farmers, had reaped a windfall, selling guar-seed at a peak of Rs 28,000 per quintal in 2012. But in the subsequent year, prices fell to Rs 15,000. Singh held on to his crop, expecting prices to recover to Rs 20,000, only to see them drop further. Meanwhile, stocks in his makeshift warehouse have climbed. That still does not deter him: "We can wait. The guar can last even for a decade without going bad".
For farmers, the main attraction of guar — traditionally used to feed animals and eaten as a vegetable — is its low input cost, comparatively short duration of 90 days, little water requirement and also being a nitrogen-fixing leguminous crop. While the profits were huge when the going was good, they haven't lost money either — unlike in say, cotton — even with prices at current levels.
Sharma, too, points out that this is not the first boom or bust that the guar-gum economy has seen. "We had a drought in 1987 that pushed up prices from Rs 400 to Rs 3,600 a quintal. A similar situation was brought about in 1998, and that had to do with excess rainfall causing damage to the crop," he notes.
"If it happened in the past, it could happen again," says Hari Singh. He is among the many who contributed to a near-doubling of area planted to guar in Rajasthan — from 30.94 lakh to 50.70 lakh hectares between 2011-12 and 2013-14.
And they wouldn't mind if international crude prices surge once again.