Congress vice-president Rahul Gandhi's verified Twitter account was hacked on late Wednesday evening. His handle, @OfficeOfRG, tweeted abuses aimed at Rahul and the Gandhi family. The tweets were deleted within minutes, but they did not go unnoticed. One of the tweet was directed at Rahul Gandhi's opposition to the Centre's demonetisation move and another took swipes at various scandals under the UPA government. At one point, his handle name was changed to "Office of Retard Gan". One of tweets hinted that the ones behind the hack could be a group as they referred themselves to as the "legion". They also threatened to "unleash" personal data if they were "f*****" with.
WATCH VIDEO: After Rahul Gandhi's Twitter Handle, Congress Official Twitter Account Hacked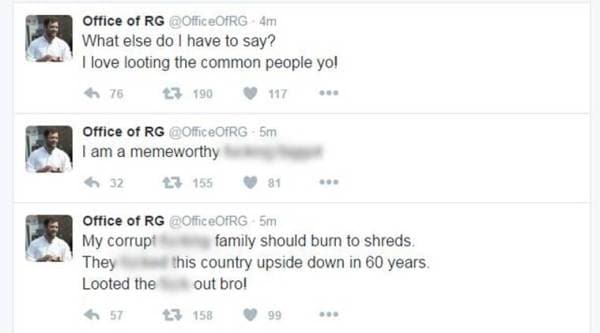 Condemning the incident, Congress spokesperson Randeep S Surjewala tweeted: "Such lowly tactics will never drown the sane voice of reason nor deter Sh. Rahul Gandhi from raising people's issues."
"Such unscrupulous,unethical roguish conduct of venal trolls 2hack OfficeOfRG reflects disturbing insecurities of prevalent fascist culture (SIC)," he added. The handle Office of Rahul Gandhi is managed by his close aides and has over 1.2 million followers.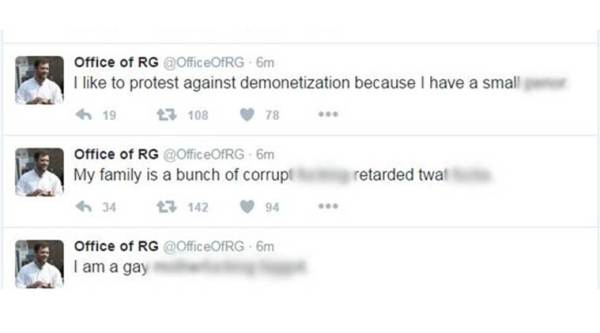 It is unclear if Twitter helped regain control of the account. However, those managing the handle were quick to respond and remove the objectionable tweets.  Some of the tweets stayed on the timeline a bit longer even as the abusive ones were deleted soon after.
In the last two weeks, the Gandhi scion has been putting pressure on Prime Minister Narendra Modi to intervene in the Parliament debate over demonetisation. He has been a vocal critic of the government's decision to scrap old high denomination tender.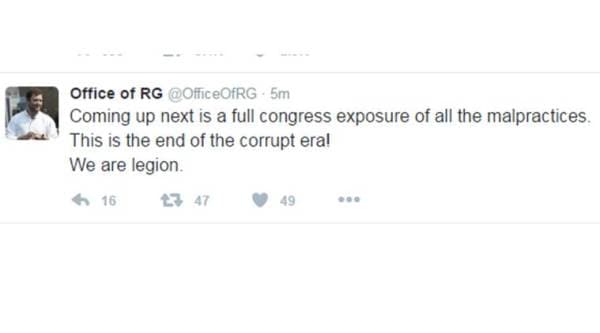 The tweets have been blurred out as they contain explicit words.
📣 The Indian Express is now on Telegram. Click here to join our channel (@indianexpress) and stay updated with the latest headlines
For all the latest India News, download Indian Express App.
The Indian Express website has been rated GREEN for its credibility and trustworthiness by Newsguard, a global service that rates news sources for their journalistic standards.