Amid rising non-performing assets (NPAs) and declining credit off-take in the infrastructure sector , finance minister Arun Jaitley, in his Budget speech proposed to develop a new credit rating system for projects. The rating would be based on various credit enhancement structures rather than just relying on the standard perception of risk that resulted in mispriced loans.
Announcing three initiatives to reinvigorate the infrastructure sector, the finance minister spoke of streamlining institutional arrangements for dispute resolution and issuing guidelines for renegotiation of concession agreements for public-private partnerships (PPPs) . Thirdly, he announced " … a new credit rating system for infrastructure projects which gives emphasis to various in-built credit enhancement structures will be developed."
In an interview with The Indian Express, Department of Economic Affairs Secretary Shaktikanta Das said that under the new system, rating would be assigned to infrastructure projects rather than the company executing the project and that the announcement is based on discussions with credit rating agencies.
"Currently, what is happening is that these credit rating agencies look at the company's balance sheet. So, if you are a good company doing a bad infrastructure project, you will get a good credit rating even though the project may be very bad. You have another company which doesn't have such a good balance sheet (balance sheet is not so strong) but it is doing a project which is really good by itself. So, therefore the ratings would be project ratings, individual projects will be rated as against the (current practice of rating companies)," said Das.
[related-post]
He further added that since various types of credit enhancement mechanisms are available, if a project has been able to mobilise some credit enhancement facility that could also be taken into consideration during the credit rating.
"For infrastructure projects we want to move to that system. We have had a number of meetings with credit rating agencies and they are in fact fully on board. It is something that they will have to do. We have had a number of discussions and the announcement is based on discussions and understanding with them. It is for entire infrastructure sector," Das added.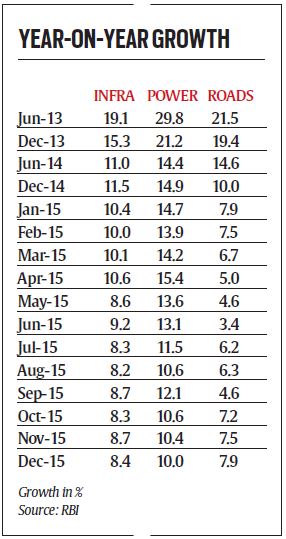 While the details and structure of the new rating system for infrastructure projects are being worked out by the government and the rating agencies, experts say that this will make it easier for infrastructure projects to raise funds for various stages of work.
Naresh Thakkar, managing director and chief executive officer of rating agency ICRA said that the move to rate a project rather than the infrastructure firm is a positive step.
"In case of an infrastructure project, the risks vary at different stages. So, if a properly structured project crosses a particular stage, the risk goes down. If the initial phase (more risky) can be funded by a certain category of investors, other mode of funding (including from banks) can come at later stage of the project, when the risk goes down," said Thakkar.
A senior official with another rating agency said that since the rating agencies and government are still working on the modalities of the system, they would not like to comment on the same.
It is, however, important to note that with the rise in non-performing assets of banks, the banking system has been very careful in appraising loans to players in the infrastructure space and even though there has been a pick-up in activity, the credit off-take for the sector has only slowed.
A look at the monthly credit growth numbers for the infrastructure sector released by the Reserve Bank of India shows that the year-on-year credit growth for the sector has come down sharply from a high of 19.1 per cent in June 2013 to 8.4 per cent in December 2015.
If large number of stalled projects is one reason for the decline in credit growth, the fact that companies in the sector account for over 50 per cent of the non-performing assets in the banking system, has been another cause of concern for bankers.
While the credit growth for the sector as a whole slowed, the roads segment has emerged as the only exception witnessing a gradual uptick over the last six months. The power sector, which traditionally has been the biggest drawer of credit within the infrastructure space, saw the sharpest decline from 29.8 per cent in June 2013 to 10 per cent in December 2015.
For the road sector, while the year-on-year credit growth slowed down from 21.5 per cent in June 2013 to 3.4 per cent in June 2015, it has witnessed a rise and stood at 7.9 per cent in December 2015.
The fact that there are limited number of players in the sector and a lot of them are burdened with high debt, stalled projects have also led to a decline in credit growth. Experts say that just by reviving the stalled projects, the borrowing ability of companies within the system will improve and the banks will get encouraged to lend more.