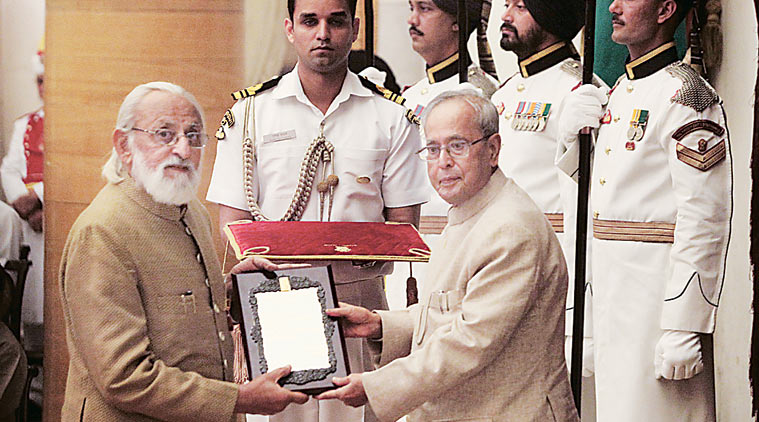 President Pranab Mukherjee presented the Sangeet Natak Akademi Fellowships and Awards for the year 2014 at Rashtrapati Bhavan on Friday.
While leading musicologist S R Janakiraman, theatre doyen and noted filmmaker M S Sathyu, and musicians Vijay Kumar Kichlu and Tulsidas Vasant Borkar were awarded fellowships of the Sangeet Natak Akademi, 35 eminent personalities were honoured with Akademi Awards in the categories of music, dance, theatre, traditional folk/tribal music/dance/theatre and puppetry and overall contribution/scholarship in the performing arts.
[related-post]
Nine artistes — including Ashwini Bhide Deshpande, Iqbal Ahmed Khan, Nath Neralkar, Nayan Ghosh and Ronu Majumdar— received awards for their contribution to music, while eight artistes were honoured for their contribution to dance.
Eminent folk singer from Jammu and Kashmir Abdul Rashid Hafiz, who is known for his renditions of traditional  Chakri singing, was among eight artistes facilitated for their contribution to traditional arts. Noted playwright Asgar Wajahat was amongst the eight artists honoured for their contribution to theatre.
The Akademi Awards carries a purse money of Rs one lakh , a Tamrapatra (copper plaque) and an Angavastram (shawl).