Prime Minister Narendra Modi is addressing the the India-Africa summit in New Delhi today. In twelve of nineteen bilateral conversations Modi had Wednesday, leaders of African countries focused on counter-terrorism, defence cooperation and anti-piracy operations, South Block officials said.
This is being seen as a significant shift in the bilateral conversation with African leaders who would otherwise focus on concessional lines of credit, agriculture, education and increased investments in infrastructure.
Here are the LIVE updates from the event:
11:07 am: India also offers a grant assistance of USD 600 million which will include India-Africa Development Fund of USD 100 million and India-Africa
11:05 am: Prime Minister Narendra Modi announces concessional credit of USD 10 million over the next five years for Africa.
Watch Video: Discussing The Significance of The Indo-Africa Forum Summit
11:00 am:

PM @narendramodi unfolds KEY aspects the road ahead for this vital relationship #IAFS pic.twitter.com/ibP10IhnTT

— Vikas Swarup (@MEAIndia) October 29, 2015
10:58 am: We pledge to walk together, with our steps in rhythm and our voices in harmony: PM.
READ: Digital technology to terrorism: What PM Modi said at the India-Africa Summit
10:55 am: We wish to deepen our cooperation in maritime security and hydrography, and countering terrorism and extremism: PM.
10:53 am:

PM @narendramodi: India and Africa must speak in one voice for reforms of the United Nations, including its Security Council. #IAFS

— Vikas Swarup (@MEAIndia) October 29, 2015
10:52 am:
PM @narendramodi on climate change: We are the inheritors of Nature's precious gifts, and, our lives remain most connected to Mother Earth.

— Vikas Swarup (@MEAIndia) October 29, 2015
10:52 am: India advocates reform in global institutions: PM
10:51 am: We will also deepen India-Africa partnership on clean energy, sustainable habitats, public transport & climate resilient agriculture: PM
10:50 am: Our goal is to make solar energy an integral part of our life and reach most unconnected villages and communities: PM
10:49 am: Technology will be a strong foundation of our partnership: PM
10:48 am: We will also collaborate to develop Indian and African treasures of traditional knowledge and medicines: PM
10:46 am: We will work to reduce digital divide within Africa and between Africa and rest of the world: PM
10:45 am: We will also deepen India-Africa partnership on clean energy, sustainable habitats, public transport & climate resilient agriculture: PM
10:43 am:

PM @narendramodi: As the Nigerian Nobel Laureate Wole Soyinka insisted, human entity remains the primary asset in overall development. #IAFS

— Vikas Swarup (@MEAIndia) October 29, 2015
10:40 am:
PM @narendramodi: India is honoured to be a development partner for Africa #IAFS pic.twitter.com/lA0VJuUPp8

— Vikas Swarup (@MEAIndia) October 29, 2015
10:39 am: India and Africa two bright spots of hope: PM
10:39 am: Africa's sports, art and music delight the entire world: PM
10:38 am: Africa's economic growth has gathered momentum and has a more diversified base: PM
10:37 am: 2/3rd of India & Africa is under the age of 35. And, if the future belongs to the youth, then this century is ours to shape & build: PM
10:35 am: The heartbeat of 1.25 billion Indians & 1.25 billion Africans are in rhythm: PM
10:34 am: Century belongs to India and Africa: PM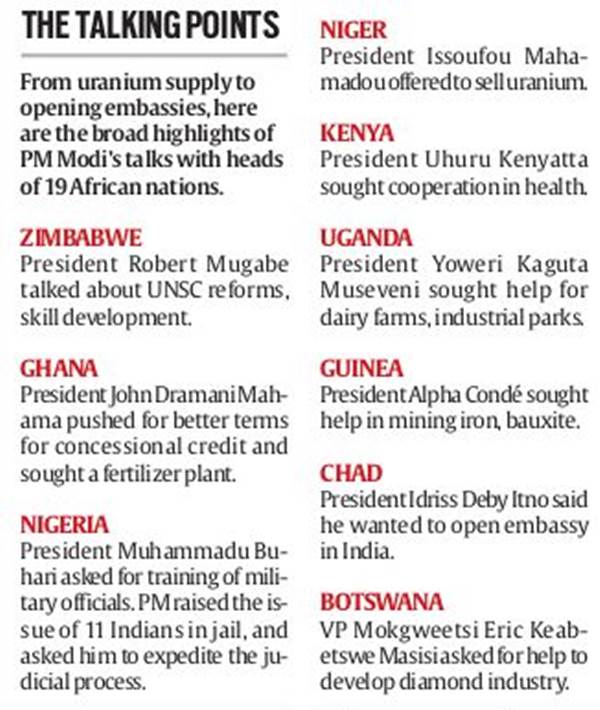 10:34 am: African initiatives are replacing old faultlines with new bridges of economic integration: PM
10:31 am: India, Africa among world's oldest civilisations: PM
10:15 am: Deeply honoured by African leaders' presence: PM
10:00 am: Fabric of this world is richer because of the 54 sovereign flags of Africa: PM