Updated: May 24, 2016 6:37:55 am
Written: Pranav Gupta
The dominant Dravidian parties and smaller political outfits are interdependent: the vote-share gap between the big parties is often narrow, and they need support from smaller parties to overtake their rival. The smaller parties, most of whom are essentially caste-based, depend on the larger parties for broadening their support base and ensuring they are able to convert their votes into seats.
Apart from the AIADMK and DMK (along with its allies, Congress, Puthiya Tamilagam, IUML and MMK), the election was contested by the Vijayakanth-led six party People's Welfare Front consisting of the Desiyas Murpokku Dravida Kazhagam (DMDK), Marumalarchi Dravida Munnetra Kazhagam (MDMK), the Dalit centric Viduthalai Chiruthaigal Katchi (VCK), Tamil Maanila Congress (M), CPI and CPM. Anbumani Ramadoss's PMK, which is known to switch allies frequently, fought on its own.
READ | Women bought Jaya her return ticket
The PWF had a combined vote share of 6.1%, and won no seats. The vote share of all constituents was much lower than earlier elections because of the absence of any large party in the alliance. The DMDK, which had won close to 10% votes in its political debut in 2006, had a vote share of just 2.4% this time; none of the rest could manage even 1%. The PWF washout indicates the ineffectiveness of smaller parties outside of an alliance with one of the two big parties.
PMK's vote share increased from 4.4% in 2014 to 5.3% — however, it won no seats, mainly because it has virtually no support outside the OBC Vaniyar community. The survey suggests Vaniyars were mostly split between the AIADMK and DMK, and less than a fifth of them (18%) eventually voted for the PMK.
READ | In both Tamil Nadu and Kerala, support across board for prohibition
Sharp inter-caste rivalries and violence ensure small caste-based parties like the PMK and VCK find it extremely difficult to broaden their social coalitions. Close to two-thirds (64%) of Vaniyars voting for PMK supported a ban on inter-caste marriages as compared to less than half among those who voted DMK and AIADMK. For larger parties, bringing smaller parties on board carries the risk of losing votes elsewhere — for instance, allying with the PMK may have led to some reduction in Dalit votes.
READ | DMK needed broader alliance to consolidate anti-AIADMK vote
The outcome of the elections should bring closure to the debate over the primacy of Dravidian parties in Tamil politics, and a possible shift away from the established bipolar contest. The combined vote share of the DMK and AIADMK, which has been steadily rising since the 2009 Lok Sabha election, exceeded 70%. This, along with the near total washout of the PWF, should put to rest claims about emerging multi-party competition in the state.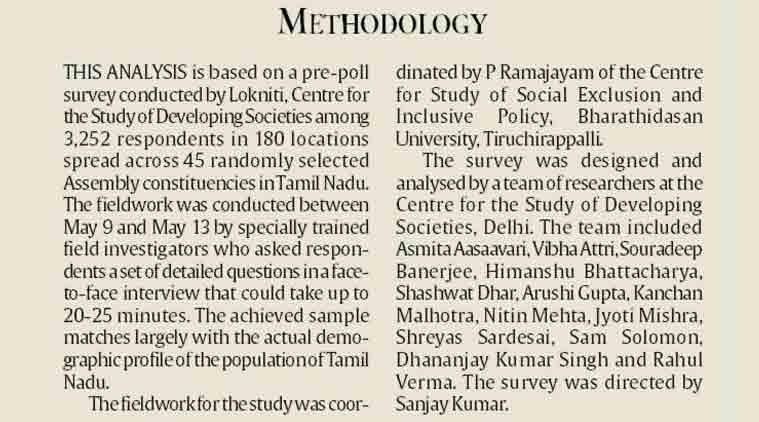 Pranav Gupta is with Lokniti-CSDS, Delhi
For all the latest India News, download Indian Express App