Updated: May 6, 2016 7:23:23 am
Shankar Darbari & Raja Darbari
Offshore entity: Dunia Resources Corp
Location: BVI
MF records show that Shankar Darbari and his son Raja, with a listed address in New Delhi's Greater Kailash, were shareholders in Dunia Resources Corp, which was registered in 2010. Family members said Shankar Darbari, who holds 25,500 shares in Dunia, is engaged in the agriculture sector in Peru and that Raja Darbari, who holds 24,500 shares, lives in the Netherlands.
Also Read | #PanamaPapersIndia Part 1: Clients who knocked on a Panama door
Records show that details of due diligence for the entity are marked as "restricted" and that MF (Peru) was the "client". Records also contain data on Shankar Darbari incorporating another offshore company in the BVI, Dunia Treasures Corp, via MF (Peru) in 2010.
RESPONSE: Raja Darbari stated in an email: "Dunia Resources Corp (DRC), since inception and till date, has been a dormant company. It has never had any business activities of any nature whatsoever and it does not even have a bank account anywhere in the world. I am a Dutch national by birth and an EU citizen. I do not live in India.
Watch Panama Papers: Who Went Offshore Before RBI Eased Forex Limit?

"My father Shankar Darbari is an NRI and has lived outside India for more than 30-odd years. My father's parents live at their family home in New Delhi.  Neither me nor my father have any business activities with or in India, nor do we have business interests in India and or any assets in India.''
–Ritu Sarin/New Delhi
***
Devesh Bahl 
Offshore entity: Vivanta Holding Inc, Pythhos Technology Holding Inc
Location:BVI
A chartered accountant and analytic expert living in Delhi, Devesh Bahl is named as director in Vivanta Holding Inc and Pythhos Technology Holding Inc, set up in 2010 and 2011, respectively. MF records show his wife Rashmi Bahl as a director in Vivanta Holding and list their residential address in Vasant Vihar, New Delhi.
For Pythhos, the source of funds has been shown as "personal savings" and  main activities as "investment holding". Records say it was an "analytic company established with the aim of creating a global analytical firm".
Bahl is presently Chief Financial Officer (CFO) in the strategy consulting firm, Boston Analytics, and has previously headed the global financial operations at American Express.
RESPONSE: When contacted, Bahl said he was travelling abroad. Subsequently, he did not respond to calls or text messages.
–Ritu Sarin/New Delhi
***
Bimla Devi Beriwala & Shyam Sunder Beriwala
Offshore entity: Seabrown Holdings Group Inc
Location: BVI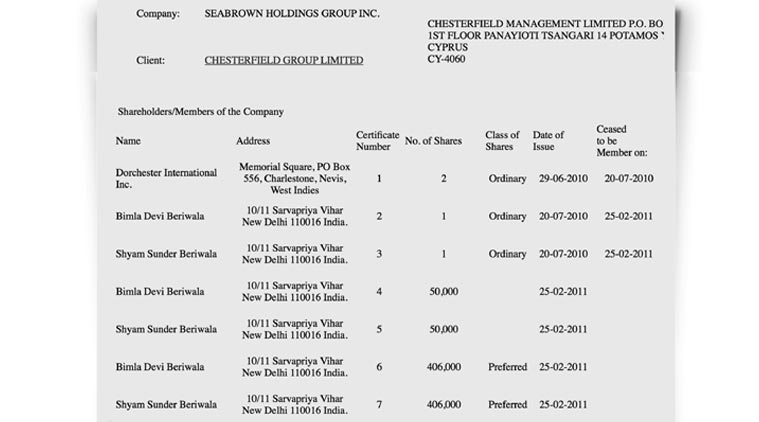 MF records show that Bimla Devi and Shyam Sunder Beriwala, residents of Delhi's Sarvapriya Vihar, held 51,000 ordinary and 4,06,000 preference shares each in Seabrown Holdings Group Inc, a company incorporated on March 5, 2010. The company was struck off on October 31, 2015.
Also Read | #PanamaPapersIndia Part 2: Politician, industrialist, jeweller
Seabrown held all shares of Newsham Development Inc and Masic Trading Limited, two BVI companies, since July 20, 2010. Before Seabrown, Dorchester International Inc (West Indies) held all shares of Newsham and Masic since their incorporation on March 5, 2010 and April 23, 2010, respectively. Newsham was struck off on October 31, 2013, and Masic on October 31, 2015.
As the sole shareholder, Dorchester also held two shares of Seabrown since its incorporation until one share each was transferred to Bimla Devi and Shyam Sunder Beriwala on July 20, 2010. Seabrown issued another 50,000 ordinary shares each to the Beriwalas on February 25, 2011. The same day, they were also issued 4,06,000 preference shares each. The share registers of all three companies were maintained in Cyprus.
Also Read | #PanamaPapersIndia Part 3: Bellary baron, tank tycoon, top industrialist
RESPONSE: "Seabrown has made some investments on which investment income is earned. Newsham Development Inc is not presently owned by Seabrown. Masic Trading Ltd owns a one bedroom flat in London. The incorporation process of Seabrown was facilitated by Dorchester International Inc. The remittance was made from India under the applicable laws through the approved bank as per RBI Rules. All compliances were followed. The investments are reflected in personal financial statements and also in the income-tax returns filed in India and reported to income-tax authorities," stated the Beriwalas in an email.
–Jay Mazoomdaar/New Delhi
***
Shashank Singh
Offshore entity: Kampala Services Ltd
Location: BVI
Shashank Singh, a partner who heads the India office of Apax Partners, a global private equity firm, was issued one share in Kampala Services Ltd on February 26, 2007, MF records show.
Singh remained a shareholder until June 16, 2008, when the share was transferred to Volaw Corporate Trustee Ltd, a service provider in Channel Islands. Singh joined Apax in London in 2004, and the company's website states that he is a board member in Shriram City Union Finance and Zensar Technologies. Singh completed his graduation in Delhi, Masters in Arts (Economics) from Cambridge University and MBA from Harvard Business School.
Watch Video | Panama Papers: How Mossack Fonseca Help Stash Away Billions Of Dollars 
RESPONSE: "Your queries relate to one share from a historical arrangement in 2007 related to an overseas entity, when I was not resident in India as I was living and working outside the country. The entity was liquidated some years ago. I moved back to India a few years ago and I am tax resident here. All of my investments, assets and income from overseas and Indian sources are declared on my income-tax returns in India and I pay full tax on these," said Singh.
–Srinath Rao/Mumbai
***
Sanjay Bhaskar 
Offshore entity: Dalton Solutions Ltd
Location: British Virgin Islands (BVI)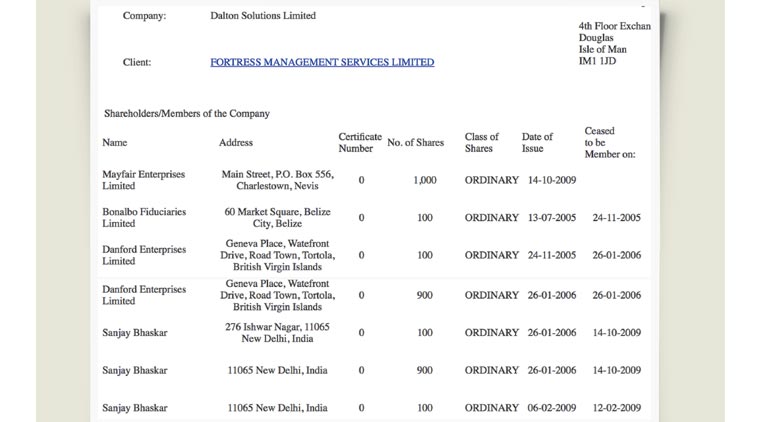 Records maintained by Panama law firm Mossack Fonseca (MF) show Sanjay Bhaskar as the beneficial owner and director of Dalton Solutions Ltd, which was set up in 2005. The company was initially under the administration of Morgan and Morgan, and later transferred to MF. Sanjay Bhaskar is shown to have held 1,000 shares of the company between 2006-2009.
Records and registers of Dalton have been deposited in the Isle of Man, with companies in the BVI and Belize listed as the other directors. Bhaskar's listed address is in Ishwar Nagar, New Delhi, but he now resides in Magnolia Apartments in Gurgaon.
Read | #PanamaPapers India Part 4: Tyre dealer, boutique owner, top CA
Bhaskar has varied business interests and is listed as a director in over 10 companies, including A R Magnetics Pvt Ltd and Arcon (India) Pvt Ltd. His wife Adita Bhaskar runs Ishatvam India, a popular interior design store.
RESPONSE: "I never purchased or invested a single paisa in Dalton. Any and all my assets are held in India and neither my wife, my children or I are direct or indirect beneficiaries in Dalton, nor have they been at any point of time.  If there are any documents that state to the contrary and if asked by the authorities, I will cooperate 100 per cent and sign whatever is needed for further investigations to take place. My wife, children or I have not invested in offshore assets, and any and all income from abroad have been duly declared to tax authorities in India. I have been taxed in India at the full rate."
–Ritu Sarin & Aditi Vatsa/New Delhi
***
Prakash Parakh
Offshore entity: Happy Trading International Co Ltd
Location: Seychelles
MF records show that Prakash Parakh, resident of Kolkata's Hazra Road, was the sole shareholder of Happy Trading International Co Ltd since June 17, 2013 when the company was set up in Seychelles. He was also appointed the first director of the company on the same day. Happy Trading International Co Ltd (Seychelles) was struck off on December 31, 2014.
At his listed address, Parakh's sister Hiram Parakh said he was away in Tirupati.
Watch Video | Explained: What Do The Panama Papers Reveal
RESPONSE: "This is the first time I am hearing about such a company. I am a simple businessman from Kolkata and I have nothing to do with this company," said Prakash Parakh over phone before hanging up abruptly. He did not respond to subsequent text messages.
–Premankur Biswas/Kolkata
***
Mili Sen
Offshore entity: Astonfield Management Ltd
Location: BVI
MF records show that Mili Sen, resident of Hooghly in West Bengal, held 50 shares of Astonfield Management Ltd between August 2, 2007 and April 4, 2008. The company was incorporated on January 3, 2006. Lalchand Devesh Shah, with an address in Kenya, held 100 shares since January 24, 2006 and transferred 50 of those to Sen in 2007.
Since April 4, 2008, Ramdev Investments Ltd and Shalogram Investments Ltd (both at PO Box 487, Grand Kayman, KY1-1106) hold 50 shares each of Astonfield Management Ltd (BVI). At Sen's Hooghly address listed in MF records, a caretaker said that the house remained locked for most of the year and he was paid through a security agency. Sen's nephew Tamal Sengupta, who lives in the neighbourhood, said she died in November 2013.
Watch Video | Panama Papers: Big Names In The Indian List
RESPONSE: "She was a housewife while her husband G M Sen was a renowned physician of the area. Their son Saurabh Sen is settled in New York and had a company dealing with solar lights called Astonfield Management Ltd. But I have no knowledge of whether she had any shares in it," said Tamal Sengupta, the nephew of Mili Sen.
–Premankur Biswas/Kolkata
***
Savita Rajesh Agarwal & Rajesh Shivratan Agarwal
Offshore entity: EGIC Company
Location: BVI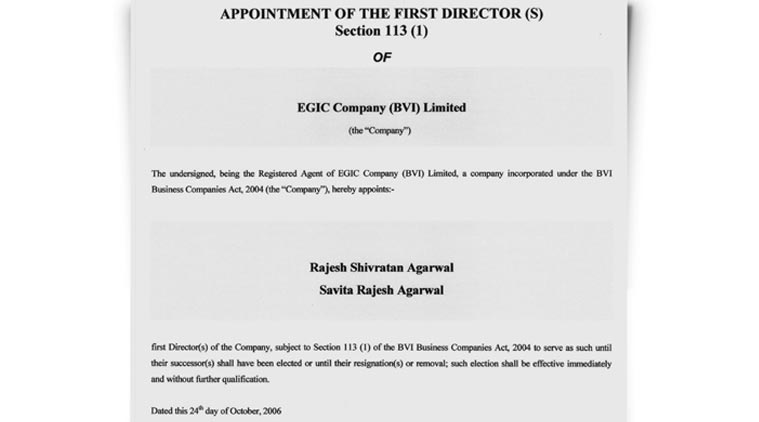 MF records show that the Agarwals, residents of Kolkata, held one share each in EGIC Company since it was set up on October 26, 2006. The couple was also appointed the first directors of the company. The company was struck off on April 30, 2008.
Rajesh runs a chartered accountancy firm in Chandni Chowk, Kolkata. He was not available at his Kolkata address — a modest one-room flat — when The Indian Express visited.
Watch all Panama Related Videos here
RESPONSE: "I was in Muscat when I set up EGIC Company (BVI) Limited. My wife Savita Rajesh Agarwal was a partner. We wanted to shift to India and earn some money. But in 2007, when we returned to India, we realised that running the company was costing us a considerable amount of money. So we struck it off soon after," said Rajesh Agarwal over the phone, adding that he worked with a company called Oman Textiles in Muscat.
–Premankur Biswas/Kolkata
***
Rithika Gupta
Offshore entity: Luxury Grove Management Ltd
Location: BVI
MF records show that Rithika Gupta, resident of Ali Asker Road in Bengaluru, is the sole shareholder of Luxury Grove Management Ltd since its incorporation on May 12, 2014. She was also appointed the first director of the company.
When contacted on a telephone number provided by a domestic help at the listed Bengaluru address, Surendra Gupta confirmed that he and wife Madhu resided at the location and said they were the parents of Rithika Gupta.
Gupta said that he and his wife were directors of Vibhu Essential Oils LLP, a Ghaziabad-based perfume company. Gupta said Rithika was involved in the import and export of fragrances and added that he was unaware of the names of his daughter's companies.
RESPONSE: "The address you are mentioning is not mine. I don't live in Bengaluru. I don't know what you are talking about. I have no knowledge of Luxury Grove Management," said Rithika Gupta, over the phone.
–Johnson T A/Bengaluru
***
Aravind Umapathy Sokke & Manish Bharat Bhushan Chowdhary
Offshore entity: Sevasys Global Solutions Ltd
Location: BVI
MF records show that Sokke and Chowdhary held 5,000 shares each in Sevasys Global Solutions Ltd since the company was set up on June 5, 2014. The status of the company is active.
According to the Registrar of Companies, Sokke runs a number of Indian firms in the agro and healthcare sector. He was also a director of Saginaw Ventures Ltd, a UK company dissolved in August 2015.
Chowdhary resides at the Bengaluru address listed in MF records, while Sokke said over the phone that he lives in Davangere.
RESPONSE: "Sevasys Global Solutions Ltd was a call-centre business meant for providing BPO services to the Latin American region in the Spanish language at a cost of five to six dollars an hour. It was set up in BVI to enable payment of wages by the clients. We got some money from a client, about $21,000, but we were unable to find enough Spanish-speaking people in India to start the service. So we shut it down. It was a transparent set-up," said Chowdhary, adding that he was no longer in touch with Sokke.
"I don't know about Sevasys. I do not own any such company," said Sokke, over the phone.
–Johnson T A/Bengaluru
***
Arti Puneet Kapur & Puneet Prem Kapur
Offshore entity: Ripondale Equities Ltd
Location: BVI
MF records show that Puneet Prem Kapur and Arti Puneet Kapur, with their listed address in Mumbai, were appointed as directors of Ripondale Equities Ltd on March 30, 2004.
They subscribed to the Memorandum and Articles of Association of the BVI company, and were issued one share each with a par value of $1. The authorised share capital of the company is $50,000, with 50,000 shares of $1 each.
In a meeting of the directors on May 14, 2004, it was resolved to issue a Power of Attorney (PoA) to Puneet Kapur. It was also decided to grant Kapur powers to open a branch in any Free Trade Zone and/or set up an LLC and/or a wholly owned subsidiary in the Dubai Multi Commodities Centre (DMCC) or any other Free Trade Zone in Dubai — with Ripondale holding as 49 per cent or more shares as per rules in the emirate.
Kapur was also authorised to open bank accounts in the company's legal name or trading names, or branch/ subsidiary in the UAE, records show. On the same day, a power of attorney was granted to Kapur.
RESPONSE: A caretaker who accepts mail for the Kapurs at their listed Mumbai address said that both were based in Dubai. The caretaker refused to provide contact details or accept a questionnaire from The Indian Express to be handed over to them.
–Rohit Alok/Mumbai
The Indian Express website has been rated GREEN for its credibility and trustworthiness by Newsguard, a global service that rates news sources for their journalistic standards.