Just who are the cyber criminals? According to latest NCRB data, they include neighbours, friends, relatives, disgruntled employees, hackers, sexual freaks, mentally deranged people and even religious leaders.
The National Crime Records Bureau's 2015 data shows a wide range of profiles making up the cyber criminal, the most prolific among them being business rivals followed by neighbours, friends or relatives.
Of over 8,000 people arrested for cyber crime, 20 per cent were business competitors while about 15 per cent were either neighbours, friends or relatives of the victim. Hackers and computer geeks made up 13 per cent while students, numbering over 800 or 10 per cent, were the next largest group.
One interesting group indulging in criminal activity in cyber space were "political" and "religious" persons — 143 of them were arrested for cyber crimes in 2015.
Cyber crimes include financial frauds, data theft, posting of obscene pictures, hacking into someone's online account, derogatory posts and posts hurting religious sentiment or inciting communal violence.
The highest number of religious persons arrested for cyber crime was in UP — 79, or 55 per cent of all such offenders. Maharashtra accounted for almost 30 per cent with 42 arrests. Nine other states reported such arrests.
The most cyber offences by "political persons" were in Maharashtra (7) and UP (5).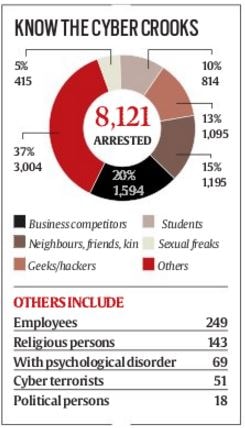 The highest number of "business competitors" targeted their rivals in cyber space in Bihar, which with 1,278 accounted for 80 per cent of such arrests.
UP (289), Maharashtra (169) and Assam (173) accounted for the maximum arrests among neighbours, friends and relatives, while UP (318) and Andhra Pradesh (156) reported the highest number of students arrested for cyber crimes.
Maharashtra also had the highest number of "sexual freaks" (103) perpetrating such crime followed by Assam (78). Over 60% of "cyber terrorists" were from Telangana (21) and Uttar Pradesh (12).
Delhi reported 177 cyber crime cases with 53 people arrested in 2015, lower than many other states. UP (2,208) and Maharashtra (2,195) reported the maximum number followed by Karnataka (1,447). Tamil Nadu reported only 142 cases.
Overall, cyber crimes witnessed an increase of 20.5 per cent since 2014 with Odisha witnessing the sharpest rise of 211 per cent. A total 11,592 cases of cyber crime were registered across the country.
The Indian Express website has been rated GREEN for its credibility and trustworthiness by Newsguard, a global service that rates news sources for their journalistic standards.