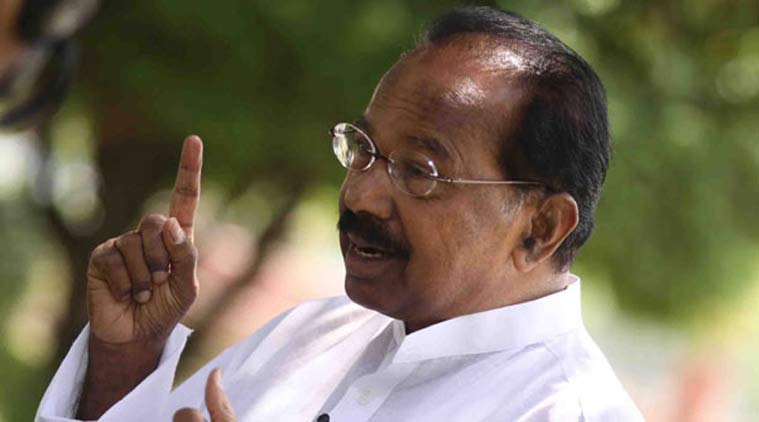 Former law, petroleum and environment minister, also chairman of Parliamentary Standing Committee on Finance, speaks to MANEESH CHHIBBER on note scrap.
On demonetisation
World over, whenever any country has gone for demonetisation, it has been done to check inflation or prevent destability of the economy. Neither of these two economic principle is behind this government's move. I would say it is aimed at reaping benefits for the government at the cost of the common man, who is suffering a lot. It is also having an adverse impact on the economy of the country. It is a surgical strike on the poor man.
On whether criticising government decisions amounts to being anti-national
It is a fantastic theory invented by Mr [Narendra] Modi to hide the government's failures. Nationalism can't be judged on the basis of such decisions. The beauty of democracy is that people have unfettered right to question their elected government. In fact, it the duty of every citizen to question the government. By questioning the authority of the people to raise questions about its actions, Modi is showing his contempt for democratic principles. This shows he doesn't believe in democratic values.
On why Opposition insists on the PM speaking in Parliament
What is wrong in that? Parliament is the temple of democracy. When he made the announcement on November 8, the session had already been notified. It is his duty to inform the MPs, who are representatives of the common man, the logic behind a decision that has caused havoc on the economy, disrupted the life of the common man. He should have announced the decision in the House of his own like previous prime ministers such as Indira Gandhiji did. Nevertheless, having announced it, he should have unilaterally come and made a statement in the Parliament. But, for some reason, he hasn't done that. What he is doing is anti-democratic. I will not call it anti-national like this government does for everything that it doesn't agree with. Even two weeks after the decision, he isn't ready to face the House, answer questions… This only shows his arrogance, his contempt for democracy and Parliament.
On whether the committee on finance will discuss demonetisation
Yes. The committee is a representative of Parliament and therefore the people. It consists of members from both House and all parties. So far, all our reports have been unanimous. We hold detailed discussions, something that is not possible in Parliament due to paucity of time. This is an issue that should be discussed in Parliament. We are duty-bound will also discuss it. Over 70 deaths have taken place due to this decision. Who are these people? They can't be clubbed with black-marketeers and anti-nationals. Or does the government think those who have died are also anti-nationals? Have you seen any big corporate standing in any queue? It is only the common man who is suffering. The organised and unorganised sectors have been badly hit. The medium and small industry is on the verge of shutting down. Is this the good governance that this government promised?
On whether courts will adjudicate the issue of legality of the decision and the Rs 2,000 note
Yes. The matter is before various courts, including the Supreme Court. As a lawyer and a former law minister, I am telling you this move to introduce the Rs 2,000 note is illegal. When [Atal Bihari] Vajpayeeji wanted to introduce a Rs 1,000 note, he brought an amendment in law. This government, incidentally, has taken recourse to executive powers to do so. How can it do that? Courts should and will decide.
On the RBI governor
He should have been at the forefront. It is RBI's job. Notes are in acute shortage, printing is not happening, but he is missing. He should have been involved in the planning and implementation. But even now, execution is extremely poor. The prime minister has failed on all three important fronts — job creation, development and growth. By all parameters, we will have a negative growth this year. The next year may be worse. This is a gamble that he [Modi] has taken to hide his failures. But, the long-term impact will be disastrous.