Four days after resignation by a DSP-rank woman officer, who is seen to have taken on the liquor lobby and was earlier transferred for keeping a minister's call on hold before being reinstated under public pressure, Karnataka Chief Minister Siddaramaiah on Wednesday said he has asked the state police chief to "convince her against quitting".
Having sent her resignation to police chief Om Prakash on June 4 citing personal reasons, Anupama Shenoy, DSP of Kudligi, in Ballari district, has launched a tirade against the state government on social media.
Shenoy is known as an officer with integrity and a no-nonsense approach, and has been incommunicado since June 4.
[related-post]
WATCH | 5 States, 1 Script: Congress Leaders Do Not Listen
Her decision to quit was triggered by lack of support within the police force on her decision to detain the owner of a liquor outlet being constructed, allegedly illegally, in Kudligi, according to local reports. The construction was being done on a piece of land where an Ambedkar Bhavan is located. Soon after Shenoy detained the owner and others involved, the station house officer released them when she was away.
In her initial posts on Facebook after quitting, Shenoy had put up cryptic statements such as "Karnataka Rum Rajya", suggesting she was upset with the sway the liquor lobby has seemingly had over state administration for decades. Two days later, on Monday, a post, purportedly by her, on Facebook read, "I have already quit, P T Parameshwar Naik, when will you quit?'' Naik is the state Labour Minister, whose call Shenoy had put on hold in January.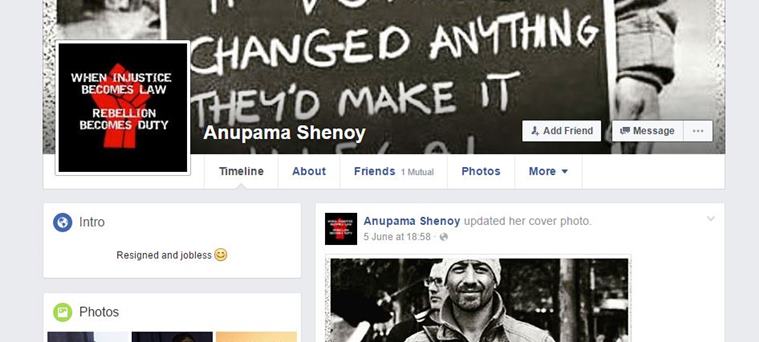 Efforts to reach Shenoy on her mobile phone and social media accounts bore no results.
On Tuesday, posts from Shenoy's account took another turn with references to possible release of scandalous audios and videos, seemingly linked to Naik. While her Facebook status read "Resigned and Jobless", one post posed a poser: "CD beke, audio beke (Do you want CD or audio)?". The hashtag alongside the post read "Parameshi Prema Prasanga Bhaga 1" (Parameshi's Love Story Part 1) and "Washing Powder Nirma Part 2".
The same day, another post in Kannada said, "Viewers please be patient. If the CD is released now it will spoil the children. It should be watched after midnight."
A Facebook post Wednesday from her account said, "Don't threaten to murder me for saying I will release a CD? I will return as a ghost to haunt you."
Naik said, "I am not linked in any way to the DSP's resignation. She has quit for personal reasons. There seems to be some reference to me on her social media account, but there are doubts about who is using the account, and whether it has been hacked."
At a cabinet meeting Wednesday, several ministers are said to have expressed concern over the social media tirade against the government. Post-meeting, Siddaramaiah said, "We don't want her to resign. I have asked the police chief to convince her against quitting. It is our duty to try and prevent state employees from leaving. (But) if she continues to wage war, the government will take disciplinary action."
According to Ballari SP R Chethan, efforts are on to locate Shenoy through her family and convince her to meet senior officers.
According to the officer's brother, Achyut Shenoy, she will make a public statement soon. He suggested that Shenoy should be transferred to her home district, Mangalore, to continue in service. "She is in touch with us. She has said she will continue in service if her problems are solved,'' he said.
📣 The Indian Express is now on Telegram. Click here to join our channel (@indianexpress) and stay updated with the latest headlines
For all the latest India News, download Indian Express App.