As the government prepares to implement the amended Juvenile Justice Act and consider those above 16 who commit "heinous crimes" as adults, it will do well to revisit its own data for some crucial reminders.
Data from the National Crime Records Bureau (NCRB) show that Union Women and Child Development Minister Maneka Gandhi's claim about juvenile crime being the fastest rising segment is only part of the story — as a percent of total crimes, juvenile crimes have remained static at 1.2 over the last three years.
They also show that recidivism, or the propensity to become a repeat offender, is higher among adults than juveniles.
Consider these numbers logged by the NCRB (see box):
* The number of juvenile crimes went up from 35,465 in 2012 to 42,566 in 2014 under the IPC, but it still formed only 1.2 per cent of the overall crime rate over the last three years.
* 2014 saw 33,981 murders of which only 841 (2.5%) were committed by juveniles. Similarly, of the 36,735 rapes in the year, only 1,989 (5.4%) were committed by juveniles.
* Of the 37,90,812 adults arrested for various crimes in 2014, 2,95,740 were found to be repeat offenders. In case of juveniles, a total of 48,230 boys and girls in the age group of 0-18 years were arrested that year. Of these 2,609 were found to be repeat offenders.
NCRB figures also show that over the last ten years, the juvenile crime rate fluctuated marginally from 1% in 2004-05 to 1.2% in 2008 and down to 1% in 2010.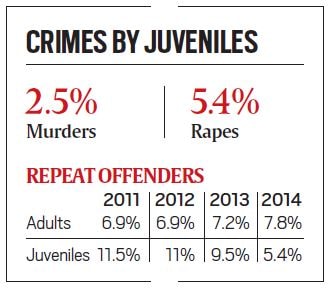 Experts said the slight increase in rate in the last three years has mostly been due to the natural increase in population, a fact that gets glossed over when the absolute numbers are looked at in isolation.
"All this baying for blood is not based on any analysis or studies. Abandoning juvenile offenders will not help rehabilitate them or decrease violence against women in the long run. In the United States, it was found that there were higher numbers of repeat offenders in cases of judicial waiver where juveniles are tried as adults in criminal courts and sent to jail rather than being sent to juvenile homes," said Vrinda Grover, lawyer and human rights activist.
The socio-economic profile of juveniles apprehended under both IPC and Special and Local Laws in 2014 shows that 90 per cent of them have not even completed their matriculation.
Ninety per cent of the juveniles also come from families that earn an annual income of less than Rs 1 lakh, more than half of these hail from households that earn just Rs 25,000 annually, records show. The majority of cases registered in 2014 against juvenile offenders were under the crime head 'theft' (20%).
Child rights lawyer Anant Asthana said that the oft-cited increase in crime rate among juveniles is simply the result of "loosely playing around with data without putting it in perspective".
"The recent increased reporting of such cases is largely due to the fact that under the Protection of Children from Sexual Offences Act (POCSO Act) 2012, every case of sexual offence against children has to be mandatorily registered by the police. Also, under the Criminal Law (Amendment) Act, 2013, the age of consent for sex has been increased from 16 years to 18 years leading to many cases of consensual sex among those in this age group being registered as rape," said Asthana.
The Indian Express website has been rated GREEN for its credibility and trustworthiness by Newsguard, a global service that rates news sources for their journalistic standards.