Written by
Liz Mathew
| New Delhi |
Published: February 19, 2016 1:59:20 am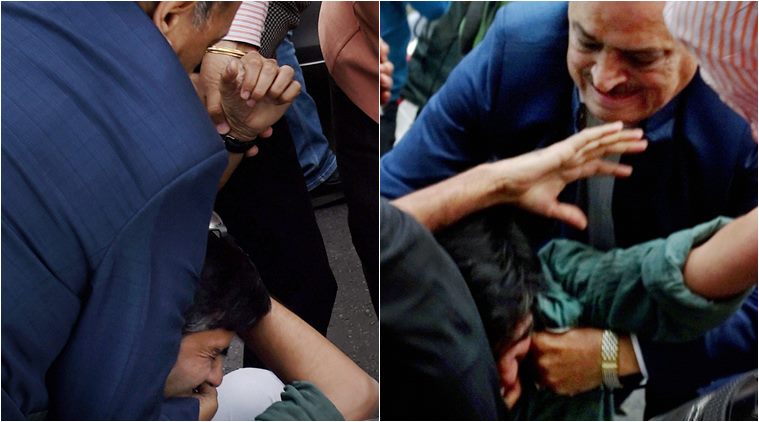 FOLLOWING THE violence within the court premises over the last two days and the resignation of three ABVP office-bearers in JNU, the BJP seems to be treading more cautiously.
Earlier this week, cashing in on the perceived public support for its nationalism plank, the party had decided to launch a three-day Jan Swabhiman Abhiyan.
On Thursday, the party took care to differentiate between the "select anti-national students"and the university. "JNU is a prestigious institute. It has given bureaucrats, political leaders and intellectuals, but a small group of people tried to defame it. We appeal to the political parties that they should do politics with the BJP, not with the university," said BJP national secretary Shrikant Sharma.
His colleague, Sidharth Nath Singh, said the party did not approve of the violence that took place on the court premises. "We do not approve. In a democracy, there is no place for violence," he said, adding that the party distances itself from its MLA, O P Sharma's comments too.
However, BJP general secretary Anil Jain said the party would not consider taking any action against O P Sharma. "The O P Sharma issue is different, it was a clash between two people. The party does not come in between. It will not take action against him. We will see what the chargesheet says," said Jain.
Both the BJP and Adivakta Parishad, a legal group that works closely with the RSS, denied any links with the lawyers involved in the violence.
BJP leaders admitted that the clashes in court, and its Rajasthan MLA Kailash Choudhary's statement that Congress vice-president Rahul Gandhi is a "traitor" and should be hanged or shot to death, had affected the party's smooth ride as the champion of nationalism.
Targeting Rahul on Thursday, the BJP said his assertion that nationalism runs in his blood was meant to "defend" himself after his stand on the issue "sparked anger in the country" against him.
"People will not appreciate the way Rahul Gandhi propagated for Afzal Guru. Why did he do it? Just for Muslim votes," said Jain.
"We do not expect the Left to apologise because they have always sided with the foreigners. Now they are aligning with Pakistan too. The Congress has now joined hands with the Left… Rahul Gandhi has fallen to a new low. There is deep anger in the country over what happened in JNU and his support to traitors who raised slogans against India," said Sharma.
Blaming the Left and Congress for "politicising" the JNU issue, he said: "They were doing it for their own selfish political interests."
For all the latest India News, download Indian Express App