By conventional logic, the AIADMK should have not won this election. The last time an incumbent was voted back to power in Tamil Nadu was in 1984, when MGR won a re-election while undergoing treatment in the United States.
The results (the AIADMK led the DMK alliance by just one percentage point) and survey data suggest there was no great enthusiasm among voters about Jayalalithaa or her government's track record.
READ | Lokniti-CSDS Post-poll Analysis: Small, caste parties get little traction
Many voters were against giving her another chance. Satisfaction levels with her government since 2014, when she swept the Lok Sabha elections, has come down drastically from 71% to 54% (Figure 1, right). Her popularity rating as Chief Minister has declined. More voters agreed that she treats her political allies badly, is arrogant and does not tolerate criticism (Figure 2) than those who disagreed. Asked to compare the AIADMK government with the previous DMK government, only a third of voters thought the AIADMK government was better, and a third said the DMK government was better. The rest said both were equally good, equally bad, or had no opinion.
The script then, was ready for Jayalalithaa's ouster — and yet she managed to win a comprehensive victory. The votes were very evenly spread — with the AIADMK having an edge in the western districts and the Cauvery delta. The party won 32 of the 46 reserved seats, and had a 4 percentage point lead (42.8% vote share to 38.9%) over the DMK alliance. Vote shares were very similar in the general category seats (40.3% and 40%), but the AIADMK won more seats. Data suggest the rivals were in close competition in seats that were either fully urban or fully rural. The AIADMK took a big lead in the seats tally in the semi-urban constituencies (Table 1).
READ | In both Tamil Nadu and Kerala, support across board for prohibition
While the AIADMK's vote share declined by 4 percentage points from 2014, the DMK alliance made huge gains due to the poor showing of the DMDK-led alliance and other parties, including the BJP. Figure 3 shows the AIADMK led the DMK alliance in all categories of victory margins. Caste- and class-based voting patterns too followed a very predictable pattern: AIADMK led among the upper castes, and the DMK alliance had an edge among Dalits, Christians and other minorities (Table 2).
The dominant narrative of Jayalalithaa's re-election has revolved around three broad themes. First, the DMK was let down by its allies, especially the Congress. Second, the caste-base smaller parties hurt the DMK's chances. Third, the DMK leadership was seen as being equally corrupt and inefficient, and voters did not perceive much of a choice. And as elections are about comparative credibility of leadership and parties, the AIADMK faced no serious disadvantage.
While all of these arguments have some merit, they are at best partial explanations. The comparative credibility of leadership seems to have acquired a gender dimension in Tamil Nadu. Women voters delivered a decisive verdict in favour of Jayalalithaa and her party.
READ | DMK needed broader alliance to consolidate anti-AIADMK vote
While the turnout was 73% for both male and female voters, there were 4 lakh more registered women voters than men. Survey data suggest that women voters rallied behind Jayalalithaa in greater numbers than ever before. The AIADMK led the DMK alliance by 10 percentage points among women voters and, thus, Jayalalithaa's party drew its votes from the bigger share of the pie (Figure 4). Her party has had an advantage among women voters earlier, but the gap has never been this stark and large.
More women than men found Jayalalithaa a better administrator. They perceived her as caring more for them and for the poor than DMK chief M Karunanidhi. Compared to men, women voters were also less likely to think the AIADMK government was corrupt, the data show; on the other hand, they were more likely to think of Karunandhi as very corrupt. Women voters in comparison to men were more likely to give another chance to the AIADMK. (Figure 5)
This pattern is replicated across caste, class, and other demographic variables. While the pro-Jayalalithaa slant is seen across all age categories, it is a little more among women below 25 years and above 56 years of age. AIADMK received more women votes among Dalits and several other caste groups. (Figure 6).
It is becoming increasingly clear that women are playing a much bigger role in shaping electoral outcomes. It isn't surprising then, that across India's political landscape, parties are campaigning on issues like prohibition, which resonates with women. Why did women voters rally behind Jayalalithaa and show less confidence in Karunanidhi and DMK? These questions need deeper introspection.
Finally, what do consecutive terms for Jayalalithaa mean for national politics? It adds another leader to the group — alongside Nitish Kumar, Mamata Banerjee, Naveen Patnaik and Arvind Kejriwal — of possible claimants to the leadership of a non-Congress, non-BJP front in the next general elections.
Specifically vis-à-vis the two victors in this round of elections, Jayalalithaa and Banerjee, the BJP can either take a confrontationist line and hope to expand its vote base in the next round, or offer them sweet deals to join the NDA (especially because the principal opposition in their states, the DMK and Left Front, have aligned themselves with the Congress). The first is a long-term strategy, which has the potential to hurt the Modi government in Parliament. The second is a short-term strategy, which will hurt the BJP's expansionist plans.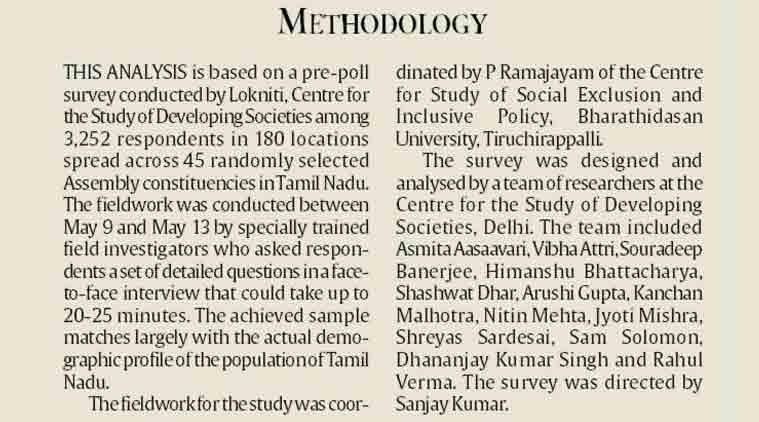 Rahul Verma is with Lokniti-CSDS and Travers Department of Political Science, University of California, Berkeley. P Ramajayam is with Bharathidasan University, Tiruchirappalli
📣 The Indian Express is now on Telegram. Click here to join our channel (@indianexpress) and stay updated with the latest headlines
For all the latest India News, download Indian Express App.
The Indian Express website has been rated GREEN for its credibility and trustworthiness by Newsguard, a global service that rates news sources for their journalistic standards.