Published on:November 13, 2016 12:18:28 pm
In a Modified political discourse,  could Jawaharlal Nehru return as the patron of secularism and social democracy? How do we talk to the little ones about Nehru? What would India's civilian-military relations be without his influence? Finally, what lies behind the right wing motto: Blame it on Nehru?
Ahead of November 14, we explore the relevance of India's first Prime Minister through a clutch of essays:
The Man Who Saw the Future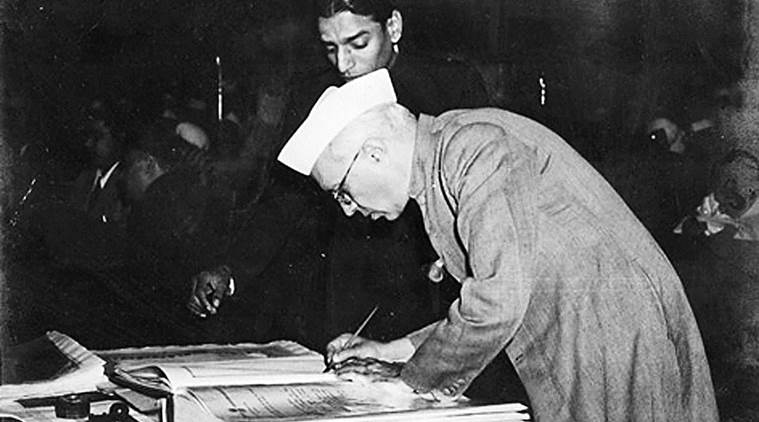 It started early, well before independence. In September 1946, when an interim government of Congress and Muslim League members took office to assist the transfer of power from the British crown to independent dominions of India and Pakistan, Nehru was sworn in as the vice president of the Viceroy's executive council, a de facto prime minister.
Blame it on Panditji
Please, let us not be distracted by the annals of history. Let us not recall that Nehru was one of the key figures who founded the first IIT at Kharagpur on the grounds of the notorious Hijli Detention Centre, where the embattled Raj put away people who used to make trouble in the streets, demanding the very things that these perverse JNU types keep yelling about now, like azaadi.
Nehru for the Little Ones
None of Nehru's efforts were perfect. Many of his decisions continue to be criticised today. But this, too, is important to discuss with children. Talking about imperfections not only liberates them to critique what they see on the news, it also empowers them to believe that they, too, could one day become leaders.
A perfect fit
After Nehru, it was the turn of the politicians to embrace the Nehru jacket. Soon, it had entered the common man's lexicon too. The entry of polyester in '60s-'70s enabled every man to own a bandhgala. From adopting it as uniform in boarding schools such as Mayo College, to creative adaptations by young designers, the Nehru jacket made an impact on every aesthete.
The Past as Future
Narendra Modi's tenure as prime minister has been a departure from previous governments in its approach to Nehru. Under Modi, there seems to be a clear attempt to disassociate India's destiny from Nehru's legacy. Modi, like Nehru, believes in the greatness of Indian civilisation and seeks a place for India in the global world order.
The blueprint he left
What becomes evident from Nehru's elegant writing is that he was a mass leader with great communication skills. The Discovery of India tries to understand the complexities of our country, and it was this book that I (Shyam Benegal) turned to when I decided to make a television show in the '80s.