Responding to The Indian Express report on the Ishrat Jahan missing papers inquiry, the Home Ministry officer probing the case Thursday reiterated what he had told this newspaper the day before, claiming he had conducted a "free and fair enquiry" and that there was no evidence produced to establish that he had tutored a witness.
The Indian Express had reported on Thursday that Additional Secretary B K Prasad had coached witness Ashok Kumar, a former Director in the Ministry of Home Affairs (MHA), to say he had not seen any of the missing documents.
Prasad's probe report, submitted on Wednesday, remained inconclusive on the missing papers.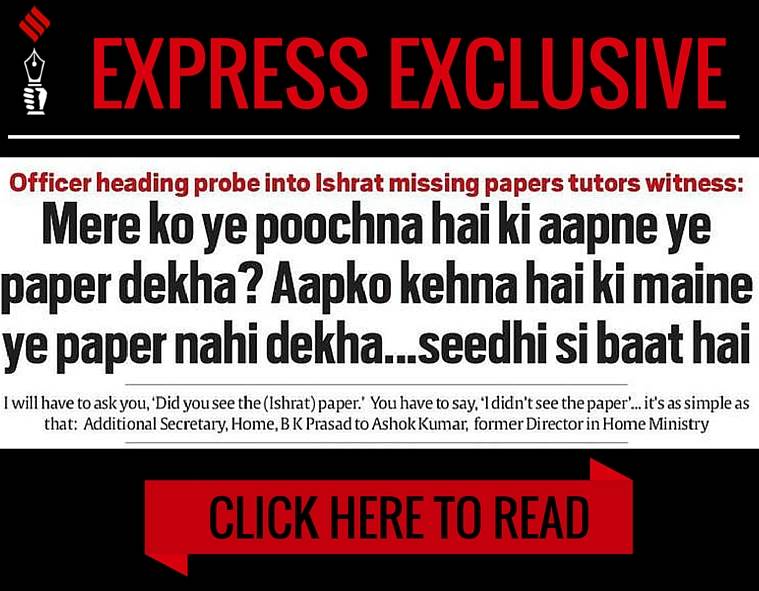 In a statement issued on Thursday, Prasad said: "The officer with whom my conversation has been quoted, was enquired by me on 26th April, 2016 and the question which has been quoted from my alleged conversation were never asked from Mr Ashok Kumar and the answer which is quoted by the newspaper was never given by him."
Prasad also released a verbatim copy of the questions posed by him to Kumar and the latter's answers when his statement was recorded.
However, the copy of Kumar's statement recorded on April 26, 2016, match Prasad's suggestions to him during their conversation a day before, which was reported by The Indian Express.
[related-post]
Watch Video: What's making news
Asked if he had received the file, Kumar replied in his statement, "I have during my entire tenure, neither dealt with this case nor kept this file in my custody."
In the conversation on April 25 reported by The Indian Express, Prasad told Kumar: "Aapko itna toh kehna hoga ki ya toh woh file hi maine kabhi zindagi mein deal nahi kiya, kabhi file ko dekhne ka kabhi mauka hi nahi mila. I don't think you have seen that file at any point?… Bas that is what I want from you: 'I have not seen that file at all.' Aap dekhoge tabhi toh pata chalega na…"
In the conversation, Prasad added: "And another question will be, 'Did anybody give you these documents to be kept separately with you?' Aap bologe, 'Nahi, mere ko kisi ne nahi diya'."
The following day, while recording his statement, Prasad asked Kumar: "On 13/4/2011, the then JS (IS) Shri Dharmendra Sharma has made endorsement on the file and marked it to Dir (NE), who was link officer of Dir (IS-II) (By hand). Whether you had received this file from the then JS Shri Dharmendra Sharma, as marked by him?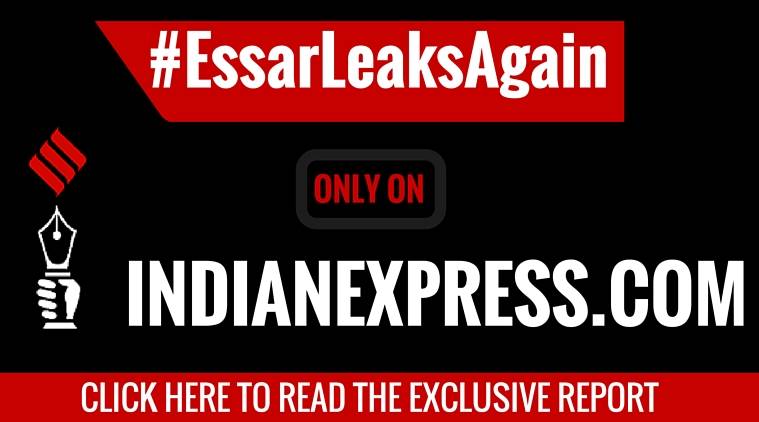 Kumar replied: "As indicated in the note, I was on tour and even after return from my tour, Dir (NE) did not show me or handover this file to me. I have during my entire tenure, neither dealt with this case nor kept this file in my custody."
Prasad also asked Kumar: "Can you please tell me in whose custody the above missing papers could be now?"
Kumar answered: "It would be very difficult for me to say anything regarding the above missing papers."
In his statement on Thursday, Prasad said, "First of all, it is unethical to record my conversation that also with another officer without my permission and knowledge. More importantly, the conversation had nothing to do with the point of query the journalist had."
"Secondly, what he is saying is only one side of the conversation, without being aware of what the other side, i.e, Mr Ashok Kumar was asking or clarifying with me," it said.
In its report published on Thursday, The Indian Express had confirmed that the officer Prasad spoke with was Kumar, now Joint Secretary (Parliament, Hindi Division and Nodal Officer for monitoring of court cases) in the Department of Commerce.
Prasad's statement said, "No evidence has been produced establishing that Mr Ashok Kumar testified being 'tutored' during my alleged conversation. All officers enquired by me are or have been senior officers in the Government and are fully capable of answering questions relating to the probe on their own and there is no question of the alleged 'tutoring'."
"I have conducted a free and fair enquiry which my Enquiry Report will reveal," it said.
On April 25, while speaking to The Indian Express on the denial of a visa to Chinese dissident Dolkun Issa, Prasad put the reporter on hold and had another telephone conversation regarding the missing papers probe. This conversation was also recorded by The Indian Express.