Nineteen-year-old Ishrat Jahan and three others were killed in an alleged fake encounter in Gujarat in 2004. The Gujarat Police had then said those killed were LeT terrorists and had come to Gujarat to assassinate the then Chief Minister Narendra Modi.
From court cases to probe panels to chargesheets – we take a look at what all has transpired since 2004.
Listen to audio clip of MHA official tutoring witness in Ishrat Jahan case
The Ishrat Jahan timeline:
June 15, 2004: Ishrat Jahan, Javed Shaikh, Zeeshan Johar and Amjad Ali Rana are killed in an alleged encounter by officers of Ahmedabad City Crime Branch. In an FIR, they are identified as LeT fidayeens conspiring to kill then CM Narendra Modi
August, 2004: Ishrat's mother Shamima Kausar approaches Gujarat HC seeking CBI probe and directions to Union of India to provide compensation
June 8, 2006: Investigating officer Parikshita Gurjar, ACP Mahila Cell, Ahmedabad City Crime Branch files a report before Special Judge, POTA cases, Ahmedabad, concluding that the encounter was genuine and those killed were terrorists. Court orders judicial inquiry by metropolitan magistrate S P Tamang
August 6, 2009: UPA government at the Centre files affidavit in Gujarat HC responding to Kausar's allegations of a fake encounter. Home Ministry argues against CBI probe. It cites Intelligence Bureau inputs that the four were part of a Lashkar sleeper cell
_______________________________________________________________________
August 13, 2009: Gujarat HC orders probe by 3-member SIT into whether encounter was genuine or not
September 7, 2009: Report released by Tamang accuses officers of Ahmedabad City Crime Branch of participating in a fake encounter. Gujarat government slams report, accuses Tamang of overstepping jurisdiction
September 9, 2009: Gujarat HC stays Tamang report on a petition filed by state government
September 29, 2009: UPA government files second affidavit in Gujarat HC dropping any references to Ishrat's alleged terror links and saying that IB inputs were "not conclusive proof" that the four had terror links. Says the government has no objections to a CBI probe
January 28, 2011: SIT member Satish Verma files affidavit in Gujarat HC stating that the encounter was fake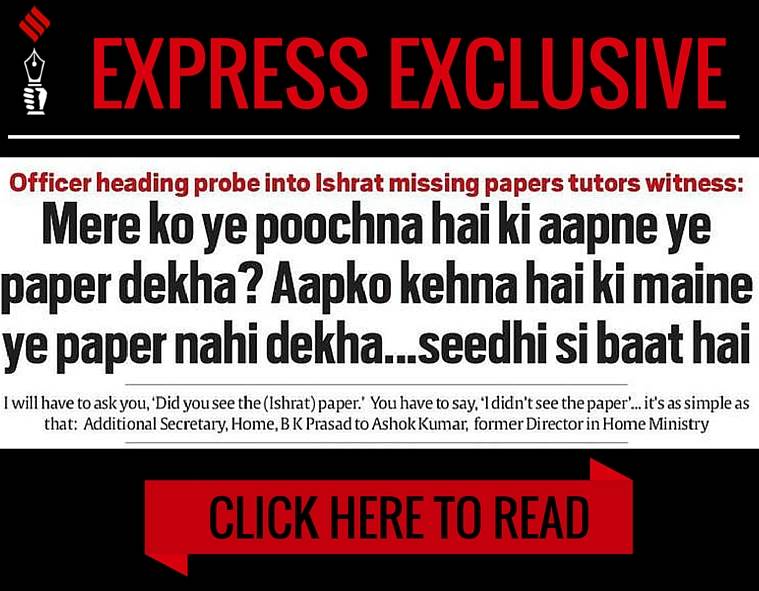 December 1, 2011: Gujarat HC orders registration of fresh FIR in case, transfers probe to CBI
July 3, 2013: CBI files first chargesheet in special court in Ahmedabad naming seven police officers, including in-charge DGP P P Pandey and IPS officers D G Vanzara (retired), G L Singhal and N K Amin. CBI terms encounter "fake", says it was a joint operation between Gujarat Police and IB
February 6, 2014: CBI files second chargesheet naming IB Special Director Rajendra Kumar, booking him under several IPC sections. Three other IB officers, P Mittal, M K Sinha and Rajiv Wankhede, also charged. While the court took cognizance of the first chargesheet and the case against the seven police officers was committed for trial, hearings in the case have not begun as the court is yet to take cognizance of the second chargesheet filed by the CBI without obtaining sanction for prosecution from the Union government
📣 The Indian Express is now on Telegram. Click here to join our channel (@indianexpress) and stay updated with the latest headlines
For all the latest India News, download Indian Express App.
The Indian Express website has been rated GREEN for its credibility and trustworthiness by Newsguard, a global service that rates news sources for their journalistic standards.