This year's robust monsoon has come at a price: a zenith in the dengue and chikungunya cycles. Spiralling cases of both diseases have sent alarm bells ringing and the "season" has only just begun.
Chikungunya, which has never really been a big worry in the north, has struck Delhi strongly this year but doctors say the good news is that the current year's variant is actually curing much faster than in other years, when it would sometimes take months for the body ache to go away. Casualties this year have mostly been due to co-morbidities rather than the viral fever itself, doctors say.
Until August 31, 2016, 12,255 cases of chikungunya have been reported in the country – a little less than half of what was reported in all of 2015. There have been 27,879 cases of dengue and 60 deaths because of dengue haemorrhagic fever. The year 2015 had seen 99,913 dengue cases with 220 deaths.
Given the yearly furore that dengue creates in Delhi, doctors say it is a wonder how chikungunya, which has the same vectors, has remained largely a disease of the south — Karnataka accounts for over a third of all cases since 2010, and over two-third this year. Both diseases are spread by the Aedes aegypti mosquito, which is also associated with yellow fever and zika. Identified by white stripes on its legs, it is a day hunter as opposed to the malaria vector, Anopheles mosquito, which mostly bites at night.
Doctors do not rule out the possibility of the disease having arrived in Delhi with people from outside the city. "The chikungunya cases have taken us by surprise because it was mostly a disease of the south," says Dr S Chatterjee, medicine consultant at Indraprastha Apollo Hospital, while stressing there is no reason to panic. "In fact, this year we are seeing patients stabilise much faster. The body ache that was known to persist for months comes to a tolerable level within 3-4 days. Also, it is actually a safer disease to have than dengue, unless there are co-morbidities."
While the figures in themselves are worrisome enough, there are apprehensions that these may just be the tip of the iceberg. Although both diseases are notifiable, hospitals especially in case of dengue and chikungunya often do not perform the necessary confirmatory tests for these before starting treatment — confirmation of the nature of the virus is not essential for treatment. While this has no bearing on treatment outcomes, the overall national figures end up projecting the problem as a much smaller one than it really is. There are few studies on the extent of transmission of the diseases and none that deal with it at the national level.
Watch Video: Chikungunya & Dengue Cases Rise: A Look Inside The Fever Wards In Delhi Hospitals
Some years ago, some researchers in Chennai did conduct a seroprevalence survey among 1,010 individuals aged five to 40 and living in 50 randomly selected spatial locations. They found a high number of the respondents seropositive to dengue. This is why they reported in PLOS Journal of July 2013: "While only 1% of participants reported history of dengue and 20% of chikungunya, we found that 93% (95%CI 89-95%) of participants were seropositive to dengue virus, and 44% (95%CI 37-50%) to chikungunya. Age-specific seroprevalence was consistent with long-term, endemic circulation of dengue and suggestive of epidemic chikungunya transmission. Seropositivity to dengue and chikungunya were significantly correlated, even after adjusting for individual and household factors. We estimate that 23% of the susceptible population gets infected by dengue each year, corresponding to approximately 228,000 infections."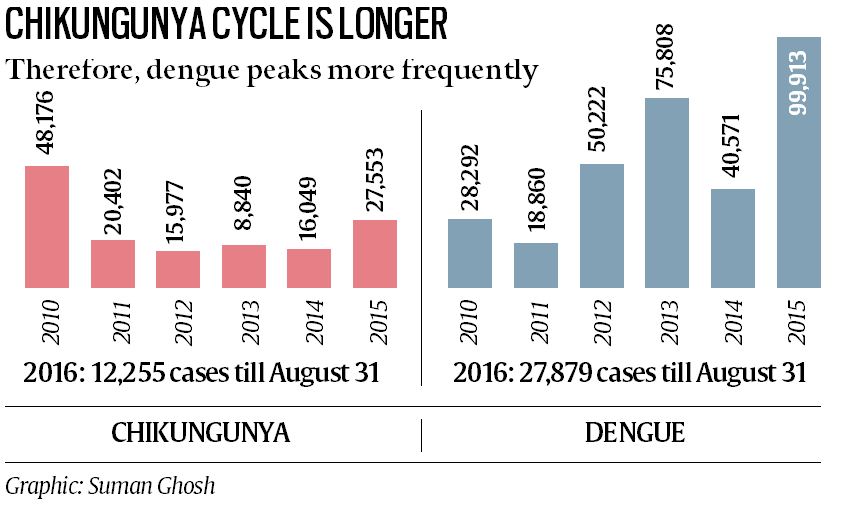 It is interesting, though, that in a malaria-endemic country where the figures for that disease are far higher than those of dengue, chikungunya and a couple of other mosquito-borne diseases put together, it is these two diseases that get the most attention every year during the monsoon. This year has seen 4.71 lakh malaria cases so far, with 119 deaths.
On the other hand, with reference to chikungunya, doctors in Delhi do not rule out the possibility that more cases are being reported because of availability of better diagnostic tests based on polymerase chain reaction to identify the nature of the organism.
Though both dengue and chikungunya are notifiable, there was confusion initially about whether a case should be reported to local agencies merely on diagnosis or only when the patient is serious enough to be admitted in the hospital. That confusion was cleared recently when the Ministry of Health said any patient who tests positive for any of these diseases should be reported to the local agency regardless of hospitalisation status
The ministry has also been working to dispel some apprehensions. Health secretary C K Mishra has said the chikungunya situation may be at the peak of a seven-to-eight-year cycle but the disease in general causes far less casualties than dengue, so there is no reason to panic. In a review meeting last Thursday, cabinet secretary P K Sinha asked agencies and departments to be prepared to handle the rush and also urged them to take up publicity campaigns to dispel panic so that people do not rush to hospital at the first sign of fever, creating extra pressure on hospitals.
Explaining the reasons for the spurt, a senior health ministry official said: "The character of both diseases is that they are cyclical. Every third or fourth year dengue shows a spike because as the immunity of the population as a whole wanes, the disease comes back with a vengeance. Chikungunya too comes in a cycle every six years or so as the population's immunity goes down. This year the rains have also caused higher breeding of mosquitoes. It is inevitable if breeding is not checked, especially in construction sites etc."
Hospitals, incidentally, have been some of the biggest offenders on that count, forcing the government to issue a warning and a deadline till August 28 to control breeding.
Dengue comes with the addendum that some forms of the virus are deadlier than others. This year, experts at AIIMS have found the type III strain, supposed to be less virulent, in Delhi. In Bengal, type II has been detected; this is considered deadlier than the rest.
Compare and contrast
Similarities
Vector: Chikungunya and dengue are caused by the females of the same two species of mosquito, Aedes aegypti and Aedes albopictus, primarily the first.
Symptoms: Fever, chills, headache, nausea, vomiting, joint pain, and rash in both diseases
Differences
Contortions: This is peculiar to chikungunya, a Swahili word for "that which contorts or bends up". Patients tend to stoop in posture because of joint pain.
Recovery: Dengue kills a number of people while chikungunya patients usually recover. This usually takes months, though this year patients have recovered fast. In chikungunya, infection seems to leave lasting immunity; in dengue, there can be subsequent afflictions.
Cycle: Chikungunya has a longer cycle, six to eight years. Dengue outbreaks are more frequent, with a cycle around three to four years.
The Indian Express website has been rated GREEN for its credibility and trustworthiness by Newsguard, a global service that rates news sources for their journalistic standards.