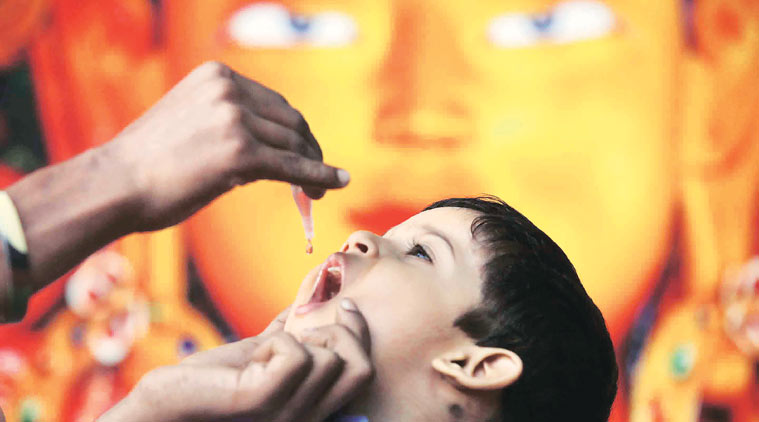 Despite a number of schemes announced by the erstwhile UPA government coming under attack from the BJP-led NDA government, the success of 10-year-old National Health Mission is marked by the fact that the Prime Minister gave it credit for helping eradicate polio and maternal and neonatal mortality. This track record may spare the scheme for undergoing a changed funding pattern, under which the Centre would only provide 50 per cent from the earlier 75 per cent.
In his inaugural address at the recently held third global 'Call to Action' Summit 2015 against preventable child deaths attended by 24 countries, Prime Minister Narendra Modi said, "These remarkable successes in the field of maternal and child health have been possible through our National Health Mission (NHM). The mission, with its urban and rural health components — perhaps one of the largest public health programmes in the world — has resulted in improved health outcomes. 52 per cent of India's under-5 mortality is contributed to by deaths of newborns in the first month of life. Under the NHM, our approach emphasises a continuum of newborn care both at the community and facility level."
[related-post]
Started in 2005 as the National Rural Health Mission (NRHM) that sought to put in place a multi-tiered health infrastructure in villages, the current avatar NHM subsumes the existing rural health mission and a newer urban health mission that was approved in 2013. However, work on the ground started only about a year back.
This was firstly because the Centre had no funds to spare for the urban mission which was aimed at the urban poor residing in slums in 942 cities/towns, and secondly since governance had taken a back seat during the run-up to the 2014 Lok Sabha elections. Just when implementation had begun, news spread that NHM is one of the 20-odd schemes identified by the finance ministry where the funding pattern would change from 75:25 with the Centre paying three-fourths of the money to 50:50. Amid concerns about how the scheme would fare in the changed financial regime given the low priority usually accorded to social sector initiatives, there are now indications that NHM may be one of just four schemes, including Sarva Shiksha Abhiyan where the Centre is likely to stick to the old funding pattern.
"There are indications that this scheme may be exempted from the list of Centrally-sponsored schemes where the Centre would reduce their share of funding following higher devolution of funds to the states as per the 14th Finance Commission. However there is no final decision yet and we are keeping our fingers crossed on this. A change in funding share would not augur well for the scheme that despite its shortcomings has widely been recognised as one of the better performing ones," said a senior health ministry official.
NRHM, despite the 10 years that it has been in existence and its acknowledged achievements, continues to be plagued by severe manpower and infrastructure shortage. The achievements relate more to the fact that NRHM started from zero in areas where private healthcare providers were not interested in venturing into and the government did not have the wherewithal to do so.
There is a huge shortfall of surgeons (83.4 per cent), obstetricians & gynaecologists (76.3 per cent), physicians (83.0 per cent) and paediatricians (82.1 per cent) in rural health centres. Overall, there is a shortfall of 81.2 per cent specialists at the community health centres says the Rural Health Statistics for 2014-15 compiled by the health ministry. At primary health centres there are 9,389 positions of doctors vacant, in addition to a shortfall of 3,002 as per population norms. A total of 2,477 sanctioned posts of surgeons at community health centres (CHC) are lying vacant. If population norms were to be followed, there should have been 4,500 more posts sanctioned.
In tribal areas there is a shortfall of 6,796 sub-centres, 1,267 primary health centres (PHCs) and 309 community health centres (CHCs). A total of 1,53,655 sub-centres, 25,308 PHCs and 5,396 CHCs functioning in the country. In the past 10 years, the total number of sub-centres, PHCs and CHCs added throughout the country remain at 7,629, 2,072 and 2,050 respectively. A rural sub-centre is supposed to cater to a population of 3,000-5,000, at present the average catchment population is 5,426. A PHC is supposed to cover a population of 20,000-30,000, in reality each centre caters to a population of 32,944. By norm a CHC is supposed to cover a population of 80,000-1,20,000. Each CHC caters to 1,54,512 people on an average.
National Urban Health Mission (NUHM) on the other hand does not really stand a comparison because the scheme is just taking off, many states are still "warming up" to it and the pace of implementation is tardy at best.
Notwithstanding the teething troubles, Asian Development bank signed an MoU with the government in July pledging $300 million for NUHM. Of the Rs 17,000-18,000 crore NHM allocation in 2014-15 Rs 1,345.82 crore was released under NUHM to 32 states and in 2015-16 so far, Rs 158.12 crore has been released to 8 states. In fact till March 31, 2015, only 25 per cent of available funds could be utilised under NUHM. In the 906 towns covered so far, 3,995 existing urban PHCs have been strengthened, 1,426 new ones sanctioned and construction sanctioned for 569 new U-PHCs.
The troubles of NHM extend beyond infrastructure and manpower shortage because the biggest impediment for NHM is the lack of public funding. Take the free drugs programme for example. In the pipeline for some years now, the Centre has all but given up on a nationwide rollout because the Rs 6000-odd crore required for such a programme is hard to spare. States on their part have moved some distance but there too the problem remains the same, which is the reason why of the 29 states that have notified a free drugs policy, only about 11 have actually rolled it out.
The public–private partnership (PPP) option sanctioned by the Cabinet has not been exercised by states, much to the chagrin of the Centre which has given a host of options for PPP including generic drug stores, telemedicine, mobile clinics cross subsidisation and outsourcing of diagnostic services. No state seems willing to negotiate the political minefield that is public private partnership in a sector like health.
The significant strides that India has made in public health parameters like infant and maternal mortality rates, polio and MNT elimination etc may have been because of NHM but that has not prevented the government to now indulge in tokenisms instead of setting real goals. The latest initiative under NHM is Kayakalp that seeks to encourage cleanliness in health setups in the spirit of the Swachh Bharat Abhiyan.