A convict in a civil or criminal case will no longer be able to avail benefits of government contracts and sundry welfare schemes. The Bihar home department has put in place the system of posting online details of people who have been convicted and whose appeals have been rejected by appellate courts. This, however, will not be applicable to undertrials.
Though the "civil consequences of crime" scheme was launched during the tenure of former DGP Abhayanand in 2013, it was put on the backburner over the last two years. But the home department last week wrote to all principal secretaries, commissioners, inspector generals of police, DMs and SPs to update the list on the home department website.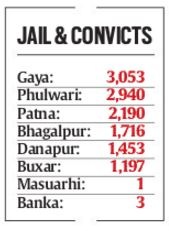 According to the last updated list with data till February 8 this year, names and case details of 21,057 convicted criminals had been put on the Bihar home department's website. With most convicts lodged in Central Jails, the chart was dominated by the Patna, Bhagalpur and Gaya jails.
[related-post]
The idea, sources said, was to create a ready reference for government authorities scrutinising applications for bank loan, arms and PDS shop licence or for any government service. While a provision for declaring such details exists already, criminals are known to hide them from authorities.
In his letter to all top government officials last week, Home Department Special Secretary Jitendra Kumar said: "In line with establishing rule of law with moves such as speedy trials, speedy disposals and civil consequences of crime, the names of convicted people have to be updated. These people often get government benefits which otherwise could be denied if details of convicts are made available. The details include dates of entry and release of a convict with date of his conviction."
Former DGP Abhayanand, who had launched the scheme, said: "While countries such as the USA have each and every centralised detail of their citizens, including a minor violation such as not returning a book from library, we are in process of developing a digital system. The idea behind civil consequences of crime was to serve a further reminder to convicts about their deeds".
WATCH NEWS PLAYLIST