Bihar polls in numbers: RJD, Cong beat BJP harder than JD(U) does
The RJD ended up dealing the highest number of blows to the BJP in the Bihar polls, winning nearly three-fourths of their head-to-head contests. The BJP ran the JD(U) close but was thrashed also by the Congress, which won two victories in every three seats it contested against the BJP.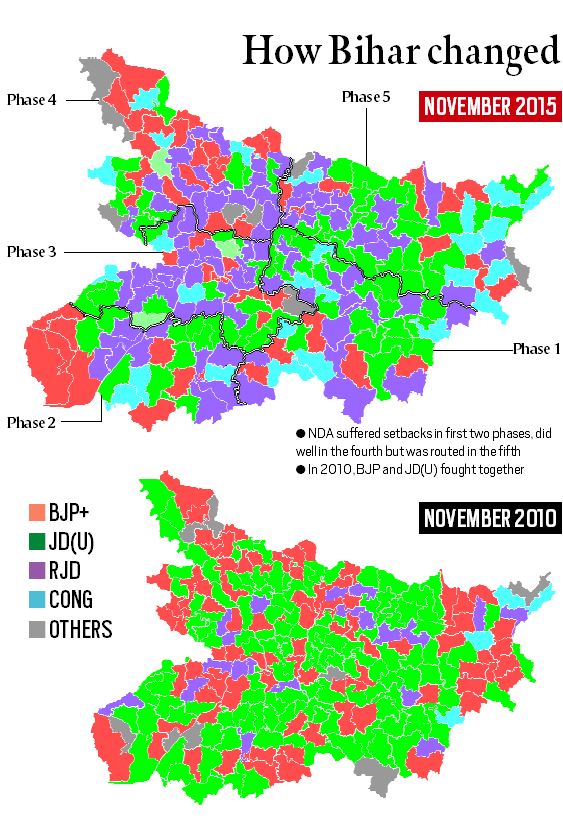 The RJD finished with a strike rate of nearly 80 per cent, the JD(U) with just over 70, and the Congress with 66. The RJD and the BJP contested in 74 seats, the highest for any head-to-head showdown. Apart from winning 54 of the contests against the BJP, the RJD made up the rest of its tally by sweeping all but one of the seats it contested against the other constituents of the NDA. That defeat was against an independent.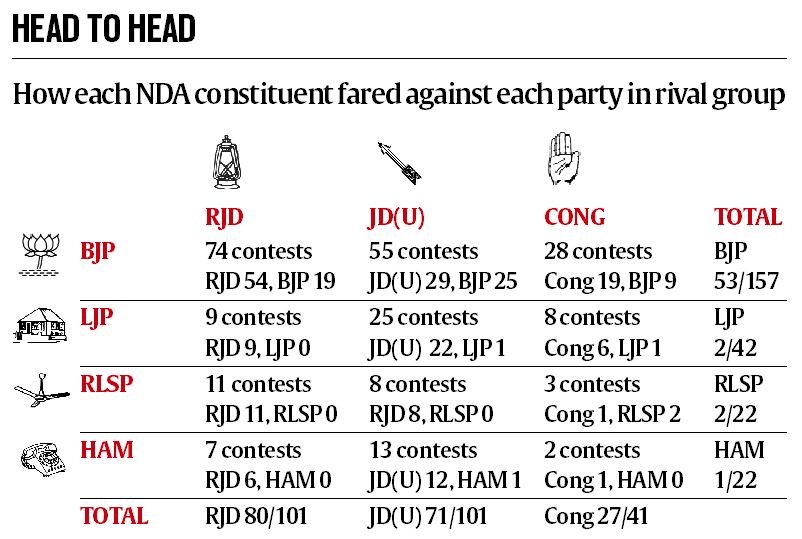 On the NDA side, the BJP, which had targeted a two-thirds majority, won a third of the 157 seats it contested. This was still a better strike rate than that of any of its allies. Ram Vilas Paswan's LJP won two out of 42, Upendra Kushwaha's RLSP two out of 22 and Jitan Ram Manjhi's HAM one out of 22. HAM's sole victory came in Manjhi's own contest against his arch rival Uday Narayan Choudhary, Speaker of the outgoing assembly, but Manjhi lost the seat he represented, Makhadumpur.
Watch Video: Bihar Verdict 360° – IE's Editors Answer The 6 Questions That Explain The Big Picture
The BJP performed much better against the JD(U) than against the other two constituents of the maha gathbandhan. The former allies split their 55 contests 29-25. Against the RJD and the Congress, the BJP won just 28 out of 102 contests.
The Congress, reeling since its defeat in the Lok Sabha polls, found something to cheer about by notching most of its 27 victories against the BJP — 19 out of 28 head-to-head contests. The Congress dropped only one seat each against the LJP but lost two of its three contests to the RLSP. Those two were, in fact, the RLSP's only two victories.
WATCH VIDEO: Parties React To Bihar Results: Rahul Gandhi, Kailash Vijayvargiya & Javed Raza Speak
By virtue of having contested in more seats than any other party, the BJP ended up with the single highest vote share at over 24 per cent. But with the BJP's three allies tallying less than 10 per cent together, the maha gathbandhan's 42 per cent proved decisive.