The Bihar defeat could prove a fatal blow to the BJP's campaign for the 2016 West Bengal Assembly elections. The party's popularity was already showing a slide since the high of the 2014 Lok Sabha polls and the loss in the neighbouring state may seal its fate here.
West Bengal Chief Minister Mamata Banerjee, who had extended support to the Grand Alliance in the middle of the Bihar polls, was one of the first leaders to congratulate Nitish Kumar and Lalu Prasad on their victory.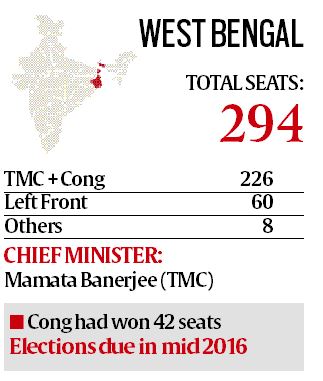 "Congratulations Nitish Kumarji, Laluji and your full team. And all my Bihar brother and sisters. Victory of tolerance, defeat of intolerance," she tweeted. This was followed by a tweet from Trinamool Congress national spokesperson Derek O Brien, who said, "BJP loses. India saved".
This public expression of support is expected to stand the TMC in good stead, given that voters from Bihar make up 20-25 per cent of the voters in over 60 Assembly seats in West Bengal.
In the 2014 Lok Sabha polls, the BJP had increased its vote share by more than double (17 per cent, from 6-7 per cent earlier). However, it didn't do well in the subsequent polls to the municipal and panchayat bodies.
WATCH VIDEO: Bihar Election Results: Editors' Take
BJP leaders admitted in private that their organisational structure is in disarray and a large chunk of their new upper-caste Hindu support base may shift to the TMC.
Lalu, in fact, made a point of the BJP's West Bengal hopes in his press conference after the Bihar results, saying that while the BJP was looking to get a foothold in Kolkata, the Mahagathbandhan had turned it back from Patna.
WATCH VIDEO: Parties React To Bihar Results: Rahul Gandhi, Kailash Vijayvargiya & Javed Raza Speak
Siddhartha Nath Singh, the BJP national spokesperson, who also holds the charge of Bengal for the party, insisted that Bihar will not have any effect on Bengal. "It is a new turf, it is a new battle."
But right now, the TMC looks very strong even on its own. Mamata has consolidated her Muslim support base (they make up over 30 per cent of the voters) and has been wooing Dalit/SC/ST voters.