After the Grand Alliance's landslide victory in Bihar Sunday, the Samajwadi Party — which had pulled out of the JD(U)-led alliance just a few days after poll dates were announced in September — said it was "revising its strategy" vis-a-vis working with the alliance. "The Grand Alliance's victory matters. Netaji (Mulayam Singh Yadav) will decide the future strategy afresh soon, just wait," UP minister and Mulayam's brother Shivpal Yadav told The Indian Express on Sunday.
After the SP had withdrawn from the Grand Alliance, it was speculated that it was helping the BJP indirectly against Lalu Prasad and Nitish Kumar. Mulayam and Nitish had also traded barbs over secularism. The SP now wants to put the "past" behind. "It is politics. Beeti baat ho gayi (Let bygone be bygone). We will start afresh and will work in unison with them (Grand Alliance)," Shivpal Yadav said, adding that "time has come to work with them and remove the misconception of shifting to the BJP".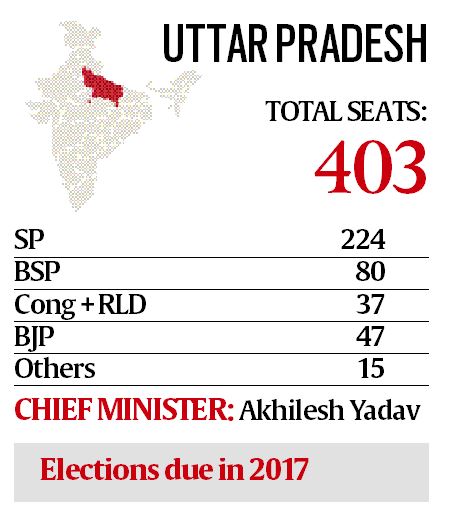 Mulayam and Shivpal called up Nitish and Lalu to congratulate them on their victory while Uttar Pradesh Chief Minister Akhilesh Yadav extended greetings on Twitter.
SP had contested 146 seats in the Bihar polls, winning none. Some 500 youth leaders and a dozen ministers, besides Akhilesh and Mulayam, had campaigned against the Grand Alliance.
Shivpal said that the Bihar results have forced the party to focus on Muslims, caste equations and development ahead of the 2017 Assembly polls in UP. With the AIMIM failing to win a single seat in Bihar, SP has to now project itself as the "lone alternative for the Muslims in UP", he said.
"As Lalu said that it is Mandal Raj-II, we too have to turn towards backward caste politics to defeat BJP," said another SP leader.
WATCH VIDEO: Bihar Election Results: Editors' Take
SP has not had much electoral success in Bihar. In 2010, all its candidates for 146 seats lost their security deposits. In 2005, the SP had won four seats, and in elections held in October the same year, it won two seats.