With Bihar elections over, the focus will soon shift to Assam — one of the four states heading for Assembly elections in April 2016.
The state is particularly important for both the Congress and the BJP because besides being the only Congress-ruled state among the four, it is also the one in which the BJP thinks it can capture power.
Chief Minister Tarun Gogoi, who led the Congress to power first in 2001 by ousting the AGP-led government, is eyeing a fourth consecutive victory. But despite the Bihar drubbing, Assam BJP president Siddhartha Bhattacharyya expressed confidence about the BJP's ability to defeat the Congress in the state.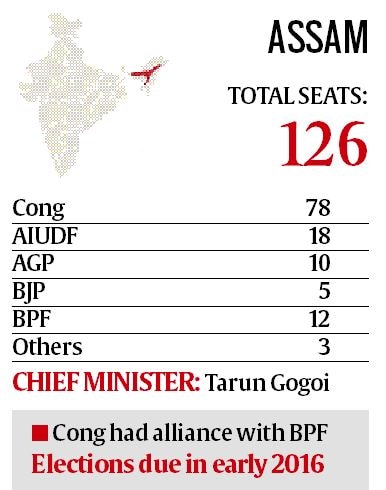 "Yes, the anti-BJP forces in Assam are elated over the Bihar outcome. But the situation in Assam is not like that of Bihar. There will definitely be some short-term problems, but we are confident of overcoming them," Bhattacharyya told The Indian Express.
[related-post]
"There were surely some major mistakes in our Bihar strategy that the party will review and rectify. For us in Assam, it will also be an opportunity to revise and redraw our strategy on the basis of the Bihar failure," said Bhattacharyya.
Immediately after the 2014 Lok Sabha elections, the BJP had announced "Mission 84" for Assam (targeting 84 seats in the 126-member House means a two-thirds majority). Last week, BJP national general secretary Ram Madhav redefined it as "Mission 126", saying that every seat was important for the party.
WATCH VIDEO: Bihar Election Results: Editors' Take
The BJP, which had won a record seven Lok Sabha seats out of 14 in Assam last year, had polled highest votes in 69 of the 126 assembly segments, which, if maintained, is enough for a simple majority. The party's vote share in the state had gone up from 11.5 per cent in the 2011 Assembly election to 36.5 per cent in the 2014 Lok Sabha election. In contrast, the Congress vote share went down from 39.9 per cent in 2011 to 29.9 per cent last year. But still it will be a daunting task for the BJP to raise its Assembly tally from just five seats in 2011 to cross the half-way mark.
"Today we have built a massive network right down to the booth level," said Bhattacharyya. Interestingly, the party has attracted many important leaders from other parties — mostly the AGP and the Congress.