Known as 'the Asian Ebola virus', the CCHF or the Crimean Congo Hemorrhagic Fever virus, is now believed to be prevalent across the country. A study by the National Institute of Virology (NIV) here has determined 17 outbreaks so far, affecting 50 people, most of whom succumbed to the virus.
The CCHF has a fatality rate of up to 80 per cent. First detected in January 2011 in Ahmedabad, the virus that spreads from animals to humans is now active across almost all states, with Himachal Pradesh, Odisha, Rajasthan and Gujarat reporting cases, a sero-survey shows.
NIV Director Dr Devendra Mourya, along with scientist Pragya Yadav and others, published these findings in the October issue of the Emerging Infectious Diseases journal of the Centers for Disease Control and Prevention (CDC), Atlanta.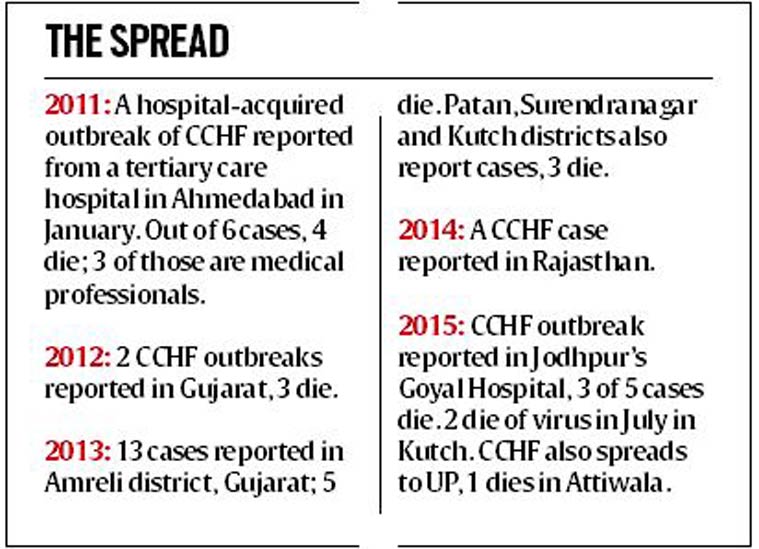 The disease is usually transmitted to humans by bites of Hyalomma ticks, which are found on cattle, buffalo, goat and sheep. Humans can also acquire the virus through exposure to CCHF-infected blood and tissues or to body secretions of an affected animal, during slaughtering or allied procedures or at a hospital.
While there is a lot of awareness in India about the threat posed by the Ebola virus, Mourya told The Indian Express, the real threat posed by the CCHF is little understood.
[related-post]
The virus could also go undetected and the cause of death misunderstood as the symptoms of dengue and CCHF are overlapping, Pragya Yadav said, adding that CCHF belonged to the high-risk Group IV, as per the CDC and WHO.
"A large section of the Indian economy as well as rural development are dependent on agriculture, livestock farming and dairy industry. India exports over 400 million dollars of meat and beef every year. India also has many animal-trading fairs (such as Pushkar, Rajasthan; Sonepur, Bihar) where there is extensive movement of tick-infested animals. There is a high threat of transmission of the CCHF virus to new areas via such trade," Mourya said.
Detected in India for the first time only in 2011, the CCHF virus is widespread in several countries of Africa, Asia, South-East Europe and Eurasia. Hard ticks, especially Hyalomma ticks, are both a reservoir and a vector for the virus. Numerous wild and domestic animals, such as cattle, goats, sheep and hare, serve as amplifying hosts for the virus.
"Animal husbandry and abattoir workers are at high risk, as they are always in close contact with live animals or carcasses that may be infested with CCHFV-infected ticks. Infected animals do not develop severe disease as viraemia (presence of virus in the body) in livestock is short-lived (up to two weeks), and of low intensity," Mourya said.
He added that, for the study, 5,636 samples (bovine, goat and sheep) were obtained through Foot and Mouth Disease centres, in collaboration with the Indian Council of Agricultural Research. CCHF virus-specific IgG antibodies were detected in serum samples of domestic animals using two ELISA kits, developed indigenously by the NIV.
Overall, 260 out of 4,781 (5.43 per cent) bovine samples and 94 out of 855 (10.99 per cent) sheep/goat samples were found to be positive for anti-CCHF virus antibodies. "The maximum IgG antibody positivity in bovine samples was seen in Orissa (31.3 per cent). In the case of sheep and goat samples, the maximum IgG positivity was seen in Himachal Pradesh (53.1 per cent). We also recorded higher seropositivity in sheeps and goats than bovines," Mourya said.
Yadav stressed the need for more higher-level laboratories to check the samples. The diagnosis of high-risk group pathogens is a major concern in India, where only few Biosafety Level-3 (BSL-3) laboratories and just one BSL-4 laboratory exist, Yadav said.
The Indian Express website has been rated GREEN for its credibility and trustworthiness by Newsguard, a global service that rates news sources for their journalistic standards.