Akhil Bharatiya Hindu Mahasabha is vexed again — this time over 2015 UPSC topper Tina Dabi's announcement on Facebook about her decision to marry second topper and Kashmiri youth Athar Aamir-ul Shafi Khan. The right-wing outfit has termed the decision as 'love jihad' and has even offered help to Dabi family for Khan's 're-conversion' or ghar-wapasi.
In a letter addressed to Dabi's father, outfit's 's national secretary Munna Kumar Sharma has said that they should  reconsider their decision and refrain from promoting 'love jihad'. The letter, which is published on Hindu Mahasabha's official website, reads: "I would like to inform that foreign elements and Muslim extremists are working to promote 'love jihad' in the country on a big level. Through this, an effort is being made to Islamise the whole country."
It went on to suggest that if the family wanted to go ahead with the marriage, they should persuade Khan to "re-convert" to Hindu religion. "Hindu Mahasabha will extend full support to the family in performing ghar-wapasi of Athar Khan," it stated.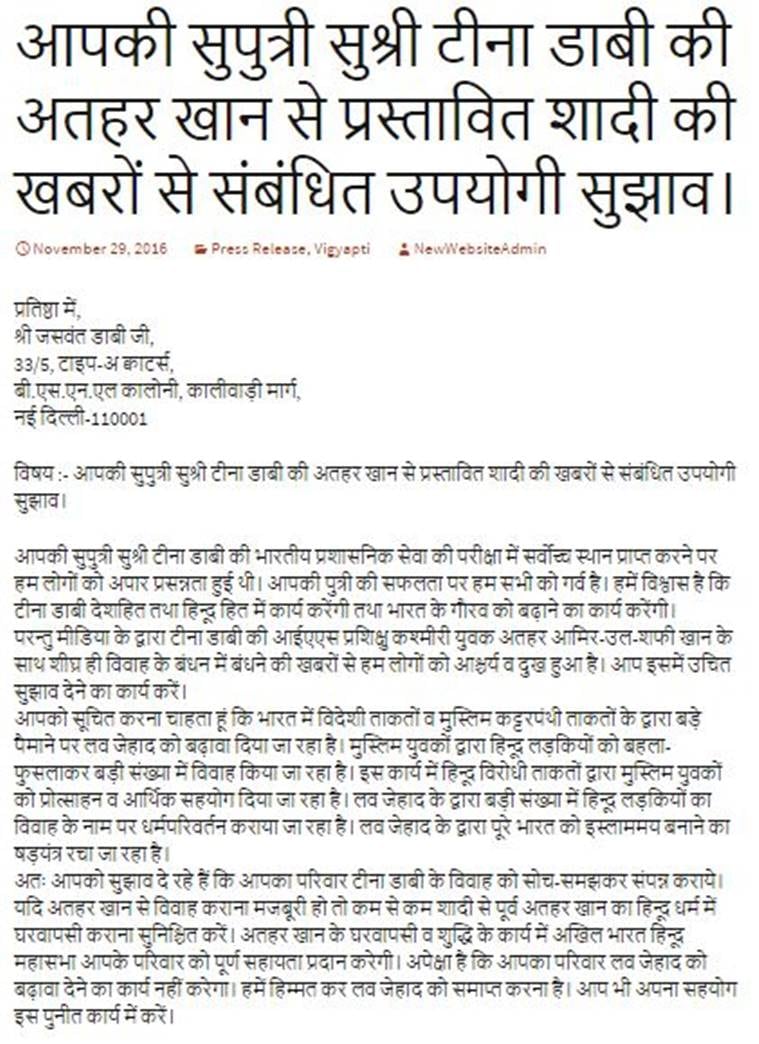 She has been responding to such criticisms on her Facebook page where her photographs with Khan are public.  In one of the posts, she said:  "As any freethinking independent woman I am entitled to certain choices. I am very happy with my choice and so is Aamir. Our parents are happy too. But there will always be those elements, that small minority who will always pass negative comments about dating someone from another religion. It is just that 5%. The majority are very happy . You would have seen in my Facebook timeline that most of the comments are encouraging."
Tina Dabi is currently undergoing IAS training at the Lal Bahadur Shastri National Academy for Administration in Mussoorie.
The Indian Express website has been rated GREEN for its credibility and trustworthiness by Newsguard, a global service that rates news sources for their journalistic standards.