Written by
Abantika Ghosh
| New Delhi |
Updated: September 13, 2018 4:24:58 am
India has managed to bring down cases of cervical and oesophageal cancer, but the rising graph of cancers of the breast, liver and lungs have contributed to a steep rise in cancer cases, a new study has shown. And 43% of all lung cancer cases in India is due to air pollution, said one of the authors of the study in Lancet Oncology tracing the incidence of various cancers across Indian states.
According to the study, the number of lung cancer cases in India in 2016 was 67,000 — 72.2% were men. It is the second most common cancer among men and the incidence is attributed to tobacco use and air pollution. Breast cancer incidence has gone up by 39.1% from 1990 to 2016 and is the most common cancer among women in India, accounting for the largest crude incidence rate and prevalence of any cancer type. Liver cancer increased by 32.2% since 1990 with 30,000 cases being reported in 2016.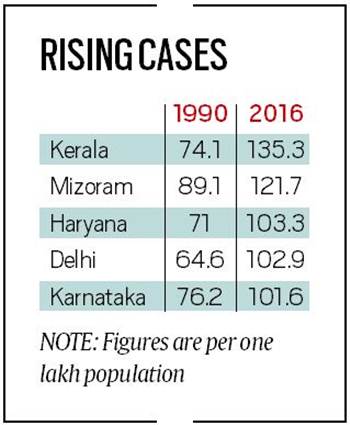 The paper's authors include former DG ICMR and present DDG of WHO Dr Soumya Swaminathan, Dr Lalit Dandona of the Public Health Foundation of India and researchers from several ICMR institutes across the country. According to Dr Prashant Mathur, one of the authors of the study and director of the National Centre for Disease Informatics and Research, high cancer burden is a result of "urbanisation, lifestyle factors, obesity, tobacco consumption and less physical activity. There can be environmental factors too. Forty-three per cent of the lung cancers are because of air pollution."
Cervical cancer incidence decreased by 39.7%. Cancer of the lip and oral cavity — the most common cancer in males in 2016 — also showed a dip. There were wide variations in the incidences of the types of cancers across states and the researchers concluded that it was more a function of lifestyle factors than geographical congruity. The analysis revealed that "the states in the North East of India generally have high tobacco use as well as a high incidence of lung, oesophageal, nasopharynx and other pharynx cancers that are associated with tobacco use."
"There are also unique tobacco consumption patterns in these states, such as the use of tobacco-infused water in Mizoram. HPV and cervical cancer are both high in Dindigul in Tamil Nadu, consumption of smoked or preserved meats and stomach cancer are high in Mizoram, and delayed childbearing and lower parity are high in Kerala as is breast cancer," the study stated. The study also found that Kerala accounted for the highest incidence of cancer, followed by Mizoram, Haryana and Delhi. "The estimated number of incident cancer cases in India increased from 5,48,000 in 1990 to 10,69,000 in 2016," the study stated.
📣 The Indian Express is now on Telegram. Click here to join our channel (@indianexpress) and stay updated with the latest headlines
For all the latest India News, download Indian Express App.