When Poonam and Naresh decided to get married in Chandigarh last year, they feared the worst. Naresh, an electrician, hails from the Jat community and Poonam belongs to an SC family. And in the caste-riven social landscape of Haryana, both knew their marriage could end in isolation — or tragedy.
Today, both look back on that decision with pride — and a sigh of relief. "My parents have accepted our marriage, we hope that we will win approval of her parents also," says Naresh, 30, who is now the "happy father" of a two-month-old boy.
Naresh and Poonam represent a new surge of change — and hope — in Haryana for couples who cross caste barriers and choose to reaffirm their love for each other by tying the knot.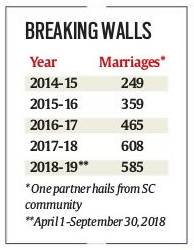 Official figures show that 608 inter-caste marriages were conducted in 2017-18 in which at least one partner was from an SC community — more than a two-fold jump from 249 in 2014-15. This year, the figures show, 585 such marriages took place in just six months between April 1 and September 30.
"We were sure our parents won't accept this marriage. But we had made a promise to each other, that had be fulfilled," says Naresh, who runs his own shop in Kaithal district's Kharak Pandwa village, where around half the population of 10,000 is from his community.
"This shows that the social outlook is changing, and this is a progressive change," says Ranbir Singh, former Dean, Social Sciences Department, Kurukshetra University.
According to the state government, the shift is being driven to an extent by the increase in benefits for inter-caste marriages under the Mukhyamantri Samajik Samrasta Antarjatiya Vivah Shagun Yojana.
"In the first year of our government, we increased financial aid for such couples to Rs 1.01 lakh from Rs 50,000 earlier. This year, this aid was increased to Rs 2.5 lakh. We have also extended the time limit from one to three years for couples to avail benefits under this scheme," says Krishan Kumar Bedi, Haryana Minister for Welfare of Scheduled Castes and Backward Classes.
Anil Kumar, Principal Secretary, Haryana Welfare of Scheduled Castes and Backward Classes Department, says the amount is deposited in the form of a fixed deposit in the joint bank account of the couple with a lock-in period of three years.
"Our marriage took place on November 30, 2017, and we applied for financial two months ago. This assistance has given couples like us a sense of financial security, which is crucial especially in the initial period when we don't get support from our families," says Naresh.
Says his father Mahender Singh, "We were very upset when we heard about his inter-caste marriage. But now, we have accepted that decision. Initially, all our relatives objected but even they have reconciled. Now we hear more about such marriages taking place in our society."
Like Naresh and Poonam, Pardeep Kumar and Komal say they took a huge leap of faith by getting married last year. "Pardeep is from the SC community and I didn't inform my family about our marriage," says Komal, who belongs to an OBC family and has completed Class X.
"We solemnised our marriage in a temple at Hisar where family members of Pardeep were present. Later, my mother and other family members gave their approval to our marriage and starting coming home to visit us," says Komal.
Pardeep works at a jewellery shop in Hisar, and the couple says the government's financial scheme came as a "big source of support".
Minister Bedi claims that "there is a change in the mindset of people, especially regarding the so-called social customs". "Now, there is less interference of khaps in matrimonial matters," he says.
But Ranbir Singh, the former Dean, says there's still a long way to go. "The number of such marriages is still very small in a state with a population of about 2.8 crore. Such marriages are yet to get social acceptability across social divides because the culture of Haryana remains predominantly traditional," says Singh, who is a Senior Fellow at the Institute of Social Sciences in New Delhi.