Written by
Sofi Ahsan
| Chandiagarh |
Updated: September 2, 2017 11:27:40 am
The CBI investigation into two rape cases against Dera Sacha Sauda Sauda chief Gurmeet Ram Rahim Singh has revealed that a number of other sadhvis were subjected to similar sexual exploitation at the dera. Most of these victims left the dera without any word.
The investigation, according to the judgment, a copy of which is with The Indian Express, has stated that Gurmeet Ram Rahim Singh sexually exploited these women at his 'gufa' or cave in the dera where they were put on sentry duty. Also, rape was termed "maafi" (forgiveness) at the dera, the two sadhvis who filed the rape cases against the Dera chief, in which he has been convicted and sentenced to 20 years in jail, told the CBI.
For their part, Gurmeet Ram Rahim Singh's counsel gave several contentions before the court to prove his innocence. One of their pleas was that the Dera chief was "impotent" and "not medically and physically fit to have sex with anyone".
Also read | Cops issue lookout notice against Dera chief's daughter Honeypreet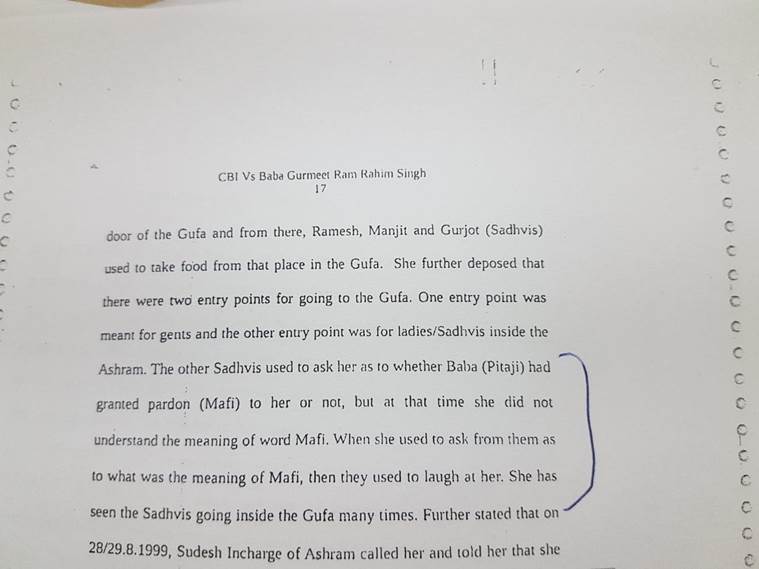 The CBI court rejected all these contentions. Special CBI judge Jagdeep Singh, in the conviction order, said: "Any statement of rape is an extremely humiliating experience for a woman and until she is a victim of sex crime she would not blame anyone but the real culprit."
"Any follower, much less the sadhvis, who had been christened by the accused himself, would be the last person in the world to level false allegations against such a person," the conviction order reads further.
The investigation has made other startling revelations. After one of the two rape victims told the Dera chief that she would disclose his wrongdoings to her brother, she was told "he (Gurmeet Ram Rahim Singh) will get him (the brother) shot and buried". It was also revealed, during the investigation, that after the rape victim got married in 2001, her brother came to her on July 1, 2002, and told her that people from the Dera were threatening to eliminate his children and parents. The brother was killed on July 10 allegedly by Dera men.
The CBI judge, in the judgment, has said the murder is a matter of separate trial and no comment is desirable at this stage. "There is no evidence worth credence on record to the effect that investigating agency/CBI had any motive to falsely implicate the accused by conniving with some ordinary people. Even otherwise, it is next to impossible that members of her family, being staunch followers of the Dera, would ever connive with premier investigating agency in falsely implicating an innocent person," the CBI judge said in the judgment.
📣 The Indian Express is now on Telegram. Click here to join our channel (@indianexpress) and stay updated with the latest headlines
For all the latest India News, download Indian Express App.
The Indian Express website has been rated GREEN for its credibility and trustworthiness by Newsguard, a global service that rates news sources for their journalistic standards.