With H1N1 cases, commonly referred to as swine flu, highest in Maharashtra, the state's public health department has introduced detailed treatment protocol for doctors to reduce mortality in critical cases. The latest guidelines recommend to extend oseltamivir medication to 10 days instead of 5-7 days if patients do not respond, and provide non-invasive ventilation instead of endotracheal tube for oxygen support.
The fresh guidelines recommend hospitals to maintain gap between two beds housing affected patients to three feet — if separate cubicles for infected patients are not available — to avoid cross-infection.  On October 4, Health Minister Deepak Sawant convened a meet, forming a 15 member committee to formulate guidelines.
This year, Maharashtra has recorded 2,502 cases and 409 deaths, maximum in India followed by Rajasthan and Gujarat. Pune and Nashik districts form the bulk of cases. "We noticed high mortality last year, which called for discussion on how to handle critical patient, specially those with acute respiratory distress," said Dr Abdul Samad Ansari, intensivist at Nanavati hospital and member of the committee.
The guidelines state that if a patient shows acute respiratory distress syndrome, non-invasive ventilation should be preferred over invasive ventilation beyond a certain oxygen saturation level. "While we have recommended this, but it may vary from patient to patient depending on their parameters," said Dr Om Srivastava, infectious diseases expert at Jaslok hospital.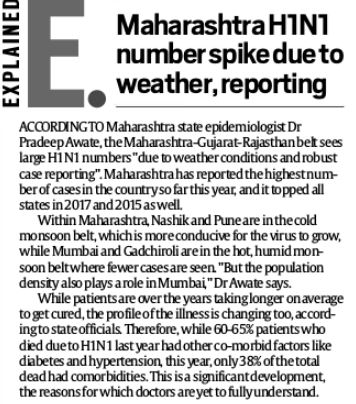 The report also observed that in India, 33 per cent of cases of H1N1 were reported in 5-19 years of age group. The guidelines provide separate protocol for treating adult and paediatric cases. Data from Sassoon hospital, Pune, between July 1 and September 30 this year, showed that of 62 swabs of children sent for testing, only two tested positive for H1N1 and 30 tested positive for various viruses, including H3N2 (two cases), respiratory syncytial virus (22), Adeno virus (two) and human metapneumovirus (one).
"We need to keep a close eye on these other viruses, they can be potentially troublesome for patients. Very little is known about mortality due to them as of now," Srivastava added.
The treatment protocol states that swab testing should be carried only in severe cases, with invasive ventilation recommended if a child develops respiratory distress. The report also observed that children face higher risk of mortality if transferred to higher centre in poor condition. The treatment guidelines recommend early transfer when child has not suffered cardiac or respiratory failure, and to provide oseltamivir dose at earliest.
"We have also mandated that distance between two beds must be at least three feet to prevent cross-infection. This applies to government hospitals where space crunch is there and cubicle to isolate each patient is not possible," said Directorate of Health Services director Sanjeev Kamble.
H1N1 symptoms range from fever, cold, sore throat and headache. In cases where oseltamivir treatment begins within 24 hours of symptoms, complications of acute respiratory distress can be minimised. Dr Madhukar Gaikwad, medical superintendent at St George hospital and member of the committee, said latest treatment guidelines detail how and when to use antibiotics, steroids, IV fluid.