Following the conviction of Dera Sacha Sauda Chief Gurmeet Ram Rahim Singh in a 2002 rape case by a special CBI court in Panchkula on Friday, his followers created a riot like situation in the district to protest the verdict. At least, 30 people were killed and 250 injured in the widespread violence that had left a trail of burnt vehicles, buildings and railway stations in Punjab and Haryana.
The supporters of 50-year-old Ram Rahim, who heads the Sirsa-based Dera Sacha Sauda, took to the streets shortly
after a special CBI court in Panchkula held the flamboyant self-styled godman guilty in the 15-year-old rape case. To take control of the situation, the police deployed at the scene fired in the air, lobbed tear gas and let loose water cannons on the protesters that spread to other parts of Haryana and Punjab and even New Delhi where a bus and train were set on fire.
CBI judge Jagdeep Singh held Ram Rahim guilty in the rape case that was registered on the basis of an anonymous written complaint in that he had sexually exploited two female followers. On the basis of the report, a case was registered against him in December 2002 by the CBI on the directions of the Punjab and Haryana High Court. The quantum of sentence will be pronounced on August 28, CBI counsel HPS Verma told reporters outside the court. The punishment can be a jail term not less than seven years but may even extend to life imprisonment.
READ | Live updates: Death toll rises to 28, railways cancel all trains to Rohtak
Here's how political leaders across the country reacted to the unrest in Panchkula
President Ram Nath Kovind: Violence and damage to public property after court verdict is highly condemnable; appeal to all citizens to maintain peace.
Prime Minister Narendra Modi: The instances of violence today are deeply distressing. I strongly condemn the violence and urge everyone to maintain peace. The law and order situation is being closely monitored. I reviewed the situation with the NSA and Home Secretary. Urged officials to work round the clock to restore normalcy and provide all possible assistance that is required.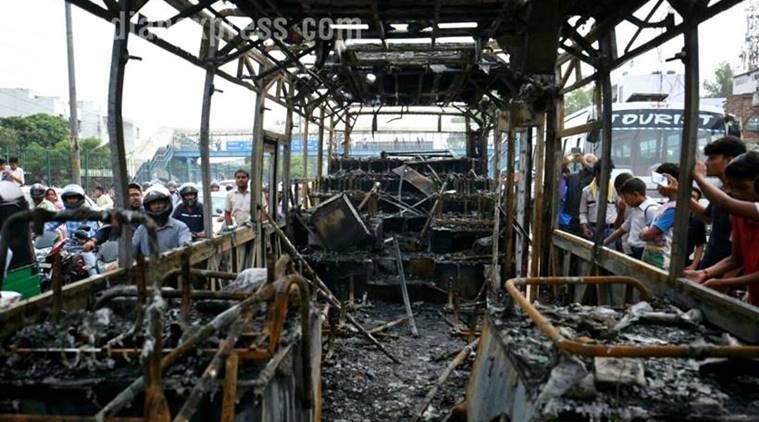 Haryana CM Manohar Lal Khattar: The situation is being monitored extensively, strict action will be taken against those who try to disrupt peace. Vehicles burnt, media OB vans torched; action will be taken against those who took law in their hands. Haryana Government had made complete arrangements; the mob was really huge.
Punjab CM Captain Amarinder Singh:  I appeal to all Punjabis to maintain peace and harmony in the state. We won't allow anyone to disturb the peace and tranquility of our state.
Minister of Information and Broadcasting Smriti Irani: Drawing attention of News Channels to Clause B of Fundamental Std. of NBSA refraining channels from causing panic, distress and undue fear. Attack on media, damage to property condemnable. Appeal to all to maintain peace. Kindly note this advisory has been given by the offices of the National Broadcasters Association.
#Video | Baba Gurmeet Ram Rahim in police custody soon after his conviction pic.twitter.com/5AoZ4ZNH9O

— The Indian Express (@IndianExpress) August 25, 2017
Congress President Sonia Gandhi has expressed grave concern and shock at the unabated violence in Panchkula and other parts of Haryana resulting in the death of over two dozen persons including children, widespread destruction of public property and senseless attack on the media. She also appealed to everyone to maintain peace and harmony. She has spoken to the Punjab Chief Minister Amarinder Singh and has asked the government in Haryana and UT Chandigarh to ensure safety and security of all citizens.
Union Home Minister Rajnath Singh: I appeal to everyone, particularly his supporters, to maintain peace. Any harm to life and property due to this unrest cannot be compensated by any amount of money. I have also spoken to chief ministers of Haryana and Punjab (Manohar Lal Khattar and Amarinder Singh respectively), and they briefed me about the current situation and the steps taken to restore normalcy.
Delhi Chief Minister Arvind Kejriwal: I urge everyone to stay calm and maintain peace.
Former J&K Chief Minister Omar Abdullah: PM Modi should sack his Haryana CM for gross dereliction of duty. The CM had more than enough time to prepare for this eventuality. In light of the mounting death toll, I again repeat about the 'non-lethal crowd control' measures used extensively in Kashmir. Chilli bombs? Pepper grenades? Pellet guns? Do the forces keep those only for protesting Kashmiris? No human shields in Panchkula? Tried and tested crowd control technique much appreciated in many TV news studios not long ago. Seems all the visuals of violence are just fake news. These guys have everything under control. OB vans are self-inflicting damage!
Union minister Rajyavardhan Singh Rathore: Mob attacking people, property and media personnel is highly reprehensible.
JD(U) leader Sharad Yadav: When religion and politics are mixed and politicians take assistance of religion in politics, then such incidents are bound to happen today or tomorrow. We have still time to learn that politicians should not take advantage and assistance in the name of religion and faith.
READ | Who is Gurmeet Ram Rahim Singh?
Congress Vice-President Rahul Gandhi: Violence and brutality have no place in our society. Condemn the rampage and lawlessness in Haryana and appeal to restore peace and tranquility.
CPI(M) general secretary Sitaram Yechury: We appeal to everyone in Haryana to maintain peace and amity. We appeal to the CM of Haryana and the PM to abide by their Rajdharma.
Former Haryana chief minister Bhupinder Singh Hooda: The priority now is to restore law and order, peace and harmony. I appeal to the people of Haryana to maintain calm and ensure there is no loss of life or damage to property.
Congress MP Shashi Tharoor: Saddened by reports from Panchkula of violence over Gurmeet Ram Rahim conviction. 13 people killed, 100+ vehicles destroyed, trains ablaze. What a shame!
With PTI inputs
For all the latest India News, download Indian Express App