The central government's move to invite "lateral entry" of "talented and motivated Indian nationals" into a senior level of the administration triggered a political controversy Sunday, with the opposition calling it "unconstitutional", and a way to "sabotage the system".
In an advertisement published in newspapers and online Sunday, the Government of India invited applications from "outstanding individuals", including from the private sector, with expertise in the areas of revenue, financial services, economic affairs, agriculture, cooperation and farmers' welfare, road transport and highways, shipping, environment, forests and climate change, new and renewable energy, civil aviation, and commerce, for appointment to 10 joint secretary-level posts.
"Yeh manuwadi sarkar UPSC ko darkinar kar bina pareeksha ke neetigat wa samyukta sachiv ke mahatwapoorn padon par manpasand vyaktion ko kaise niyukt kar sakti hai? Yeh samvidhaan aur aarakshan ka ghor ullanghan hai. Kal ko yeh bina chunav ke pradhan mantri aur cabinet banaa lenge. Inhone samvidhaan ka mazaak bana diya hai (How can this manuwadi government sideline the UPSC to appoint people of its choice to important posts? This is unconstitutional and anti-reservation. Some day they will appoint a PM and form the cabinet without an election. They have made a mockery of the Constitution)," RJD leader Tejashwi Yadav posted on Twitter in the evening.
Congress spokesman P L Punia said lateral entry was a way to "sabotage" the system "so that RSS-BJP and some corporate houses can directly influence the government from the inside". "Also, the advert says it is open to Indian nationals, whereas usually it is Indian citizens," Punia told The Indian Express.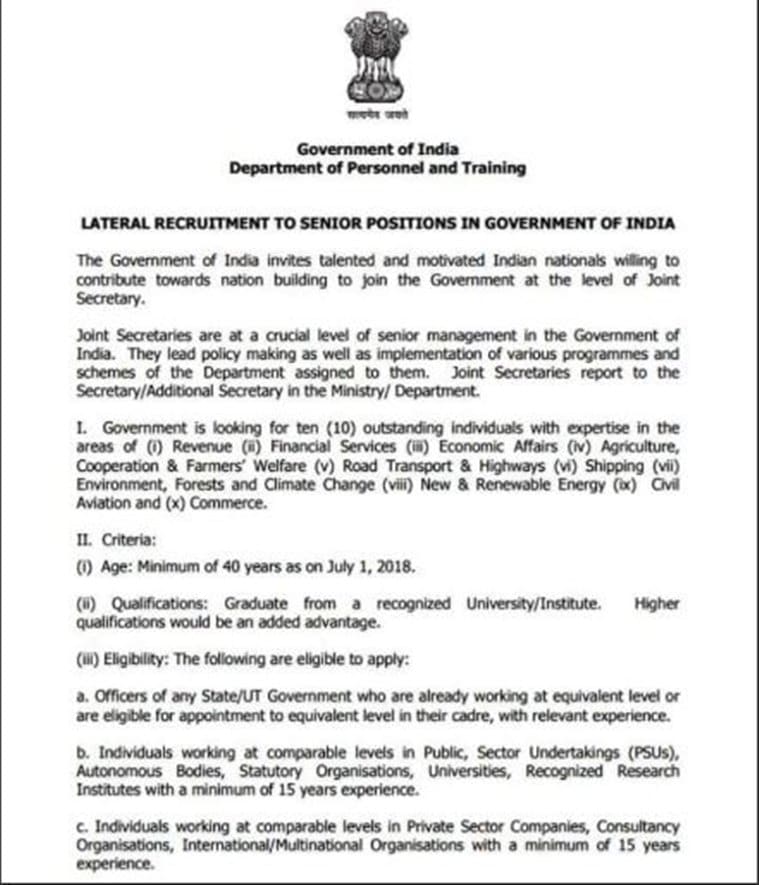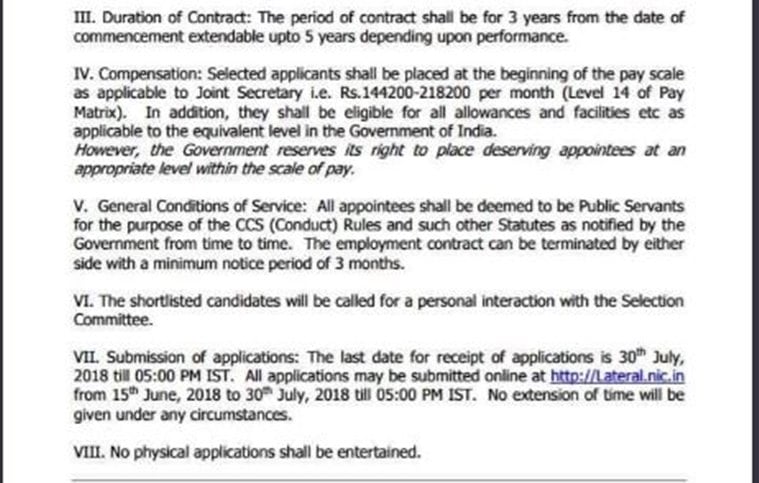 Keshav Desiraju, former Secretary to Government of India, told The Indian Express that "lateral entry is a good idea but we must not give up on the advantages various services bring to policymaking and governance."
"It also needs to be seen", Desiraju said, "who is doing the final selection of these candidates because the system can be easily misused. It should also be spelled out what it is exactly that the government is looking for that the officers in the various services do not have."
As per the notification, shortlisted candidates will appear before a selection committee headed by the cabinet secretary.
Back in 2016, asked whether the government was open to hiring talent from outside the government for policymaking, Prime Minister Narendra Modi had told a group of journalists, "We have, already. We have outside talent in the NITI Aayog."
While this is the first time that an organised policy for lateral entry at a senior level is being rolled out, the experiment with private sector executives in government is not new. The Tata Group's Russi Mody was appointed head of Air India back in 1993, and in 2002, former BSES CMD R V Shahi was made Power Secretary for five years. The UPA government brought in Nandan Nilekani to head the UIDAI project, and the current government appointed ayurvedic physician and former VC of Gujarat Ayurveda University, Rajesh Kotecha, as Secretary, Ministry of AYUSH.
NITI Aayog CEO Amitabh Kant welcomed the move. "Niti's experience with lateral entry has been extremely good. They bring in a vast number of fresh & vibrant ideas. This move in Govt was long overdue & I welcome it. Will catalyse UPSC entrants to specialise. Govt must also allow deputation of its officers to private sector as well," he tweeted.
Former NITI Aayog vice-chairman Arvind Panagaria, too, endorsed the idea. "PM @narendramodi announces another HUGE reform by exposing the top civil service to competition through lateral entry. Hope India's best minds will rise to the occasion and come forward to serve. They are the key to the success of the reform," he tweeted.
One of the first to hail the move Sunday was senior IAS officer Ashok Khemka, who tweeted, "May the best talents from outside nurture the civil services."
The listed positions are open to individuals working at comparable levels in public sector undertakings, autonomous bodies, statutory organisations, universities, and recognised research institutes with a minimum of 15 years' experience. Those working at comparable levels in private sector companies, consultancy organisations, international or multinational organisations with a minimum of 15 years' experience can also apply.
The period of contract will be for three years from the date of commencement of service, extendable up to five years depending on performance. Applicants must be 40 years old as of July 1, 2018, and graduates from a recognised university or institute, the ad said. Higher qualifications would be an added advantage.
Selected applicants shall be placed at the beginning of the pay scale as applicable to a joint secretary, which is Rs 1,44,200-Rs 2,18,200 per month (Level 14 of Pay Matrix), and shall be eligible for allowances and facilities as applicable to the equivalent level in the Government of India. The last date for applications is July 30.
Joint secretaries are at a crucial level of senior management in the Government of India, and lead policymaking and the implementation of various programmes and schemes of the department. They report to the secretary/additional secretary in the ministry or department, and are normally appointed from All India services like the IAS, IPS, IFS and other central services.