AHEAD OF crucial assembly polls in Madhya Pradesh and Rajasthan, and just a day after a Kisan Kranti Yatra rally was stopped from entering Delhi by police using water cannons and tear gas, the government Wednesday announced significant hikes in the minimum support prices (MSP) for crops to be planted in the ensuing rabi season from November.
The MSP for the 2018-19 wheat crop has been fixed at Rs 1,840 per quintal, a 6.05 per cent increase over last year's level of Rs 1,735. The Union Cabinet also approved MSP hikes in other rabi season crops: From Rs 4,000 to Rs 4,200 per quintal for rapeseed-mustard; from Rs 4,400 to Rs 4,620 per quintal for chana or chickpea; from Rs 4,250 to Rs 4,475 per quintal for masur or lentil; from Rs 1,410 to Rs 1,440 per quintal for barley; and, Rs 4,100 to Rs 4,945 per quintal for safflower.
READ | Bearish signals: When minimum support price is only on paper
MP is a major producer of wheat and chana, while Rajasthan is the country's biggest mustard and barley growing state. The MSP hike that matters in material and fiscal terms, though, is of wheat. The reason for this is that it not only covers 30-31 million hectares of the total rabi-planted area of 63-64 million hectares, but is also the only crop (besides paddy) where significant government procurement at the MSP takes place. Last year, India produced 99.70 million tonnes of wheat, out of which 35.52 million tonnes got procured by the Food Corporation of India and state agencies.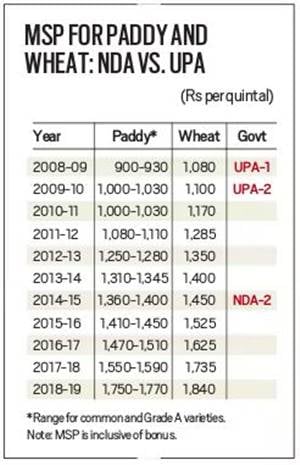 The latest MSP hike takes the total increase during the current NDA government's tenure from 2014-15 to 2018-19 to Rs 440 per quintal for wheat and Rs 425-440 per quintal for paddy. This is more than the corresponding cumulative increases of Rs 320 and Rs 410-415 per quintal over the five years of the Congress-led UPA's second term. The UPA-1 period from 2004-05 to 2008-09, however, saw the wheat MSP being hiked even more, by Rs 450 per quintal, but by only Rs 350 in respect of paddy.
The MSP increases under NDA have come mainly in the last two years, which have witnessed growing farmer unrest. Union Agriculture Minister Radha Mohan Singh said that the new MSP for wheat worked out to over 2.12 times the crop's estimated average production cost of Rs 866 per quintal for 2018-19. This was more than the 1.5 times-cost formula recommended by the M S Swaminathan-headed National Commission for Farmers, which the government had accepted.
Similarly, production costs for rapeseed-mustard, chana, masur, barley and safflower were estimated by the Commission for Agricultural Costs and Prices (CACP) at Rs 2,212, Rs 2,637, Rs 2,532, Rs 860 and Rs 3,294 per quintal, respectively. The corresponding MSPs announced, thus, range from 1.5 times to 1.8 times the production costs.
It remains to be seen whether farmer leaders would buy the government's claims. To start with, they point out that the production costs taken into account are based on 'A2+FL'. These cover only the paid-out costs (A2) on fertiliser, fuel, electricity, wages and other inputs actually incurred, plus an imputed cost of unpaid family labour (FL) of farmers.
But even going by the A2+FL formula, the CACP has estimated the production cost of wheat to have gone up from Rs 817 to Rs 866 per quintal — an increase of hardly 6 per cent. The corresponding per-quintal A2+FL cost increase taken in other crops, too, is meagre: From Rs 845 to Rs 860 for barley; Rs 2,461 to Rs 2,637 for chana; Rs 2,366 to Rs 2,532 for masur; Rs 2,123 to Rs 2,212 for rapeseed-mustard; and, Rs 3,125 to Rs 3,294 for safflower.
On the other hand, retail prices of diesel alone have soared by over 27 per cent in the last one year, from Rs 59.14 to 75.25 per litre. Likewise, di-ammonium phosphate, a critical fertiliser used at the time of sowing, is now retailing at about Rs 26,800 per tonne, as against Rs 21,520 in the last rabi season. "Not only diesel and fertilisers, even prices of pesticides have gone up by 35-40 per cent. By granting us just 5-6 per cent MSP raises, how can the government claim it has empowered farmers," said V M Singh, convenor of the All India Kisan Sangharsh Coordination Committee, an umbrella body of 203 farmer organisations.
📣 The Indian Express is now on Telegram. Click here to join our channel (@indianexpress) and stay updated with the latest headlines
For all the latest India News, download Indian Express App.