Assessing the four years of the NDA government and his ministries, Nitin Gadkari, Union Minister for Road Transport and Highways, Water Resources and Ganga Rejuvenation, says that in 48 months the government has done 10 times more work than what the Congress could do in 48 years. He says the BJP will fight 2019 on the development plank, and that cleaning the Ganga is his topmost priority in the last year of the government's term. Gadkari spoke with Avishek G Dastidar and Ravish Tiwari. Excerpts:
As you begin the last year, how do you view the sectors you are in charge of?
Some works are complete, while some are starting. One project that gives me a lot of happiness is the Delhi-Mumbai highway in which we have saved Rs 16,000 crore in land acquisition. Instead of the Delhi-Ahmedabad-Surat-Vadodara-Mumbai alignment, we have fixed alignment of Delhi-Jaipur-Alwar-Sawai Madhopur, and then Madhya Pradesh and Gujarat to reach Mumbai. With this, we have brought down the cost of land from Rs 7 crore per hectare to around Rs 80 lakh per hectare. Works worth Rs 45,000 crore on this highway will start in 15 days.
Read | Four years of Modi government — Telecom and IT: Digital push reaches Bharat; telecom stress remains
Will this ever come true, or are they just dreams?
Nitin Gadkari never spins dreams. Today I have issued work orders of five packages related to this project between Vadodara and Mumbai. By December, the entire work will be in full swing. All projects, like the Zojila pass tunnel (in Jammu and Kashmir), have been executed with much lower cost. We have saved 10 to 12 per cent of the cost in all projects through execution. The Zojila tunnel alone has saved Rs 1,600 crore. All these projects are transparent, corruption-free, and time-bound.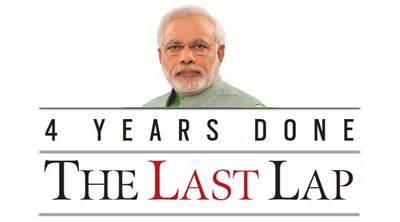 How did you unclog the highways sector when you took charge?
There were 403 stalled projects, worth around Rs 3.85 lakh crore. We took 22 Cabinet decisions in which we got the help of the Prime Minister and the Finance Minister. I remember taking marathon meetings, from 10 am until midnight. I sat with them and solved each and every problem. Today the number of stalled projects is next to nil, and we saved Indian banks from (incurring) around Rs 3 lakh crore of NPAs.
Are there no NPAs in the sector?
All NPAs related to the highways were from older times. We have in fact increased the income of banks…. See the share markets, how stocks of all companies engaged in the sector are doing so well. We have taken Cabinet decision to terminate 45 projects, re-tendered some projects and even loaned money to some through NHAI. Only the Delhi-Dehradun project we had to terminate — the contractor could not work, there were a lot of problems.
Another big sector was the real estate, which ran the engine of the economy for many years. The government has not been able to revive it yet.
It is a fact that the state of the real estate sector is not good but the reason is that in India, only 1 per cent people possess the purchasing power to buy houses worth Rs 10 lakh or more. But builders and developers made big flats, for which there is no demand. The demand is for low-cost housing. Under Pradhan Mantri Awaas Yojana, by 2022, lakhs of low-cost houses will be built. Around 6,000 such houses are being built in my constituency (Nagpur).
READ | Four years of Modi government — Finance: Tax net widened; private funds still elusive
We decided that for buying affordable houses up to 500 sq feet, we would give discount of four per cent on the loan interest rates. There is subsidy on houses beyond that size as well, subsidy of 2-3 per cent on loan amount of 10-15 lakh. All this will reduce the home loan EMIs. This (real estate sector) is all a game of supply and demand in the market. There was less demand and more supply. We need to bring in a balance.
The motor vehicles amendment Bill got stuck in Rajya Sabha.
What can I do? It went to the Standing Committee, Select Committee, before that a committee of transport ministers from 20 states endorsed it… but they (opposition) just don't let it be tabled in Rajya Sabha. Poeple are dying in accidents every day. Five Parliament sessions have passed in the meantime. It is my responsibility to save people's lives. This is not about party and politics. This is unfortunate that a matter like this on which there is unanimity, the bill cannot be passed.
READ | Four years of Modi government — Finance, Part II: GST on course, noose on black money tightened
Will it be passed in the remainder of the government's term?
It will be passed. We think for the best, and I am not saying prepare for the worst (laughs).
Is there any project in your ministries which you think should have happened but did not?
In Inland Waterways, the Yamuna project got stuck because of the National Green Tribunal's stay. I wanted to decongest Delhi and decrease its pollution.
READ | Four years of Modi govt — Education: Warming up after initial slumber
What about expressways, like Delhi-Meerut?
It is done. The work is on schedule. Delhi to Meerut will be (covered in) 40-45 minutes — from present four hours. It will be completed by December or maximum March.
How do you rate your own performance, and that of the government?
I don't claim that we have done 100 per cent work. But I do say that the amount of work the Congress did in 48 years, we have done 10 times more in 48 months. Work on the Bihar package and Kashmir package have started. The bridge in Arunachal Pradesh (Dhola-Sadiya bridge connecting Assam with Arunachal Pradesh) stands erected. In Arunachal Pradesh alone, works worth Rs 3 lakh crore has started. In J&K, we are building the Zojilla pass tunnel for Rs 6,000 crore. The UDAN scheme has started, bullet train is coming…
READ | Four years of Modi government — Railways: Reforms on track, revenue a worry
All these achievements are related to the economic fronts, but there are often allegations against the government on social fronts, like the issue of minorities and Dalits etc, which are not addressed.
There is a lobby of Leftists and anti-Hindutwavadis that does not like the BJP-RSS. They want to create fear among the Muslims, the Scheduled Tribes and the Dalits about the BJP. I want to ask you: show me any scheme which has crores of beneficiaries, where we have taken any discriminatory decision…. It's a business in Delhi to try and prove that the BJP is anti-Muslim, anti-Dalit.
What will be on top of your priority list in the last year?
Cleaning the Ganga remains my topmost priority now.
By March 2019, will there be any project on the Ganga that will be a success?
There are 200 Ganga cleaning-related projects. By March-end 2019, 70-80 per cent of the Ganga will be clean.
But the country has been hearing these claims since long and nothing happens.
I will give you list of projects. I invite you to go and inspect each one. Ten cities are responsible for 70 per cent of the pollution load on Ganga. In Kanpur, seven projects are underway, five in Varanasi, 11 in Patna… go and see for yourself. Of course, all this work will take time to be completed. (But) Remember, I do as I say.
What about the Punjab-Haryana water sharing issue?
It's a difficult problem. So far no solution is in sight, but I am trying.
Don't you think GST and demonetisation implementation had so many problems?
In any economic reform, there are teething troubles. We solved all the problems one by one. The problem that existed yesterday is not there today. Slowly the black economy is shutting down and white economy is coming on track.
Will you ever return to state politics?
Never. I will never return to state politics to be the CM and will never become the party president again. I have no such desire. Similarly, I have no desire to be Prime Minister ever. Whatever I have got is more than what I deserve. I am happy.