Seven months after the NDA government took charge, and a month into the tenure of new Health Minister JP Nadda, India announced its vaccination initiative: Mission Indradhanush.
Few in the country took note of it. International health agencies did, but were sceptical — at a leisurely 1 per cent per year increase in vaccination coverage, the country had a long way to go. The most generous take was: at least the government had chosen to target low-hanging fruit. The government did pluck the fruit — and with aplomb.
In many ways, the Mission Indradhanush (MI) story is emblematic of the government's approach to health: slow and steady. Poor government spend — the perennial problem of healthcare — remains, but at least there is no downward revision towards the end of the year of the budget estimate.
READ | BJP's Campaign 2019: Modi as vehicle, Modi in driver's seat
That is not to say all is hunky dory. The National Health Protection Mission (NHPM) — which the government hopes will be its health flagship, much like the National Rural Health Mission was of the UPA government — failed to take off for two years. It was first announced in the 2016 Budget — Rs 1 lakh health cover instead of the current Rs 5 lakh — and had a long gestation period.
READ | Mission Indradhanush: How govt vaccinated over 2.55 crore children across the country
Also, the three Zika cases detected in Ahmedabad were under wraps for several months before a Parliament question outed the matter.
What's Done
Mission Indradhanush has been a success story. Launched in December 2014, it was designed as a "booster" vaccination programme in 201 districts with low immunisation coverage to ensure that all children under the age of two years and pregnant women are fully immunised. As per the report of the Integrated Childhood and Immunisation Survey, the first two phases of MI led to increase in full immunisation coverage by 6.7 per cent in a year.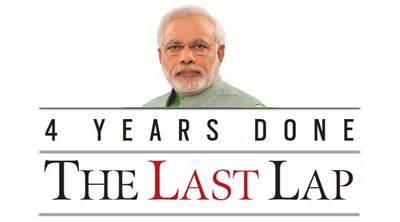 The global pneumonia and diarrhoea report card by International Vaccine Access Center, Johns Hopkins Bloomberg School of Public Health, said: "Over its first four phases, MI has vaccinated about 25 million children in over 500 districts (30)… MI has helped drive the increases in immunisation coverage."
READ | Four years of Modi government — Finance, Part II: GST on course, noose on black money tightened
India eliminated maternal and neonatal tetanus in 2015. The dramatic reduction in prices of cardiac stents and knee implants last year benefited many.
What's in Progress
Since its (re)announcement in the Budget, there has been frenetic activity in the Health Ministry and Niti Aayog around NHPM. A clutch of new officers has joined the ministry to work on Ayushman Bharat, a two-pronged health programme with NHPM as one arm and setting up of health and wellness centres — a preventive component — as its other arm. The target is to formally launch the project on Independence Day, or latest by Gandhi Jayanti.
READ | Four years of Modi government: Roads on course, rivers next, says Nitin Gadkari
Rapid strides have also been made in tuberculosis control, spurred by the suo motu commitment of Prime Minister Narendra Modi to eliminate the disease by 2025, five years ahead of the global deadline.
The UPA plan of six new
AIIMS as apex centres of tertiary care has been taken forward — 18 AIIMS are coming up. However, faculty shortage has meant the six functioning ones have a long way to go.
READ | Four years of Modi government — Telecom and IT: Digital push reaches Bharat; telecom stress remains
The common medical entrance test — NEET — again a UPA legacy that got stuck in courts, is back. Now there is one each for undergraduate, postgraduate and superspeciality courses. However, officials admit there may be some more legal and format issues before they are perfected.
What's Stuck
Finance Minister Arun Jaitley in his Budget speech said that the government had prepared an action plan to eliminate Kala-Azar by 2017. That deadline was missed.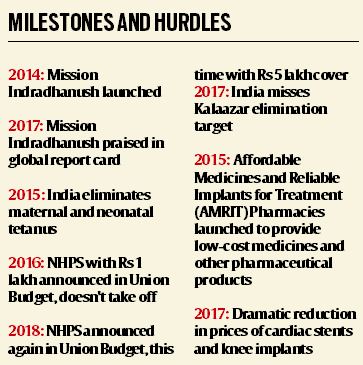 In fact, endemic blocks have increased from 61 to 68 in 17 districts of Bihar and Jharkhand. This is the third time India has missed the KA elimination deadline.
The malaria situation remains grim. In 2017, the World Malaria Report claimed that in India the malaria surveillance mechanism detects a mere 8 per cent of cases, among the lowest in the world.
READ | Four years of Modi government — Finance: Tax net widened; private funds still elusive
Much like its predecessors, the NDA government's efforts to effect medical education reforms by replacing the controversial Medical Council of India with a National Medical Commission have been thwarted by opposition from doctors.
When the Bill was tabled in Lok Sabha, doctor MPs from even the BJP spoke out against it. The Bill was referred to the standing committee.
Two controversial provisions of the Bill are set to have a quiet burial unless the government chooses not to go by the recommendations of the committee.
READ | Four years of Modi govt — Education: Warming up after initial slumber
The human papilloma virus vaccine has received an in-principle clearance from the highest technical body on vaccines for introduction in the universal immunisation programme, but the vaccine remains a hot potato, with saffron organisations claiming that it is actually designed to control population.
***
J P Nadda, Health Minister: We started Amrit, through which 50 lakh patients have benefited. There is 60-90 per cent reduction in MRP of medicines. We are enhancing capacity and budget is increasingly accordingly… We spent Rs 900 crore yearly on Pradhan Mantri Dialysis Yojana… Health secretaries are, on a weekly basis, asked for what they need. The 21,000 villages taken under Gram Swaraj Yojana have been totally immunised in five days, this has been validated by an external party.
***
The opposition view
Randeep Surjewala, Congress communication department head: Health is the biggest casualty under the Modi government. The latest health insurance scheme being sold as Modicare is actually a jumla. Second, in the last four years, construction of not a single AIIMS has been completed. No decision taken on increasing availability of doctors, and no new medical institution has been created. Change of health ministers has marred implementation of schemes.