Written by
Krishn Kaushik
| New Delhi |
Updated: May 31, 2018 9:01:19 am
Rajyavardhan Singh Rathore, Minister of State (Independent charge) for Information and Broadcasting, speaks with Krishn Kaushik on using social media as a key tool of communication for the government, the controversy over the government's ad spend, the achievements, and challenges before the ministry. Edited excerpts:
What do you think are the main achievements of your ministry of the last four years?
See the ministry is supposed to be speaking about other ministries and Government of India, and we started the two-way feedback system or two-way communication system by including social media in a big way as means of communication. The second was the visits of ministers throughout the country specifically addressing the regional media. So we identified the regional hubs or media nerve centres and regularly, for various occasions we would go to the people and interact separately with eminent people of the society, with farmers, with women and therefore we had specific feedback for all segments.
Our regional press conferences, interactions with editors, has also given the government a direct touch with common people. We've put Doordarshan News on a mobile application. In terms of CFBC certification board, we've made applications of for request for a date online. A large portion of the corruption would happen by not giving them the dates, by playing foul there.
READ | Four years of Modi government — Health: Progress steady, but in slow lane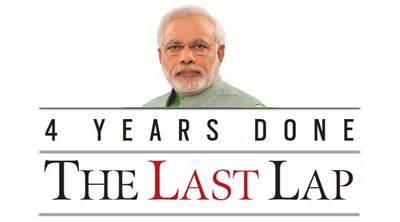 What is the one thing you think the ministry has not been able to achieve in the past four years?
Our priority is to reach out to the people. Government schemes to be known by as many people as possible. Prasar Bharati I feel needs to improve, and we'll work towards that direction as well.
In the last four years this is the only ministry that has seen change of minister four times now, and the change of secretary as well. Has that brought some instability in the ministry?
One of the strengths of our government has been that most decisions are taken collectively by ministers. It's a participative government, and not an isolated one. The government officers always in all departments do their tenures and move, so that's really not an issue. Despite the changes in the senior ministers, the fact is that this ministry, or the strength of this government has been that it's been a very communicative government.
The relationship between the ministry and the Prasar Bharati has been on a shaky ground for the past year or so. So how will you amend that in the next one year.
I think the previous minister had a point, that MoUs need to be signed between various departments and the ministry. Now that the MoUs have been signed, I see no reason why the interaction would not be at the most conducive level.
One accusation was that the ministry was trying to impinge on the autonomy of the Prasar Bharati earlier.
No. That was just the perception. The government is very clear that Prasar Bharati is totally independent. Because we are funding Prasar Bharati till 2019 as defined in our directives, the ministry certainly has the right to know that that where the salary is being paid and how much is the salary being paid. So that had not been provided to the ministry and now it has.
READ | BJP's Campaign 2019: Modi as vehicle, Modi in driver's seat
About Rs. 4,343 crore has been spent on advertising since May 2014. Do you believe that is a bit excessive amount?
First, the schemes are made for the people, and if the scheme is not known by the citizens of the country then they will not be able to take advantage of those schemes. Or, the government would not be able to know the lacunae, or the drawbacks or the modifications required in that schemes. When we advertise, we are advertising about the schemes of the government.
Second, we will use every means possible in a very judicious manner, and that is why we have amended for the first time our policy, which reads that if an area is being covered by a certain platform, certain medium, we need not use multiple mediums there. Just because somebody has a newspaper, it is not mandatory for us to send an advertisement to that. Giving of advertisements is not a welfare measure to a newspaper.
Third, if you compare to the earlier regimes as well, the ad spend is same. It hasn't increased. So basically the government is doing its job, of reaching out to the masses.
READ | Mission Indradhanush: How govt vaccinated over 2.55 crore children across the country
What are the biggest achievements of the Modi government in the last four years?
Broadly we have been able to provide the right governance, we've been able to focus on development through proper governance, in a direction which is transformative to our country. These are the broad three things. The segments or the sectors we've covered are those that probably were marginalised over many years and didn't see benefits of the government reaching them. We've specifically targeted women, we've targeted young India, youth. Our schemes have benefited farmers, infrastructure as a whole and not schemes but our actions have led to a corruption free country. And the potential or the status of the country has certainly risen in the international eyes. These are the overall few things we've done. I can speak on each one of them specifically.
READ | Four years of Modi government: Roads on course, rivers next, says Nitin Gadkari
I'll speak on women just to give you an idea. We've realised that the women are the nucleus of families. The government made life easier and healthier for them by gas connections being provided to them. Four crore gas connections have gone to them so far. It touches four crore families, so 20 crore people touched. Now these are the people who should have had all the basic rights of a human being. The loans in Mudra, 70 per cent have gone to the women. That's how we've strengthened the women.
Plus, these are also the women that do not have a toilet facility in their house. Only a person who is allowed to go only morning and night will would realise what sorts of health benefits and psychological benefits are there.
The BJP Party President has announced the Mission 350 for next year. How do you see the party achieving that goal?
I think people will realise that this government is working for strengthening the future of this country. So beyond caste and creed and beyond specific regions, it is trying to work for the entire country. When the Prime Minister in 2014 spoke about opening of accounts, many people were lost, as to what is so great about opening of accounts. But in 2018, Rs 3,65 lakh crore has been pumped in through Direct Bank Transfers. So you needed a bank account for that. 20 crore people of this country have got subsidy in their bank account only for gas. Rs. 14,000 crore has been saved because of subsidy not going to the wrong people.
READ | Four years of Modi government — Finance, Part II: GST on course, noose on black money tightened
Prime minister invited the SAARC nations to his oath-taking. And then prime minister, between all Parliament sessions prime minister started traveling abroad. It was and it still is, mocked by the Opposition. But today in the United Nations, or any of the international forums the reputation and status of India is at a very high pedestal.
Again, it's a vision. So the people of this country and specially the young, realise that till now the governance of this country has mostly been dynasty led, here is one person who has no connection to his own, real, direct family. This window of opportunity that India has got, with the youngest population being in India, and with economy of our nation still being very robust and rapidly increasing compared to other countries, this window of opportunity cannot be lost.
You are the chief communicator, what do you think people will trust more the work of the five years of this government or just the persona of the prime minister?
Long back Alexander said that I wouldn't worry about an army of lions led by sheep. What he meant was that a strong army led by a weak leader is immaterial. A strong robust country led by weak prime ministers will never make a mark anywhere. It's a strong nation being led by a strong leader that is going to make a mark. When I say leadership matters, it doesn't necessarily mean only leadership and nothing else. It's obviously everything put together.
READ | Four years of Modi government — Telecom and IT: Digital push reaches Bharat; telecom stress remains
What is the role of this social media hub, can it not be used for snooping at some point?
Snooping means knowing something which is not public, which is private. In social media a lot of companies find out what is the sentiment regarding their product launch. They are not extracting anything which is private. Social media is a public domain and anything that is put in public domain they are just assessing that.
The government wants to know on various occasions actions taken by the government, what does the public feel about it. And even before this tender was floated the government was analysing public sentiments. All these stories about snooping into the emails are absolutely wrong.
READ | Four years of Modi government — Finance: Tax net widened; private funds still elusive
A lot of the work is stuck in the ministry like licenses for channels, auction for channels on the Free Dish, renewal of licenses for DTH. Why were these policy decisions stuck?
A lot of times departments or the ministries have to do stock taking of the policies itself. Are we moving in the right direction? A large number of licenses are lying unutilised and are being sold now. So the ministry took a certain amount of time to rethink on the policy to take stock of the situation. Once it analyses that it will come up again with a fresh set of actions. The (former) minister decided to take stock of the situation.
By the we have already started discussing on a proposal to finalise the DTH licenses. I think even on the Free Dish, we have heard out the opinions of various channels, so the work is in progress even there.
READ | Four years of Modi govt — Education: Warming up after initial slumber
Rajasthan goes to polls later this year, and you come from there. What do you think are BJP's chances in Rajasthan considering the anti-incumbency there?
At a time when BJP did not exist in most of the country, it was supported by these three states which are going to elections in December. Now that 20 states are with BJP and we have gone into areas where BJP hardly had any influence, obviously the states that have stood by BJP will support BJP. Now, anti-incumbency is only when the people feel that work hasn't happened from that government. Otherwise it's pro-incumbency. Therefore the graph of the prime minister, and the sense of trust and belief in the prime minister and his way of functioning is very high in these three states. I see… there is going to be a massive upsurge for BJP.
The Indian Express website has been rated GREEN for its credibility and trustworthiness by Newsguard, a global service that rates news sources for their journalistic standards.