Responsible for internal security, border management, Centre-state relations, administration of Union Territories, management of Central Armed Police Forces, among others, a Union Home Minister is tested on his/her political acumen more than his/her administrative skills. Prime Minister Narendra Modi got Rajnath Singh to discharge that job, and in four years Singh has delivered on many fronts. Centre-state ties, communal violence, and Kashmir are areas that stick out like the proverbial sore thumb.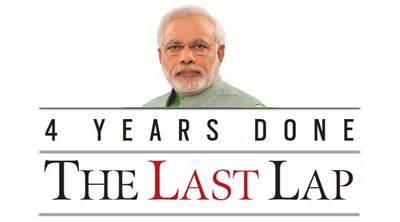 WHAT'S DONE?
Preventing any major terror attack outside of Jammu and Kashmir, Left-Wing Extremism (LWE)-affected areas of south and south-central India and the Northeast can be called one of the Modi government's biggest achievements, the terror attack on Pathankot air base in January 2016 being the last one.
A declining trend of LWE violence began in 2011, and the last four years have seen an improvement. An overall 20 per cent reduction in violent incidents (908 compared to 1,136 ) and 33.8 per cent decrease in LWE-related deaths (263 from 397) were reported in 2017 compared to 2013.
In April this year, the Union Ministry of Home Affairs (MHA) removed 44 districts from the list of areas under Maoist influence, and the number in the worst Maoist-affected districts' list declined from 36 to 30. However, Maoist activities were noticed in the tri-junction of Tamil Nadu, Kerala and Karnataka, prompting the Centre to include three districts of Kerala to be included in the Security Related Expenditure.
Another area of improvement is the Northeast. According to MHA, the number of insurgency-related incidents there decreased from 484 in 2016 to 308 in 2017, the year which saw the lowest number of insurgency incidents since 1997. Similarly, casualties of security personnel declined from 17 in 2016 to 12 the following year, and civilian casualties from 48 (2016) to 37 (2017).
Earlier applicable in many parts of the Northeast, the controversial Armed Forces Special Powers Act (AFSPA) is now limited to Nagaland, Assam and Arunachal Pradesh. The Centre has been pursuing a policy of talks and negotiations with insurgent groups and encouraging them to abjure violence, lay down arms and seek solutions to their problems peacefully.
NSCN-K, responsible for the attack on the Army in Manipur in June 2015, was declared "unlawful association" under the Unlawful Activities (Prevention) Act, 1967.
WHAT'S IN PROGRESS
India has a 15,106.7-km land border and a coastline of 7,516.6 km, including island territories. Sealing of border with Pakistan and Bangladesh, announced in 2016, is likely to be completed. Besides fencing, the MHA is providing for floodlights, building roads along borders with Pakistan, Bangladesh, China and Nepal, development of integrated check posts (ICPs) at various border locations, and measures to strengthen coastal security.
Crimes against women saw a substantial 2.9-per cent increase in 2016 over 2015, and law and order being a state subject, MHA has sent advisories to states, asking them to increase representation of women in police forces, increase gender sensitivity among police, establish 24×7 women police help desks, among others.
The Criminal Law (Amendment) Ordinance, 2018, on crime against children and women has come into force since April with enhanced punishment.
Repatriation of Bru migrants to Mizoram is also likely to be completed in coming months. These people had fled to Tripura in 1997 to escape ethnic violence. The process of repatriation of 1,622 Bru families has been completed and 5,407 families have been identified to be repatriated.
WHAT'S STUCK
In 2015, Prime Minister Modi announced signing of a framework agreement between NSCN-IM and the Central government. Three years later, the peace accord is yet to be finalised — more groups have come forward with their demands, and the Centre's representative, R N Ravi, is holding negotiations with them. With Lok Sabha polls scheduled next year, the issue may take a backseat.
Another key proposed legislation — Citizenship (Amendment) Bill, 2016, to help persecuted Hindus from Pakistan, Bangladesh and Afghanistan get Indian citizenship easily has run into trouble, with protests brewing in Assam and Meghalaya. While MHA has given interim relief by relaxing long-term visa norms, the Bill is hanging fire — and with opposition parties demanding that citizenship cannot be granted on the basis of religion, it is unlikely to be cleared by Parliament.
Home Ministry's proposed amendment to the Prevention of Damage to Public Property Act, 1984, by replacing it with Prevention of Damage to Public Property Act (Amendment) Bill, 2015, is pending for the last three years. The Bill proposes to hold leaders of political parties accountable for damage to public property during strikes, protests and demonstrations called by them.
CCTNS, started by the previous UPA government with an aim to connect all police stations and provide a comprehensive and integrated system for effective policing, was rolled out last year but has not been able to successfully generate data required by agencies. The government still depends on state police for crime data.
The proposal to set up a single emergency response number across the country is also yet to be rolled out.