Prime Minister Narendra Modi on Monday inaugurated the Kundli-Manesar section of the Kundli-Manesar-Palwal (KMP) western peripheral expressway. Built under the 2003 'Peripheral Expressways project,' the Kundli-Manesar-Palwal (KMP) Expressway's construction began in 2006 with an aim to ease traffic congestion and pollution around Delhi and adjoining areas.
Here the top things five things to know about the project:
– Constructed using seven lakh tonnes of cement and 65,000 tonnes of steel, the stretch includes six major bridges, eight minor bridges, four railway overhead bridges, seven toll plazas and 21 vehicular underpasses. It was originally targeted to be completed by 2009.
-The project was built at a cost of Rs 1,915 crore.
-The 135-km Western Peripheral expressway connects four of the nation's busiest National Highways — NH1 near Kundli, NH10 near Bahadurgarh, NH8 at Manesar, and NH2 near Palwal.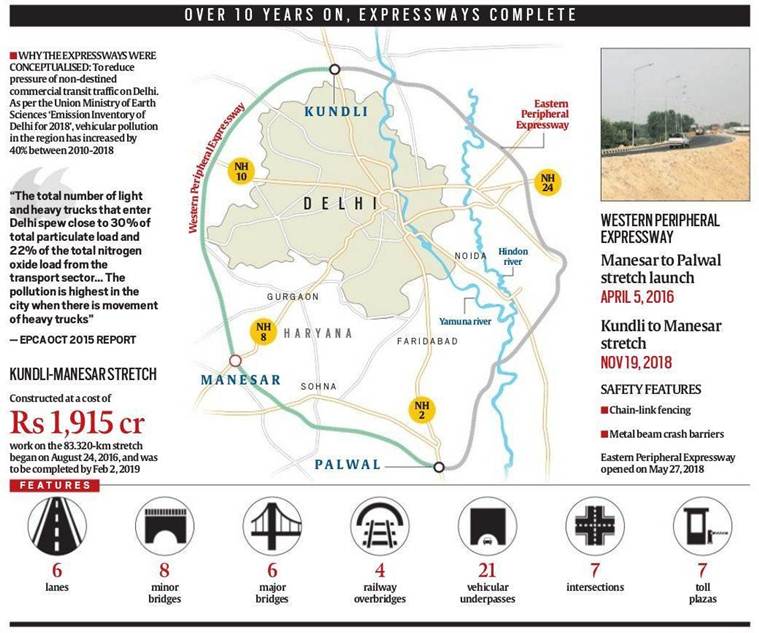 -The KMP expressway provides signal-free connectivity to commuters headed towards Uttar Pradesh, Uttarakhand, Haryana, Punjab and Jammu and Kashmir, and is expected to relieve the capital of hundreds of vehicles, providing a smoother commute for residents of the city and bringing down the number of traffic offenders, accidents and fatalities.
-In order to beautify the stretch, around 50,000 'super plants' would be used to mitigate the effects of pollution, and "roadside furniture" such as fountains and sculptures are to be installed every 10 metres.