The nationwide farmers protest entered its third day on Sunday. The supply of milk and vegetables is likely to be affected in some parts of the country due to the agitation. On Saturday, clashes broke out in parts of Punjab between protesting farmers and traders, and the supply of milk and vegetables was hit in some areas. Business was affected in many markets of Rajasthan, too, as nearly 150 trucks carrying vegetables and fruit were stopped from entering Muhana Mandi, the state's biggest wholesale market, and prices rose in wholesale markets.
Earlier, vendors in Delhi-NCR vegetable market had said that prices have shot up due to country-wide farmers' protest. More than 100 farmers groups are participating in a 10-day nationwide strike to demand a complete loan waiver in the agriculture sector and the implementation of recommendations made by the MS Swaminathan Committee. The strike, declared by the All India Kisan Mahasangh, is being staged in Maharashtra, Uttar Pradesh, Madhya Pradesh and Punjab, among other states.
Also read | Union Agriculture Minister says farmers protesting to attract media attention

However, the Bharatiya Kisan Sangh, an RSS-affiliated outfit, has decided against participating in the strike.
Live Blog
Farmers across the country begin a 10-day strike today demanding complete loan waiver. Here are the live updates.
Farmers protests coinciding with first anniversary of Mandsaur firing
The June 1-10 protests also coincide with the first anniversary of the tragic killings of farmers in Mandsaur, Madhya Pradesh. Five farmers were allegedly killed in police firing during protests on June 6 last year in MP's Mandsaur. Meanwhile, farmers in Mandsaur have said the protest will be non-violent but they will suspend supplies to nearby cities.
Rahul Gandhi to address farmers at MP's Mandsaur on June 6
Congress president Rahul Gandhi will participate in a protest at Mandsaur in Madhya Pradesh where six farmers were killed in alleged police firing last year. "In our country, 35 farmers commit suicide everyday. Farmers have been forced to hold 10-day agitation against Central government's failure to address the agrarian distress. While standing with farmers in their fight for justice, I will address a farmers rally in Mandsaur on June 6," Mr Gandhi wrote on Twitter.
Agriculture production rose during NDA regime: Radha Mohan Singh
Meanwhile, Union Minister Radha Mohan Singh on Saturday said that production and productivity in agricultural sector have increased during the four years of NDA rule at the Centre, compared to the UPA regime. The Union Agriculture & Farmers Welfare Minister also said that the NDA government has also given push to policy reforms in the sector. "In the four years of the (Narendra) Modi government, the average foodgrain production has increased to 280 million tonnes in 2017-18 from the average foodgrain production of 255 million tonnes during 2010-2014" when the Congress led UPA was in power, he was quoted as saying by PTI in Patna.
Farmers group threaten to stop supply of milk, vegetables to Mumbai
In Maharashtra, the Kisan Sangarsh Samiti, led by the All-India Kisan Sabha (AIKS), has decided to intensify the protests and threatened to stop supply of milk and vegetables to Mumbai and other cities from June 7, unless their demands are met. Earlier on Friday, some farmers gheraoed district collectors' offices across the state to press for their demands.
Union Agriculture Minister says farmers protest to draw media attention
Union Agriculture Minister Radha Mohan Singh said on Saturday that the protest by farmers in various parts of the country were attempts to get media attention, triggering demands by opposition parties for his removal, reports PTI. Singh said the farmers opted for "unusual deeds" to draw media attention as they belong to organisations with only a few thousand members.
Before Singh, Haryana CM Manohar Lal Khattar had said that farmers "don't have any issues, they are just focusing on unnecessary things, not selling produce will bring losses to farmers".
Farmers threaten to damage milk tankers in Mohali
The farmers, taking part in the 10-day-long protest, Kisan Avkash, demonstrated outside Verka's headquarters in Phase VI on Saturday and warned of damaging its milk tankers if the company failed to stop the transportation of milk. The protesting farmers have warned the authorities that if Verka did not stop the supply of powdered milk, the farmers would launch a permanent protest outside its office.
110 farm organisation spearhead nationwide protest
The All India Kisan Mahasangh, an umbrella body of 110 farmers' organisations across India, announced on April 30 that it will block the supply of farm products such as grains, vegetables and milk across the country to attract government's attention towards the rampant agrarian crisis and farmer distress.
At Jalandhar mandi, wholesale prices shoot up five-fold in a day
At the largest vegetable market of Jalandhar, Maqsudan mandi, tomato is being sold at Rs 40-70 per crate, which has 20 kgs, as per wholesale price. The same crate on Friday was sold for Rs 300 more, almost a five-time high in a day.
Contract farming in Goa
Meanwhile, in Goa, the government is considering bringing a legislation to facilitate contract farming in the state. The move will allow corporates, individuals or institutions to tie-up with farmers and cultivate their land. The process of giving a final shape to the legislation has been initiated in association with the revenue department.
PUNE: 10% dip in milk collection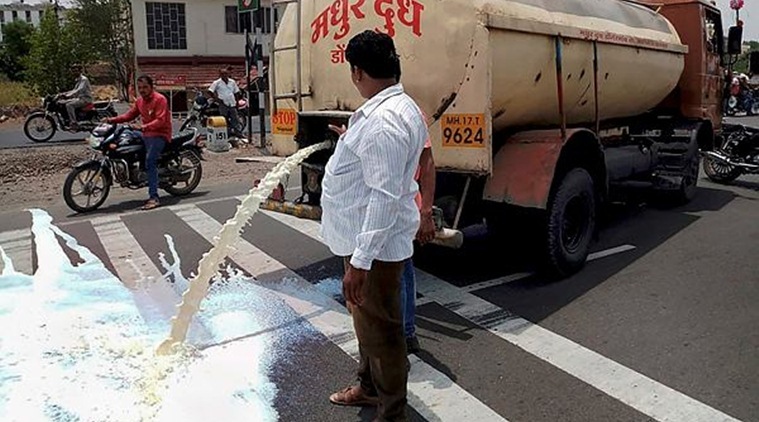 Farmers from Ahmednagar spill milk down a road during a state-wide protest, in Pune.
In Pune, a 10 per cent dip is reported in milk collection. Though Kolhapur Sangli dairies report normal milk collection.
Madhya Pradesh: No farmers are on strike, says Minister of Agriculture
Madhya Pradesh minister for agriculture, Balakrishna Patidar said that no farmers are participating in the strike and that they are happy with the schemes offered by the CM.
"Its 2nd June today, where is the strike happening? No farmers are participating in the strike. Farmers are happy with the schemes CM has launched for them. They have faith that state&central govt will solve their problems," he said.
Farmers don't have any issue, says Haryana CM
#WATCH: Haryana CM Manohar Lal Khattar speaks on farmers' strike, says, 'they don't have any issues, they are just focusing on unnecessary things, not selling produce will bring losses to farmers.' (01.06.2018) pic.twitter.com/CFY7dzgj2g

— ANI (@ANI) June 2, 2018
Farmers continue to protest
PICS: Farmers stop supply of vegetables, fruits, milk and other items as part of nationwide strike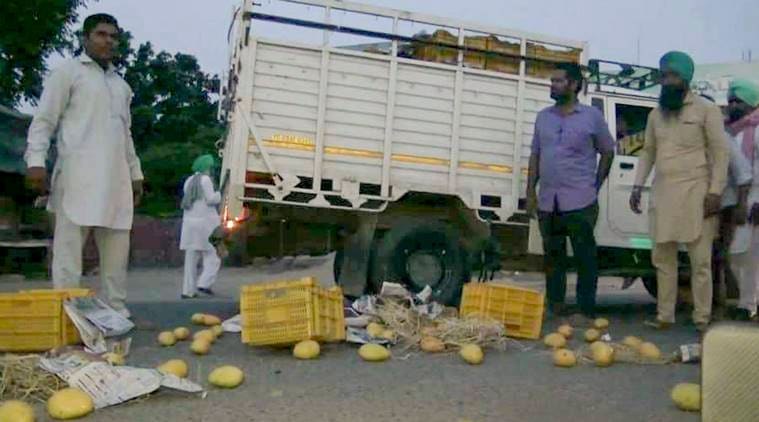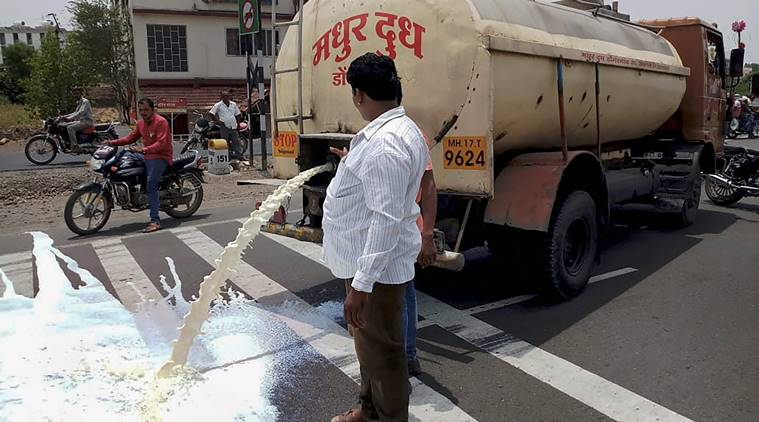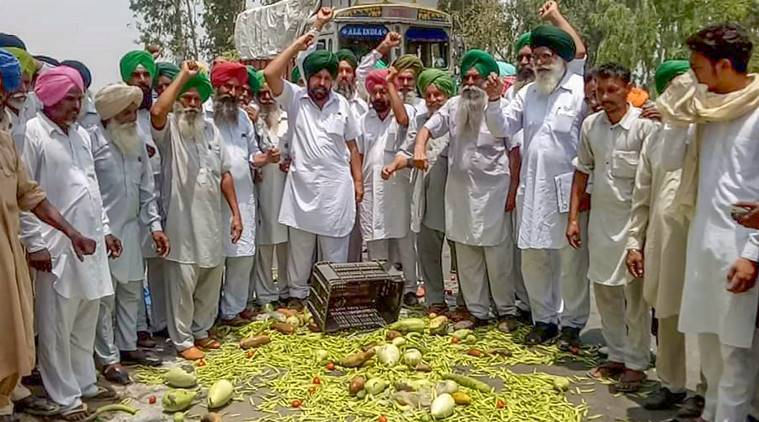 (Source: PTI)
Rajasthan: Farmers stop supply of milk, vegetables in support of 10-day nationwide protest
Farmers in west Rajasthan districts stopped supply of milk and vegetables in support of the 10-day nationwide protest to demand farm loan waiver and adequate prices for their produce. Although the agitation has not affected normal life in the state so far, supply of milk, vegetables and supply of other farmers produce was hit in Sriganganagar, Hanumangarh and Jhunjhunu districts.
"Supply of milk, vegetables and other essential items was stopped in Sriganganagar, Hanumangarh and Jhunjhunu districts. We will continue this for the next 10 days and the protest will intensify," said Santveer Singh, a member of the core committee of the Rashtriya Kisan Mahasangh in Rajasthan.
Farmers at several places in Punjab, Haryana stop selling vegetables, milk
As part of a nationwide strike against alleged anti-farmer policies of the Centre, farmers stopped the supply of vegetables, fruit, milk and other items to various cities of Punjab and Haryana. "We are getting very good response from fellow farmers for their support to this agitation. At majority of places in the state, farmers have stopped bringing vegetables, milk and other items to the cities for sale," claimed Balbir Singh Rajewal, president, Bhartiya Kisan Union (BKU).
"No farmer is being forced by anyone to stop bringing their produce. The farmers have so much anger against the central government that they became a part of this agitation on their own," said Rajewal.
The decision to stop supplies starting from June 1 till June 10 was taken by farmers under the banner of Kisan Ekta Manch and Rashtriya Kisan Maha Sangh.
Madhya Pradesh: Mixed response to farmers' agitation amid heavy police presence
Madhya Pradesh witnessed a mixed response to the farmers' call for the 10-day shutdown in the state. In state capital Bhopal, Mandsaur and other places, milk and vegetables supply was affected, due to which prices of vegetables recorded an uptick. Though the shutdown had limited impact in big cities and towns, it was widespread in small towns and suburbs.
Aam Kisan Union Kedar Sirohi told IANS: "Farmers are united and continuing with their protest. The state government is trying to make their protest a failure but they are not ready to bow before the government at any cost."
MP farmers' agitation begins; milk, vegetable shortage likely
On the first anniversary of death of seven farmers in Mandsaur violence in Madhya Pradesh on June 6 last year, the farmers have launched "Gaon Bandh" (village blockade) agitation today, IANS reported. No eatables would be supplied from villages to cities in the state for the next 10 days. Although the state government has made arrangements to minimise the impact of agitation, cities are set to see shortage of items like vegetables and milk.
Chief of Aam Kisan Union Kedar Sirohi told IANS that the agitation enjoys the support of more than 150 farmers organisation. Besides, all 50 Panchayats of the state have also announced to fight for the rights of farmers.
In Maharashtra, lukewarm response to strike
The strike is being observed in parts of Maharashtra today. Some farmers groups have decided to support the agitation while others have refrained citing economic losses, among other reasons. Major wholesale markets, however, remain open today in Mumbai and Pune. Remember, the strike comes just months after almost 30,000 farmers from across Maharashtra marched to Mumbai to put pressure on the Devendra Fadnavis-led government to help the ailing sector.
Also read | Farmers strike starts in India, sporadic influence in Maharashtra
Farmers begin 10-day strike today
In another agitation against the government, farmers across India are staging a 10-day protest to demand reforms in the agricultural sector. At least 110 farmer bodies are expected to participate from states, including Maharashtra, Uttar Pradesh, Madhya Pradesh and Punjab. They are demanding a complete loan waiver as well as implementation of the MS Swaminathan recommendations. Follow our blog through the day as we bring you the latest news.
(With inputs from ENS)