Written by
Ritika Chopra
| New Delhi |
Updated: March 23, 2018 7:33:00 am
Taking a grim view of the Facebook data breach that was allegedly exploited to influence polls across the world, the Election Commission (EC) has indicated that it may review its association with the social media giant after the scandal that surfaced last week.
Speaking to The Indian Express, Chief Election Commissioner O P Rawat said on Thursday that the matter of EC's partnership with Facebook, to encourage enrollment of young voters, will be discussed soon at a Commission meeting.
"We will be considering this issue in its entire dimension in the Commission meeting," he said, indicating that the discussion may take place either Friday or early next week.
Read | Ravi Shankar Prasad warns Facebook on data breach: 'Can even summon Mark Zuckerberg'
When asked if the Commission is concerned over allegations of data being harvested to build psychological profiles of voters to influence them, Rawat said, "Definitely. Something which can affect the election arena in an adverse manner, like public opinion being moulded. this should concern us and we will take a view on this."
The EC has partnered with Facebook on at least three different occasions in the last year to encourage Facebook users, youngsters especially, to register themselves as voters.
Express Explained | Facebook Chief Mark Zuckerberg's promises fix: What he said, what he did not
Last year, as part of one such collaborative effort, the social media platform sent voter registration reminders in 13 Indian languages to all its users in the country for four days, from July 1 to 4. Nasim Zaidi was the CEC then.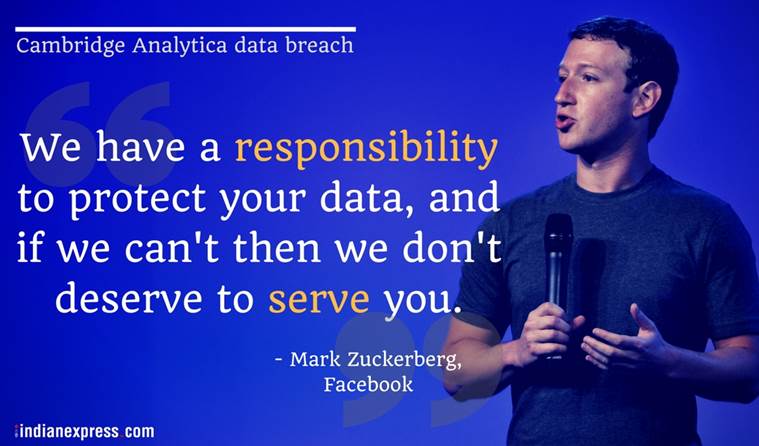 A few months later, when A K Joti was the poll panel head, a similar campaign was announced under which all Facebook users, who were going to turn 18, got a "birthday wish" on their birthday along with a reminder encouraging them to register with the EC to vote.
Read | Data breach: BJP, Congress, JD(U) on client list of parent firm's India partner
EC's latest partnership with Facebook was in January this year. The Commission had announced a National Voters' Day pledge feature on the social media platform. "On the 8th National Voters' Day, the EC is happy to join hands with Facebook for one of the largest voters' pledges. Through the 'pledge' let us renew our commitment to the cause of free, fair, peaceful and participative elections," Rawat had said in a statement on January 25.
The poll panel has been grappling with how to deal with the influence of technology and social media in state and Central elections. Recently, it set up a committee with representation from the I&B Ministry, Law Ministry, National Broadcasters Association and Press Council of India to examine the scope of Section 126 of the Representation of People Act in the "prevailing context of communication technologies".
Section 126 prohibits the display of "election matter by means of cinematograph, television or other similar apparatus" and the holding of musical or theatrical performances or entertainment programmes to influence voters 48 hours ahead of voting.
EC's review of Section 126 was prompted by newschannels telecasting Congress President Rahul Gandhi's interview just a day ahead of the second phase of the Gujarat polls in December last year.
Rawat's comment on EC reviewing its partnership with Facebook has come just a day after the Union Minister for Law and Information Technology Ravi Shankar Prasad delivered a sharp warning to the social media website saying that the government would take stringent action, including summoning its CEO Mark Zuckerberg to India, in case of any data theft of Indians.
The data leak scandal has sparked an uproar worldwide, with countries like the US, Germany, Canada launching a probe into the misuse of data and to determine whether Facebook violated privacy norms.
The Indian Express website has been rated GREEN for its credibility and trustworthiness by Newsguard, a global service that rates news sources for their journalistic standards.