The Congress leaders have been going door-to-door for the last one week to collect feedback from people in Ahmedabad city about what they want from the party and why they rejected its candidates during the last three Assembly elections in a row. The exercise is being conducted under "Congress aap ke dwar" (Congress at your doorstep) campaign planned by the party to reach out to urban voters in all eight big cities including Ahmedabad, Vadodara, Rajkot, Surat, Bhavnagar, Junagadh, Gandhinagar and Jamnagar.
The eight cities alone account for a total of 40 Assembly seats out of a total of 182 seats in the state and the Congress won only six of them in 2017 Assembly elections: four in Ahmedabad, one in Gandhinagar and one in Junagadh. The seats the Congress won in 2017 in Ahmedabad are Dariyapur, Bapunagar, Jamalpur and Danilimda. The party lost the rest of 34 seats in these big cities to the BJP as it drew a blank in Surat, Vadodara, Rajkot, Bhavnagar and Jamnagar. In 2012, it had won only Dariyapur and Danilimda in Ahmedabad. In 2007, it had won four seats — Shahpur, Kalupur, Jamlapur and Danilimda — all in Ahmedabad only, with the remaining 36 having gone to the BJP. The BJP's strong grip on urban voters has been its strength that has helped the party retain power in the state for over two decades.
Gujarat Pradesh Congress Committee (GPCC) president Amit Chavda said, "We performed very well in 2017 Assembly polls but could not reach the magic number of 92 required to form the government because our performance was very bad in urban centres. This shows that the party is very weak in urban areas. That is why I am focusing on eight municipal corporation towns to know what people expect from us. For this, I have formed the Congress Urban Coordination Committee under my own chairmanship. Senior party leaders, including myself, the Leader of Opposition in the state Assembly Paresh Dhanani and others like Arjun Modhwadia are visiting people in different wards in Ahmedabad to know their views. Initially, the exercise is on in Ahmedabad and we will take it up in other cities after completing the task in Ahmedabad."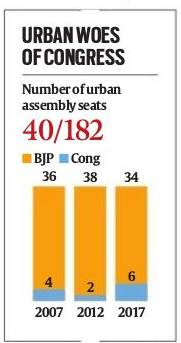 In 2017 Assembly elections, Congress won 78 seats (with Independent candidate Jignesh Mevani having been backed by the party) on its own but all from rural areas. The BJP won 99 seats only as rural voters did not support the BJP. In contrast, the urban voters stood solidly behind the BJP. Congress leaders feel that if they could have won even 50 per cent of urban seats, they would have easily defeated the BJP. There are 16 seats in Ahmedabad city, nine seats in Surat city, five in Vadodara city, three in Rajkot, two in Jamnagar, two in Bhavnagar, one in Junagadh and two in Gandhinagar. Many of these seats have sizable Patidar population but the Congress failed to attract Patidar votes in 2017 Assembly polls despite Hardik Patel's strong anti-BJP agitation.
Party spokesperson Manish Doshi, who went door-to-door in Asarwa Assembly constituency, said, "The party has not been receiving support in urban centres." He added, "This is the biggest weakness of the party in state which is keeping it away from power for over 25 years."
"We are meeting people in each and every ward, questioning them about where the Congress was lacking in elections. After getting the feedback, we'll analyse it and prepare the strategy how to approach urban voters so as to improve our performance in the next Assembly polls as also 2019 Lok Sabha elections," said Doshi.