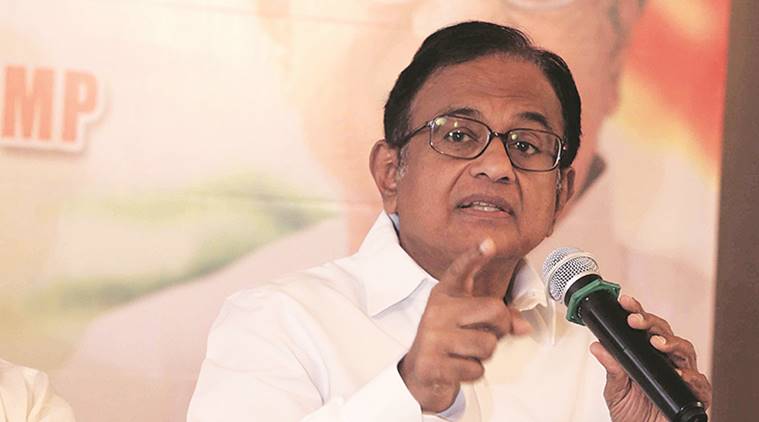 Former Finance Minister P Chidambaram on Thursday said the "extraordinarily foolish measure" of demonetisation had further "set back" the Indian economy, which was slowing down, and argued that the economy will "go down further" if the government does not take corrective steps. Chidambaram's criticism of the government, in the form of a video statement released by the Congress, came a day after data released by the Central Statistics Office (CSO) showed that the GDP in the January-March quarter grew at the slowest pace in at least four quarters — at 6.1 per cent against 7 per cent in October-December.
Reacting to the CSO data, Chidambaram said all was not well with the Indian economy. "I don't know how the government will go forward. But how long can the government fool itself and fool the people of India by saying all is well and we are on the right course? All is not well. We are not on the right course. Investments are declining, credit growth is negative in most sectors and there are no jobs. The economy is going down very rapidly and unless corrective steps are taken, the economy will go down even further. We have warned the government. We are forewarning the people of India. Let's see how the government responds to the CSO's figures," Chidambaram said.
"By the new method of measurement… gross value addition… there is a decline from 7.9 per cent in 2015-16 to 6.6 per cent in 2016-17. That is a decline of 1.3 per cent…. When demonetisation was done, I had predicted that the economy will take a hit between 1 and 1.5 per cent. What the Congress and the Opposition had been saying has been proved true," he said.
He said the government, instead of taking steps to arrest the slide in the economy in the middle of 2016, had come up with the "extraordinarily foolish measure of demonetisation and that has set back the economy even further." "In the meanwhile, millions of people plunged into misery. We have been pointing out that the three indicators of a vibrant economy are down. The first is investment to GDP ratio, the second is credit growth and the third is the number of jobs that were created. And all three indicators, the government has totally failed and the CSO has proved us correct and has proved the government wrong," he said.