A total of 16 district magistrates were honoured with The Indian Express Excellence in Governance Awards Wednesday for their pioneering work across categories that range from Agriculture to Education and Technology to Women Development.
The winners have been chosen from 249 entries received from 84 districts in 24 states. The winning entries include projects like a cluster of solar panels installed on a hillock as an alternate energy source; a neo-natal unit in the heart of Maoist territory and an anti-corruption drive along the international border.
The awards, a biennial event that celebrates the finest work done by the women and men at the forefront of governance and change across the country, were given by four Union Ministers—Nitin Gadkari, Ram Vilas Paswan, Ravi Shankar Prasad, and Dr Jitendra Singh. Read in Malayalam, Bangla and Tamil.
Among the winners are Kartikeya Misra (Skill Development and Left-wing extremism district), Sandeep Nanduri (Implementation of Central schemes), Ayyaj Tamboli (Health), Astik Kumar Pandey (Community Involvement), Raj Kr. Yadav (North East districts), Vivek Yadav (Energy), Dr. A.Sharath (Education), Tukaram Mundhe (Technology Implementation), Dr. Prashant Bholanath Narnaware (Agriculture), C. R. Kharsan (Inclusive Innovation), Rakesh Kanwar (Social Welfare), Dr. Madhavi Khode Chaware (Child Development), Ashish Saxena (Women Development), Dr Shahid Iqbal Choudhary (Jammu and Kashmir districts), and Dr. S. Lakhmanan (Border districts).
Live Blog
Follow LIVE updates on Express Governance Awards here. Read in Bangla, Malayalam and Tamil
Winners of Express Governance Awards
The 16 DMs who have been awarded The Indian ExpressExcellence in Governance Awards.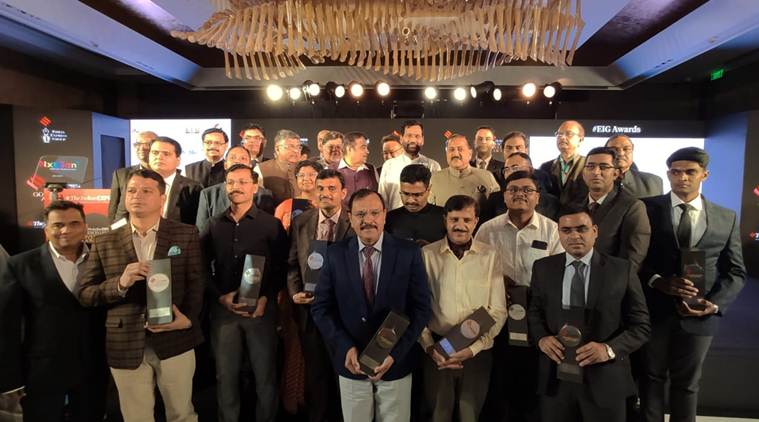 Meet the winners: Tukaram Mundhe
CATEGORY- TECHNOLOGY IMPLEMENTATION
District- Navi Mumbai
Winner- Tukaram Mundhe
Initiative- Transformation in Urban Transport
"There were 35,000 cases of skipping the bus stops in March 2017. Now, it has been reduced by almost 50 percent. Some of these 50 percent cases include the bus stops where there are no passengers at the stops. There is overall 15 percent rise in the passengers commuting through the buses compared to last year," said Shirish Aradwad, General Manager of Navi Mumbai Municipal Transport.
Aradwad said the system has led to an increase in the overall monthly revenue from 10.50 crore in May last year to Rs 11.50 crore in August. "With the real-time data available to us, we are able to take quarterly review of the bus routes with high and less traffic flow. It has helped us in route rationalization,".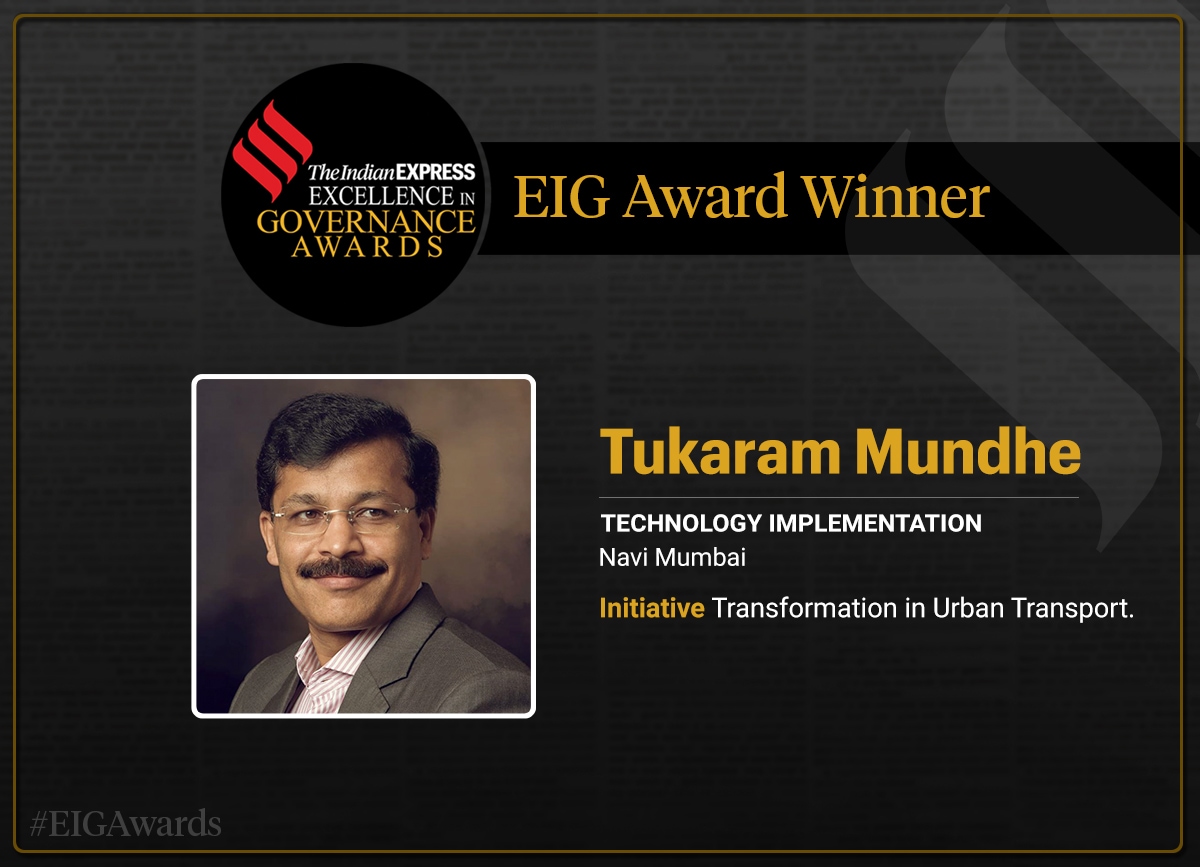 Meet the winners: Kartikeya Misra
CATEGORY- LEFT WING EXTREMISM DISTRICT
District- East Godavari
Winner- Kartikeya Misra
Initiative- Digital Connectivity through Fiber Grid and FSOC Technology to remote tribal villages
FSOC has enabled the tribals of seven villages located in the hills to get connected with the outside world. Using the AP State Fibernet Limited's fibre grid network laid up to Rampachodavaram town, the facilities like mobile connectivity, internet, and wireless landline connectivity are given by FSOC which transmits signals to the villages. The mobile connectivity enables us to call up officials to register a grievance or if we need so help. Earlier, if there was any problem or an emergency someone had to walk 8-10 km down from the hills to contact the nearest government official. Sometimes, we use the video conference facility for tele-medicine where doctors from primary health centre or Area Hospital from nearby areas advice patients. The mobile connectivity helps us be in touch with our kids studying at nearby residential schools.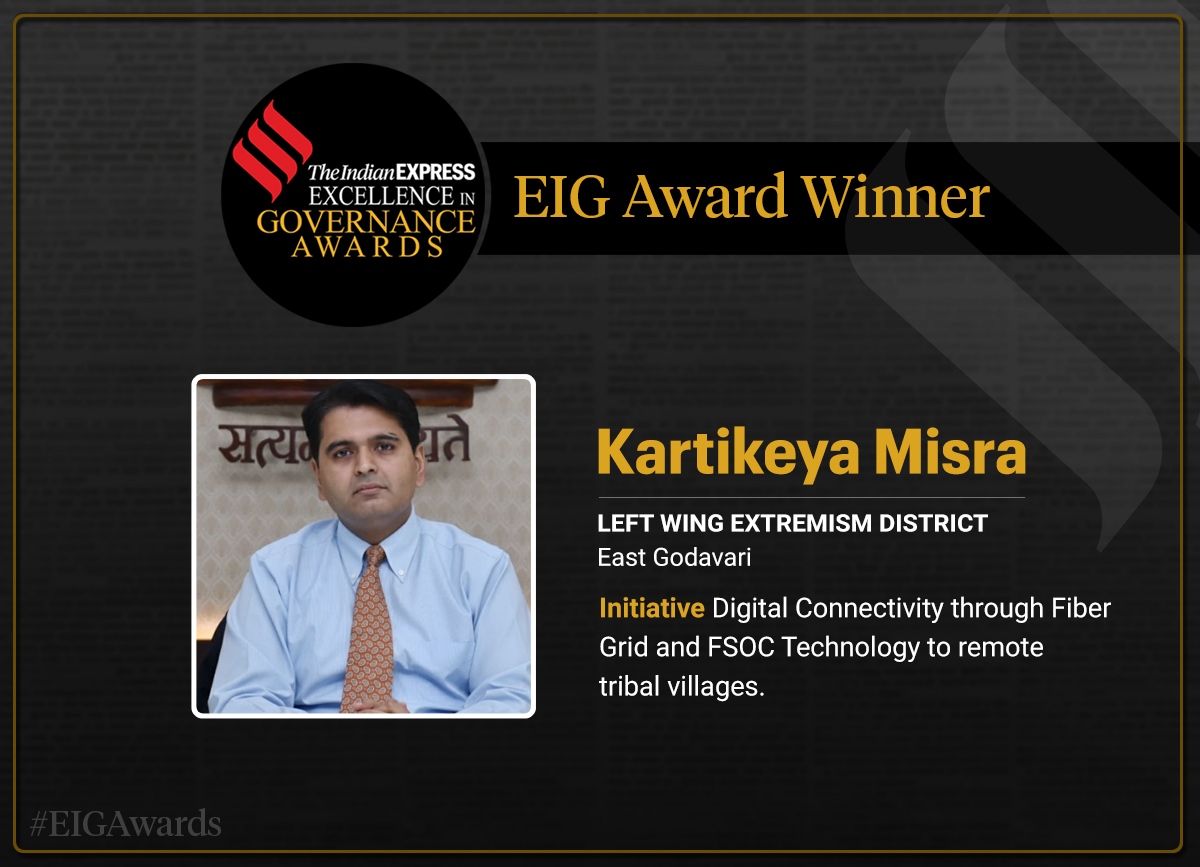 Meet the winners: Astik Kumar Pandey
CATEGORY- COMMUNITY INVOLVEMENT
District- Akola
Winner- Astik Kumar Pandey
Initiative- MISSION CLEAN MORNA RIVER-A Citizen Driven Mass Movement to Clean River Morna in Akola District of Maharashtra.
On January 13, 6,000 farmers, government officials and locals reached the river and started cleaning it at 14 points along the banks.
Over next three months, over 28,000 people participated. "Over several years, the river had accumulated hyacinths and sewage waste. When the collector first floated the idea, there was fear of infection if people themselves cleaned. Collector's office published newspaper ads inviting participation. It turned out to be a huge success. Several local corporators also got down to clean the river," said local corporator Kiran Borakhade.Morna river spans across 64 km in Akola district, emptying into Poorna river. Until 2017, the Akola district office paid yearly contract of Rs 38 lakh to private contractor to clean the eight km stretch of river which collects waste from 32 major and minor nallahs running haphazardly around the city. This year district collector Astik Kumar Pandey cancelled the contract.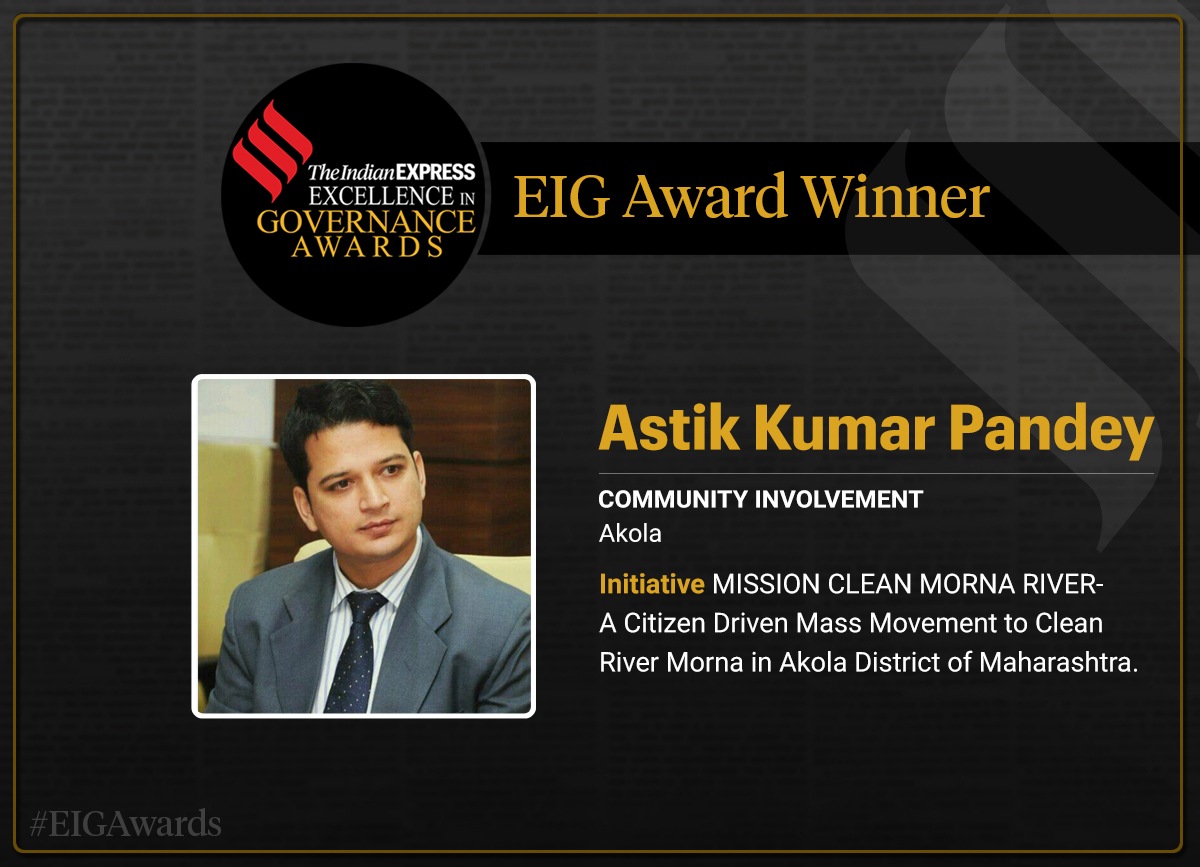 Meet the winners: Ayyaj Tamboli
CATEGORY- HEALTH
District- Bijapur
Winner- Ayyaj Tamboli
Initiative- Reengineering public healthcare through innovative HR strategy, improved infrastructure and community outreach.
Over the past two years, new operation theatres, a completely new maternal and neo-natal care centre with 50 beds called Umang, and modern technology have been set up. On the ground, all of these are in full swing, with surgeries being the focus. In the hospital which had close to no surgeries two years ago, last year saw upwards of 300.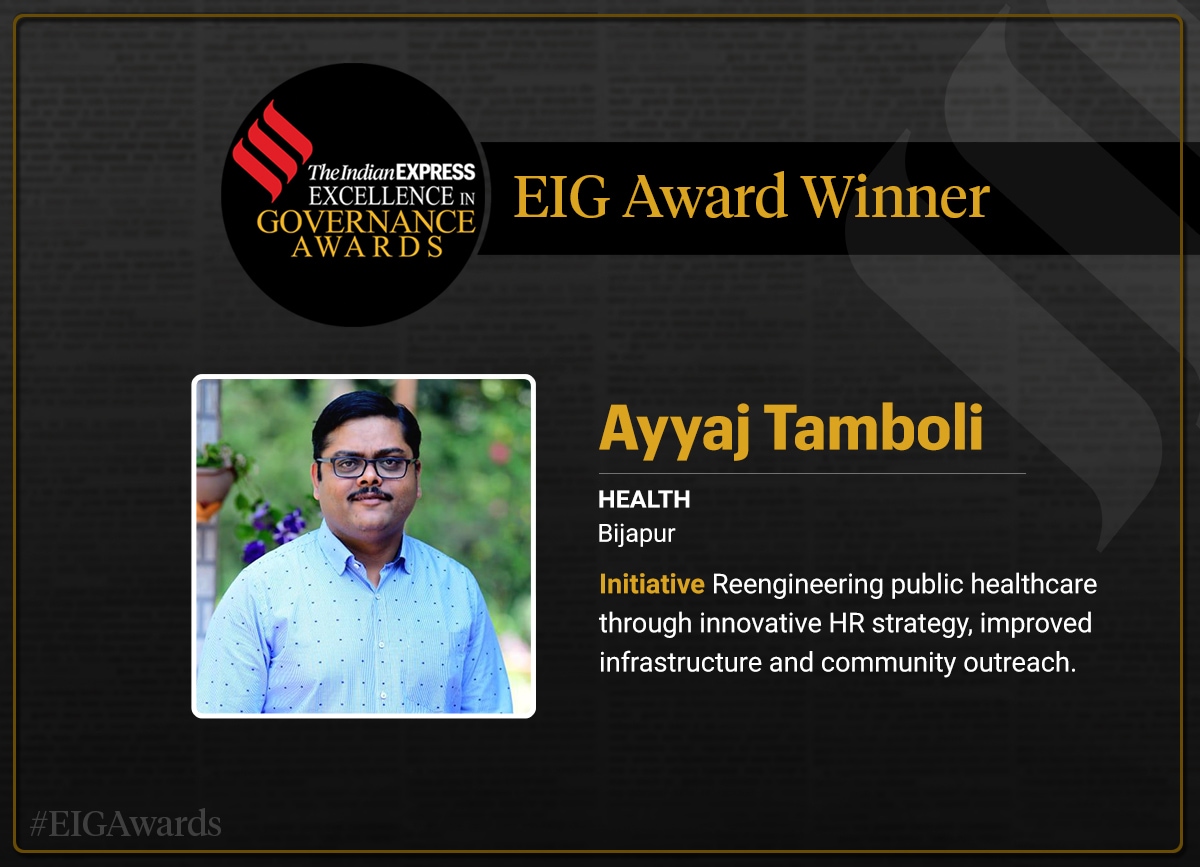 Meet the winners: Sandeep Nanduri
CATEGORY- IMPLEMENTATION OF CENTRAL SCHEMES
District- Tirunelveli
Winner- Sandeep Nanduri
Initiative- Cost effective collective grey water management in rural areas of Tirunelveli district
According to the district administration data, 101 vertical and five horizontal soak pits are being built in this scheme in which 28 vertical liquid waste management systems have been already completed besides all the five scheduled systems. The data shows 73 vertical systems are nearing completion. The filtered water that comes out of the soak pit is stored in a huge sump that helps recharge the ground water table as well as irrigate farmland. On an average, about 32,000 litres of water can be treated a daywaiting to receive their certificates in networking analysis from HCL. The company trained the youths free of cost and will select at least 20 of them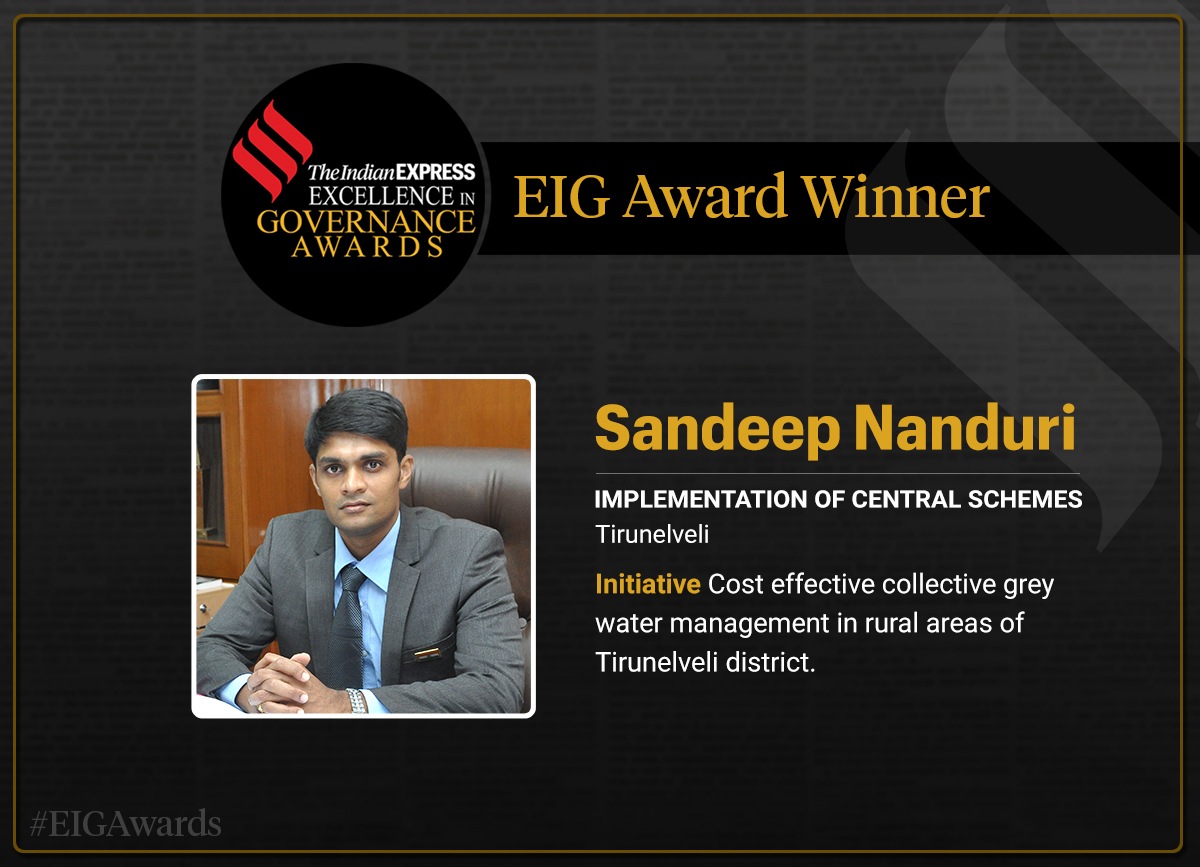 'DM has now become the meaning of good governance'
Union minister Ravi Shankar Prasad, who gave out a set of awards to the winners, underlined that the District Magistrate has now become the meaning of good governance. While congratulating The Indian Express group to acknowledge the good work of governance, he said this honour will motivate DMs to carry on with their tasks with more vigour.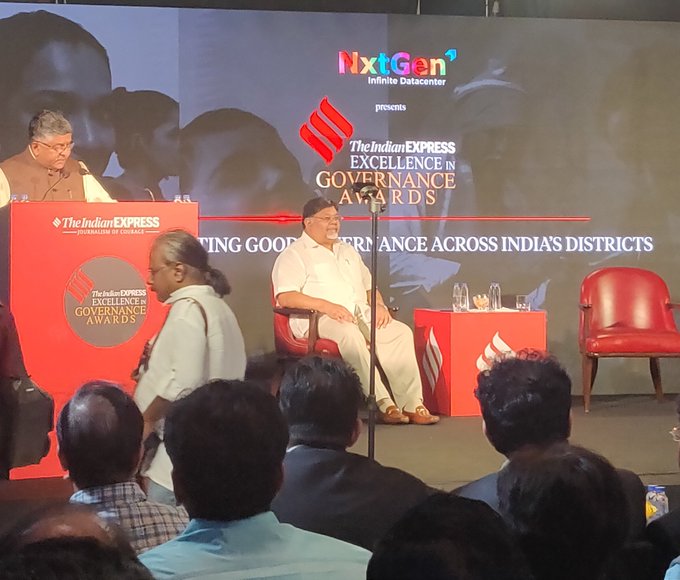 Meet the winners: Dr. A. Sharath
CATEGORY- EDUCATION
District- Jagtial
Winner- Dr. A.SHARATH
Initiative- UTTEJAM-"Igniting the Minds of Students, Teachers & Parents"
Uttejam is a programme to motivate SSC students and teachers to enhance their performance. Simple, goal-oriented measures introduced under the programme are bringing good results since two years. Students who are weak in subjects receive extra classes for one hour before the school starts and one hour after school hours. To ensure that students do not remain hungry while they are in the extra classes after school hours, we provide them some nutritious and tasty snacks like poha or upma or tomato baath. It fuels up the students for the next one or two hours.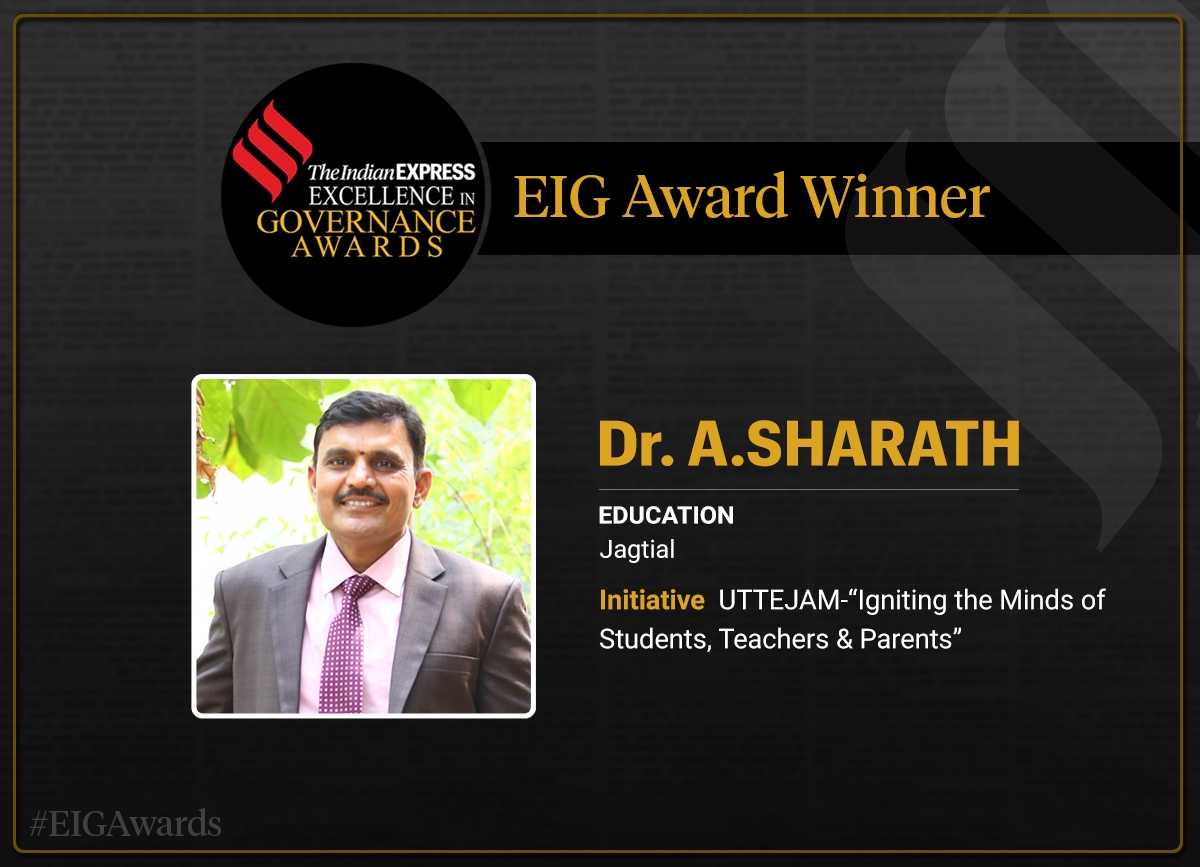 Meet the winners: Ashish Saxena
Category- Woman Development
District- Jhabua
Winner- Ashish Saxena
Initiative- Sathidar Abhiyan-A joint initiative for empowerment of women and children through eradication of social evils.
"The campaign which intends to bring an end to the reserve dowry system eventually, began with making these social leaders aware of the adversities that the system carried along with itself. It is not easy to end the practice in a go so we began by convincing them to cap the dowry amount to Rs 50,000 or less as against the conventional Rs 2,3 lakhs which went up to Rs 5 lakh and above. After multiple consultations, the social leaders became our mediators who reached out to the villagers and made them aware. A tadvi in a village holds a very important social position. He is an influencer and people tend to pay heed to whatever a tadvi has to say, so we tapped the village tadvis to be our saathidaars," Saxena said.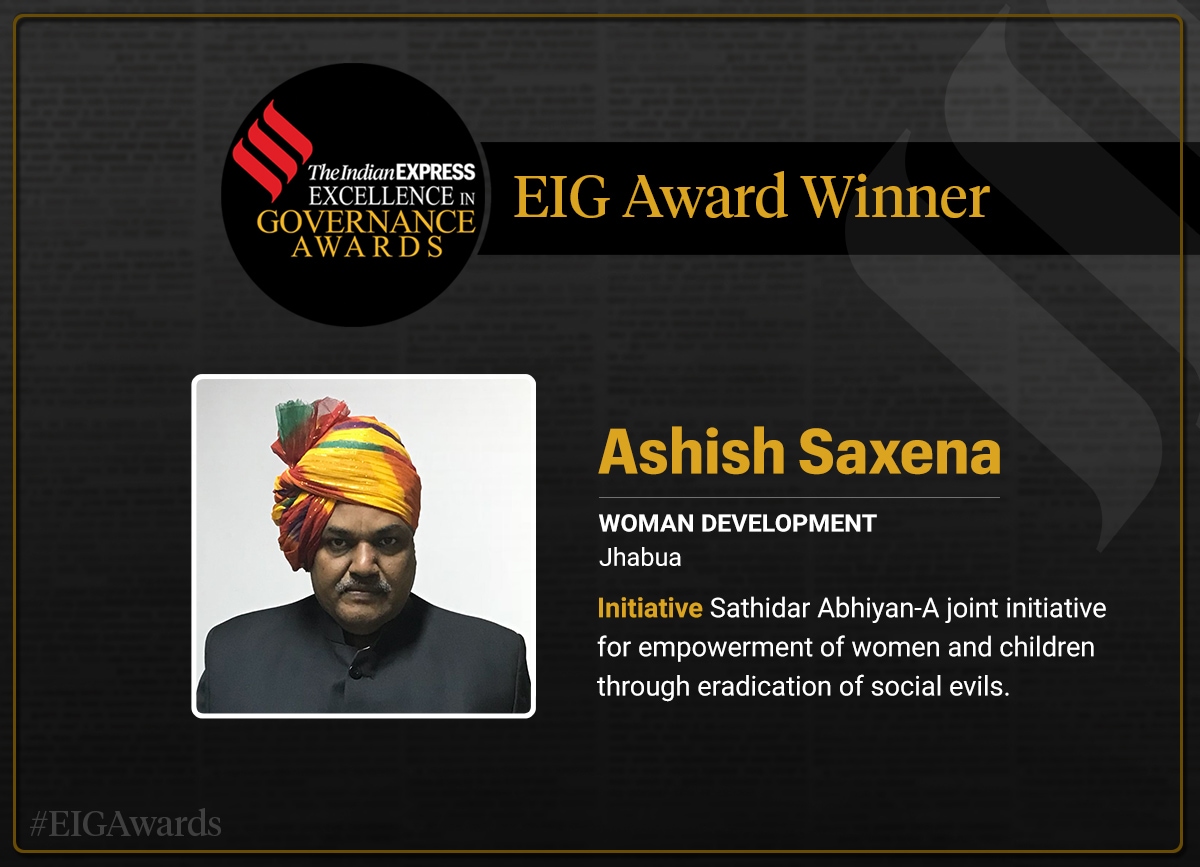 Meet the winners: Dr. Madhavi Khode Chaware
Category- Child Development
District- Nagpur
Winner- Dr. Madhavi Khode Chaware
Initiative- Creating Awareness About Child Rights And Prevention Of Sexual Harassment In Tribal Ashram schools
"Sexual harassment in ashram schools is a common occurrence in ashram schools across India. It is underreported like malnutrition. Children get enrolled here at the age of six and, as such, get no learning about such things from their parents. The Pandhurna ashram school triggered the thought to do something preventive. Jiwhala is all about it, " says Khode, who is now Commissioner (Textiles) at Nagpur. "After we rolled out Jiwhala, providing training and orientation to all stakeholders as also providing video and reading material, the boys and girls are now speaking out openly about these sensitive issues," she claims. She adds: "The thought behind it is basically two-fold - empowering children and sensitizing the school administration about their responsibilities."
Meet the winners: Rakesh Kanwar
CATEGORY-SOCIAL WELFARE
District- Kullu
Winner- Rakesh Kanwar
Initiative- Turning a garbage dumping site into a nature park.
Landscaping and activity detail was meticulously planned. Entire area was divided into various activity zones. There is support from the locals for the idea as before this place was used more for unlawful activities.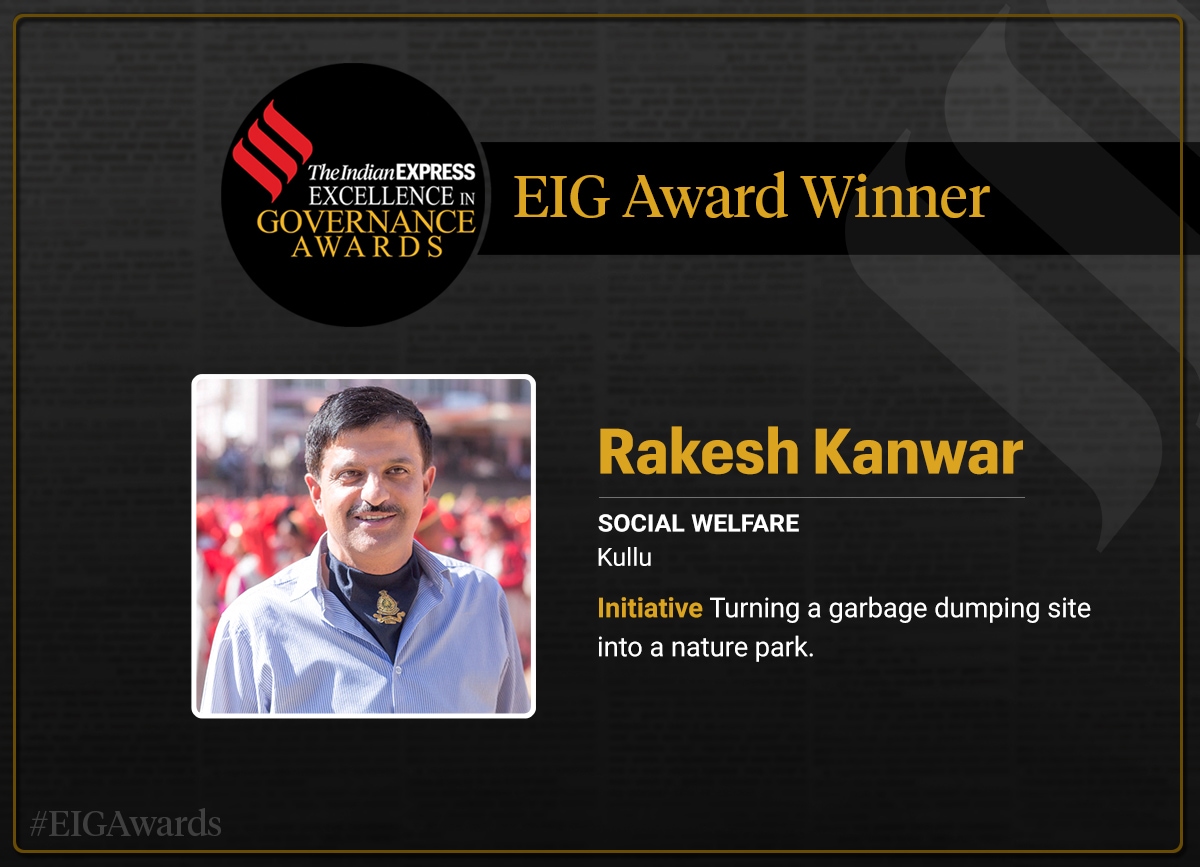 Meet the winners: Vivek Yadav
CATEGORY- ENERGY
District- Vizianagaram
Winner- Vivek Yadav
Initiative- Developing Alternative Energy Sources and Promoting Energy Efficiency
The conversion from traditional energy resources to alternative methods is nothing new but the innovation can be seen in how the initiative started with solar panels at the collector office to a 1MW Solar plant and use of LEDs throughout the district for street lighting and further tackling the issue of non awareness by distributing solar lamps and media campaigns."We are saving lot of money in power bills. Earlier, we used to get a power bill of Rs 12,000 per month. It has been reduced to Rs 6000-7000 now. There is a proposal to use solar street lights now. People, especially government employees are now more aware of solar power and it's benefits
Meet the winners: C. R. Kharsan
CATEGORY- INCLUSIVE INNOVATION
District- Valsad
Winner- C. R. Kharsan
Initiative- E-Megh- Early Flood Warning System
It provides effective and efficient real-time data and also enhances the co-ordination between the officials and the beneficiaries by using Communication tools like Auto-generated calls & SMS to the authorities. It also comes up with the flood maps to co-relate threats to various towns and villages by data analysis of previous flood reports.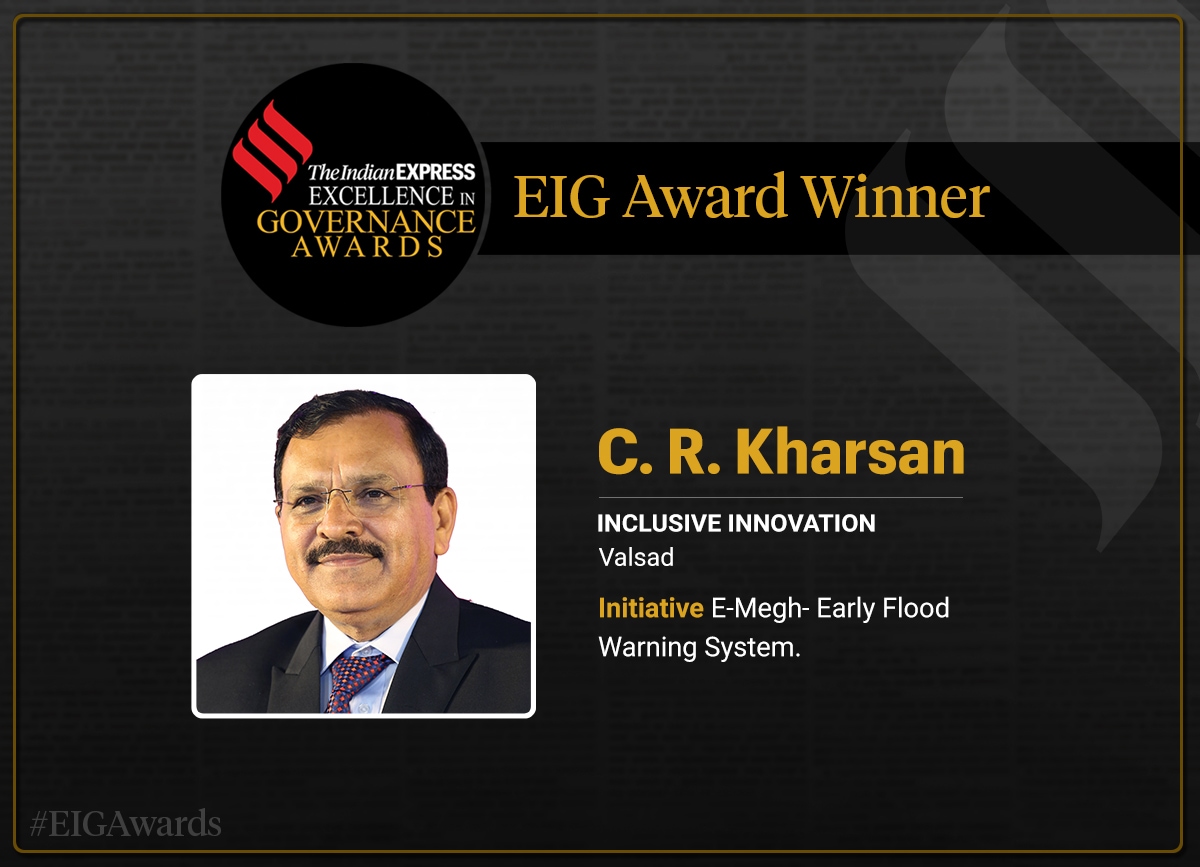 Meet the winners: Dr.Prashant Bholanath Narnaware
CATEGORY- AGRICULTURE
District- Osmanabad
Winner- Dr.Prashant Bholanath Narnaware
Initiative- Krushi Kranti Project
"The groups not only helped us in getting financial aids from the banks – by acting as ensurer for each other – but it also helped us negotiate with buyers as well as input suppliers by establishing a direct link with sellers and buyers. The groups helped us in bulk buying of inputs which often reduce the cost of input by 20 to 30 per cent," While several changes were brought in under the initiative, one that really changed the perception of farmers from the district towards looking at the agriculture, was the impetus given to the 'protected farming' of flowering crops.
Meet the winners: Kartikeya Misra
CATEGORY- SKILL DEVELOPMENT
District- East Godavari
Winner- Kartikeya Misra
Initiative- Kaushal Godavari Skill Development and Entrepreneurship Promotion Project/ Kaushal Godavari (KG)
Under this innovative and unique programme, the district administration is arranging for skill development, skill enhancement, job placements and aiding private companies in recruitment. The programme is so successful that till now 16,000 youths have found jobs-- from tribal girls in Foxconn in Nellore to youths from traditional priest families getting offers to join as priests at a temple in Dallas, US. In fact, for over 200 companies the first stop for recruitment in recent months is Kaushal Godavari. "We hired master trainers: we would request a well-known AC technician or a welder to come and give training. We also give motivational talks. Most of these are short term courses--one week to 15 days. So far we have helped about 2,600 people to become self-employed,'' In Chinturu area from where nearly 1,000 tribals, including 700 woman, have got jobs after receiving training under Kaushal Godavari, At the Kaushal Godavari building inside the District Collectorate, a batch of 60 young men and women were waiting to receive their certificates in networking analysis from HCL. The company trained the youths free of cost and will select at least 20 of them.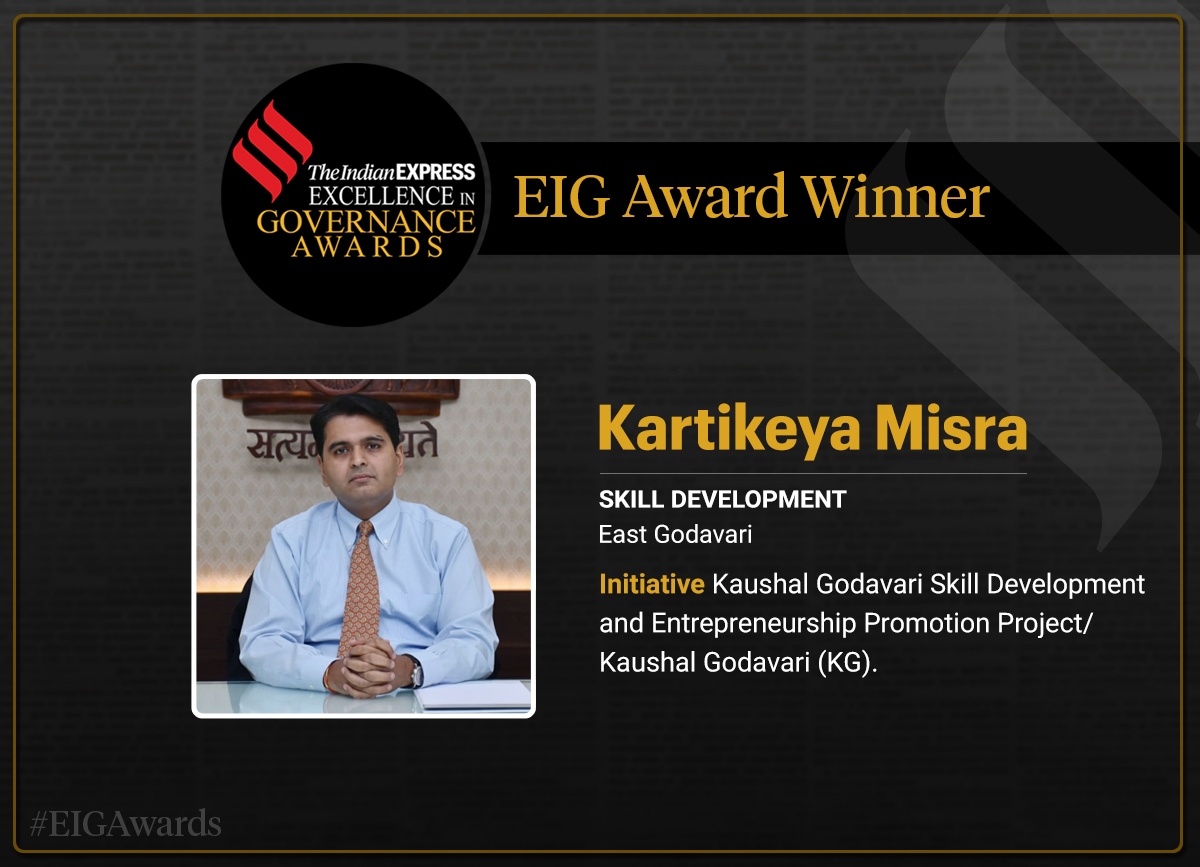 Meet the winners: Dr Shahid Iqbal Choudhary
Category- Jammu & Kashmir Districts
District- Udhampur
Winner- Dr Shahid Iqbal Choudhary
Initiative- Project "Rahat" : Connecting Lives , Securing Education (A convergence project planned at District level)
Providing connectivity in the villages to 170 bridges have been built under this project. It helped 327 schools with 27,465 students, reduced the travel distance by 349 km in the district, besides giving easy access to more than 1.30 lakh people to 183 ration depots, apart from generating 43,000 mandays of employment for local people.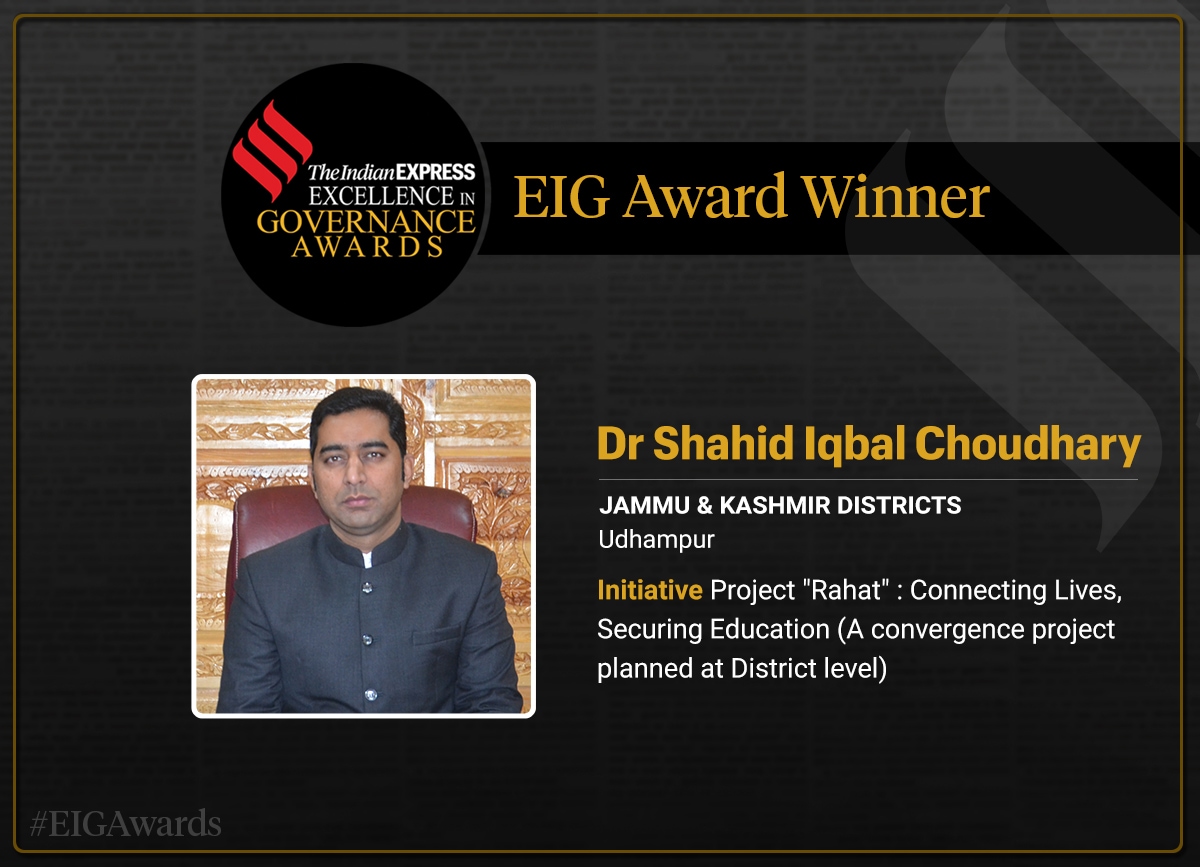 Meet the winners: Dr. S. Lakhmanan
Category- Border Districts
District- Cachar
Winner- Dr. S. Lakhmanan
Initiative- DEBO NA NEBO NA " An Anti-Corruption Movement along with Mobile Phone Application by the District Administration Cachar, Silchar."
Debo Na, Nebo Na' — the Bengali for "Won't Give, Won't Take" — project was launched in May 2017 and since then, authorities say, 13,075 complaints came though phone calls, 30,000 through forms dropped in drop-boxes and 472 complaints were received through the app.
"The simple motive behind the project is to ensure that there is no absence of facilities to communicate about a corrupt practice or its possibility immediately from the point of occurrence," says S Lakshmanan, deputy commissioner of Cachar district.
Drop-boxes are in place outside offices of all government departments in the districts. Posters promoting the campaign adorn the entrance area of most offices.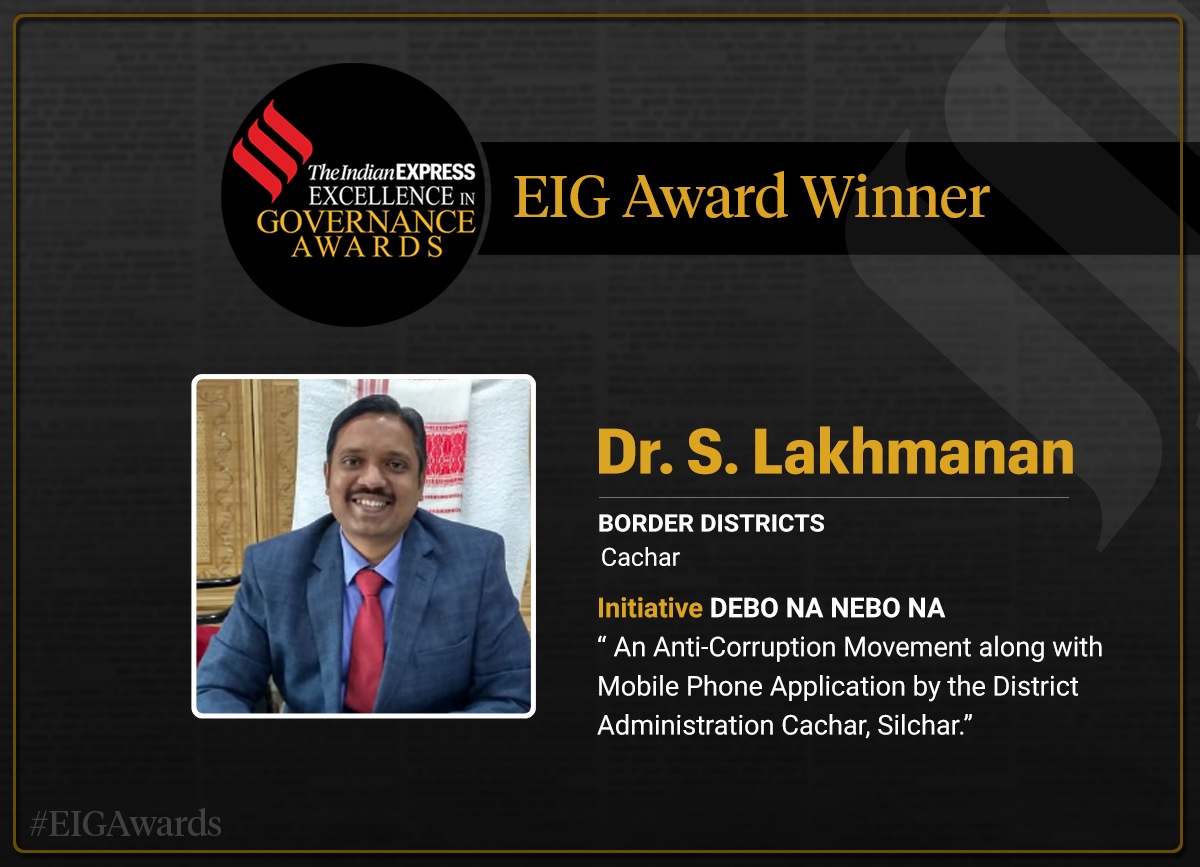 Meet the winners: Raj Kumar Yadav
CATEGORY- NORTH EAST DISTRICTS
District- South Sikkim
Winner- Raj Kr. Yadav
Initiative- District Administration Adopted Village (DAAV)
Under the DAAV scheme, six schools namely Bul Primary School, Pallum Primary School, Rong Secondary School, Shyamdas Primary School, Singtam Pallum Junior High School and Singtam Primary School and one primary health centre in Rong-Bul GPU were overhauled. Infrastructure was enhanced and locals were trained to undertake maintenance of the establishments. The quality of mid-day meals was improved and smart classes were introduced to attract children into attending lessons. The children were engaged for the beautification of the school premises and classroom walls have been used as a source of learning. Career counselling programme are held and experts from various fields and departments conduct periodical programmes.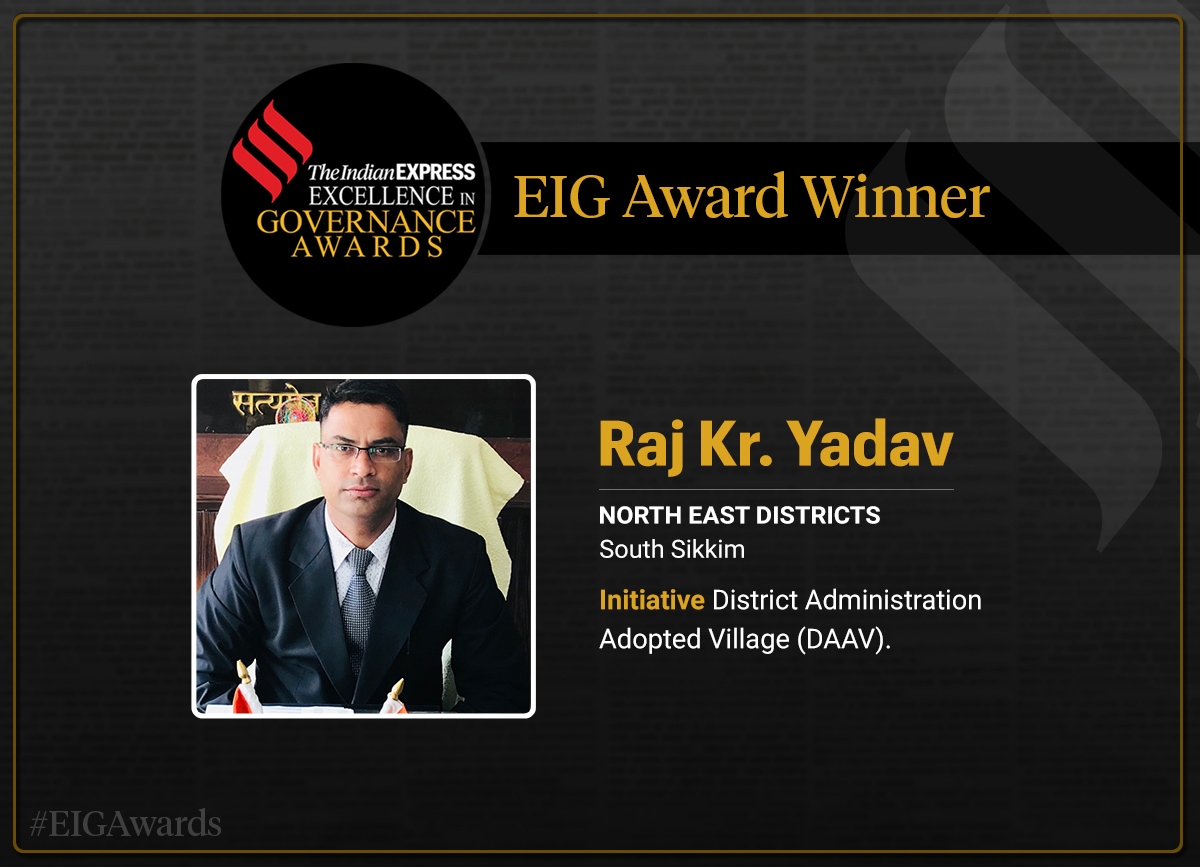 Meet the jury members of EIG Awards
An eminent jury, headed by former Chief Justice of India R M Lodha and comprising Wajahat Habibullah, former chairperson of the National Commission for Minorities and the first Chief Information Commissioner of India, Nirupama Rao, India's Foreign Secretary from 2009 to 2011 who was also India's Ambassador to the United States and China, and K M Chandrasekhar, former Cabinet Secretary, chose the winners.
'EIGAwards is a new vehicle to tell a whole new set of stories'
"#EIGAwards is a new vehicle to tell a whole new set of stories," Viveck Goenka, Chairman and Managing Director, The Express Group says.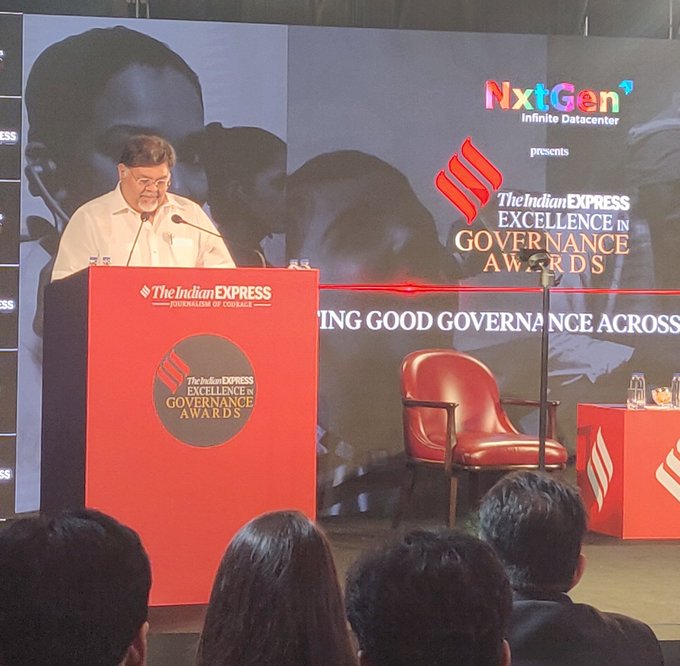 Raj Kamal Jha, Indian Express Chief Editor, begins EIG Awards
Stage set for Express Governance Awards
The winning entries include projects like a cluster of solar panels installed on a hillock as an alternate energy source; a neo-natal unit in the heart of Maoist territory and an anti-corruption drive along the international border.
Express Governance Awards to begin shortly
Good evening guys! Thanks for joining our live blog on Express Governance Awards. A total of 16 district magistrates will be given awards for their pioneering works across categories that range from Agriculture to education and Technology to Women Development .