The Union Cabinet tweaked foreign investment rules Wednesday to allow 100 per cent foreign direct investment (FDI) in single-brand retail and real estate broking services through the automatic route. Investment up to 49 per cent under approval mechanism was allowed in Air India to facilitate its divestment process and Foreign Portfolio Investors (FPIs) and Foreign Institutional Investors (FIIs) have been permitted to invest in power exchanges through the primary market. The measures, the government said, are intended to "liberalise and simplify the FDI policy so as to provide ease of doing business in the country".
In case of single-brand retail, while the current FDI policy allows 49 per cent FDI under the automatic route and FDI beyond 49 per cent and up to 100 per cent through the government approval route, the revised policy cleared Wednesday allows 100 per cent FDI under the automatic route. Read | PM Narendra Modi heading to Davos, India signals it will stay the course
"It has been decided to permit single-brand retail trading entity to set off its incremental sourcing of goods from India for global operations during initial 5 years, beginning 1st April of the year of the opening of first store against the mandatory sourcing requirement of 30 per cent of purchases from India," a government statement said.
ALSO READ: Govt now allows foreign airlines to invest up to 49% in Air India
For this purpose, incremental sourcing will mean an increase in terms of value of such global sourcing from India for that single brand (in INR terms) in a particular financial year over the preceding financial year, by non-resident entities undertaking single-brand retail trading entity, either directly or through their group companies.
After completion of this five year period, the single-brand retail entity shall be required to meet the 30 per cent sourcing norms directly towards its India operations, on an annual basis. The mandatory sourcing requirement of 30 per cent of purchases from India had been a contentious clause in the current policy for a number of foreign players.
In the civil aviation sector, under the current policy, foreign airlines are allowed to invest under the government approval route in the capital of Indian companies operating scheduled and non-scheduled air transport services, up to the limit of 49 per cent of their paid-up capital. However, this provision was presently not applicable to Air India, thereby implying that foreign airlines could not invest in Air India.
This has now been done away with, allowing foreign airlines to invest up to 49 per cent under approval route in Air India subject to the conditions that the foreign investment in Air India shall not exceed 49 per cent either directly or indirectly. "Substantial ownership and effective control of Air India shall continue to be vested in Indian National," it said.
"(This) decision should send a positive signal to global investors. Expect to see 4-6 serious bidders for Air India, including significant interest from foreign airlines, subject to eventual terms and conditions of the offer," CAPA (Centre For Asia Pacific Aviation) India said in a tweet.
ALSO READ: Full list: FDI amendments cleared by Union Cabinet today
The government also clarified that the real estate broking service does not amount to real estate business and is, therefore, eligible for 100 per cent FDI u the der automatic route. Analysts said this will help a lot of start-up companies planning to set up real estate broking companies.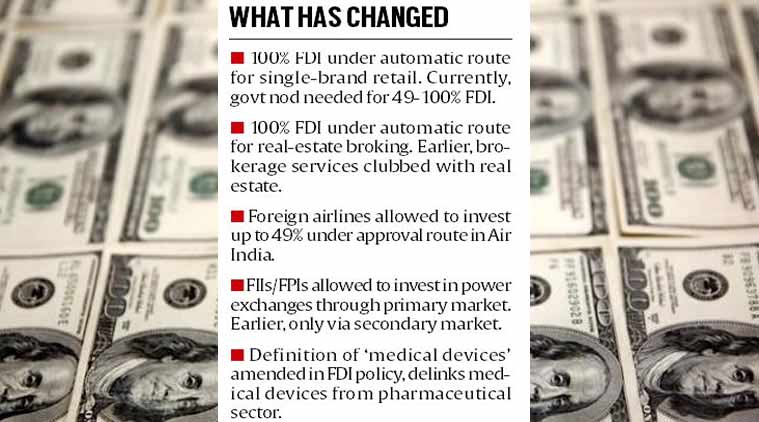 "The clarification that brokerage services are not real estate business, and hence, eligible for 100 per cent FDI under the automatic route was long overdue. The industry was saddled with differing views and interpretations on this count, and this should now ease the pain for existing international players, as well as provide clarity for future JVs and wholly owned presence in India," Abhishek Goenka, Leader, Direct Tax at PwC India, said.
In case of power exchanges, the extant policy provides for 49 per cent FDI under automatic route for Exchanges registered under the Central Electricity Regulatory Commission (Power Market) Regulations, 2010. However, FII/FPI purchases were restricted to secondary market only. This has now been changed and this provision has been done away with, thereby allowing FIIs/FPIs to invest in Power Exchanges through primary market as well.
The government also liberalised FDI regime for medical devices. "FDI policy on pharmaceuticals sector inter-alia provides that definition of medical device as contained in the FDI Policy would be subject to amendment in the Drugs and Cosmetics Act. As the definition as contained in the policy is complete in itself, it has been decided to drop the reference to Drugs and Cosmetics Act from FDI policy. Further, it has also been decided to amend the definition of 'medical devices' as contained in the FDI policy," the government said.
Association of Indian Medical Device Industry's Forum Coordinator Rajiv Nath said the Department of Pharmaceuticals should also delink medical devices from the pharmaceutical sector. "Both (medical devices and drugs) are medical healthcare products but different and need different policies to boost investment in this sector. We have always welcomed 100 per cent greenfield investment in India for medical devices but are opposed to 100 per cent auto route without oversight of DoP for brownfield takeover of the few indigenous medical device manufacturers who have been providing an alternate, affordable access to cost-effective local brands," Nath said.
📣 The Indian Express is now on Telegram. Click here to join our channel (@indianexpress) and stay updated with the latest headlines
For all the latest India News, download Indian Express App.