Disengagement has started at the Dolam plateau on the Sikkim border where Indian and Chinese forces have been arrayed against each other since June 18.
According to a statement issued by the MEA, "expeditious disengagement of border personnel at the face-off site has been agreed to and is on-going". The statement doesn't clarify whether the disengagement is mutual or the details of the mechanics of disengagement.
Army sources in New Delhi refused to divulge any details, stating that "disengagement had been agreed to and was in progress."
Meanwhile, Reuters quoting Chinese foreign ministry has reported that "Indian forces have already withdrawn to the Indian side of the border." It has also said that its forces "will remain in the region" and continue to exercise their "sovereignty over the region".
Doklam news higlights below: 
2:13 pm: Nearly 350 Indian soldiers have been standing face-to-face with 300 PLA soldiers in the area since June.
2:05 pm: Also, China asked India to withdraw its troops for any meaningful dialogue to take place.
2:04 pm: India maintained that it will defuse the crisis through official diplomatic channels, despite repeated threats by the Chinese media and strident positions taken by official Chinese diplomats.
2:00 pm: The Indian troops promptly halted the construction work, forming a human chain, calling it a change in 'status-quo' with serious security implications for India.
1:59 pm: The standoff in Doklam had begun two months back in June when Chinese People's Liberation Army (PLA) troops began constructing a concrete road in Doklam in Bhutanese territory.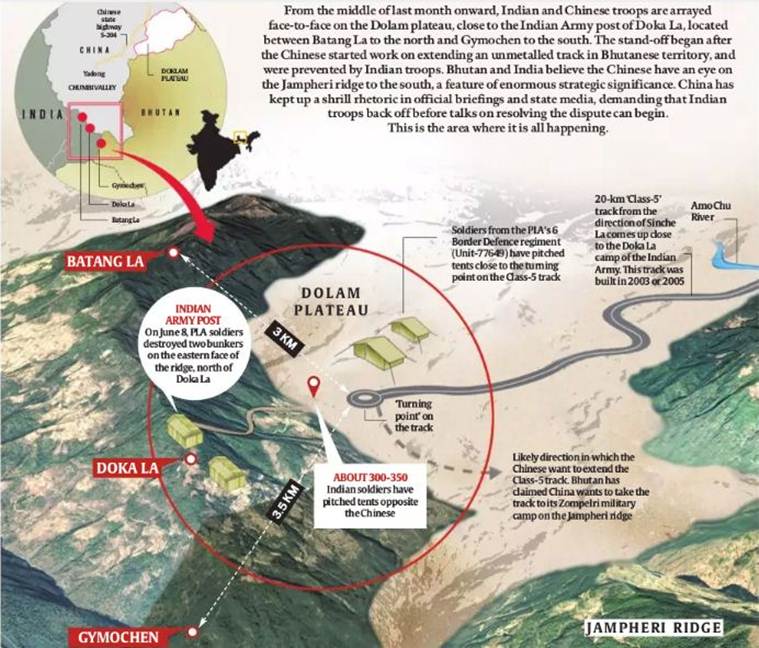 1:57 pm: The agreement to disengage in Doklam, claimed by China as its own territory, comes ahead of PM Modi's visit to China for the BRICS summit which will take place between September 3-5 in Xiamen in China.
1:43 pm: "The Chinese government highly values its friendly relationship with India. We hope India can fulfill the historic agreement on the border and safeguard the stability of the border area with China," Hua Chunying said.
1:42 pm: Chinese foreign ministry spokesperson Hua Chunying said, "China has confirmed that Indian troops and equipment have all withdrawn to the Indian side of the border area in Doklam on Monday afternoon. China will continue to exercise its territorial sovereignty in accordance with historical conventions."
1:40 pm: Chinese FM also said, "India has pulled back all border personnel and equipment from the border standoff site at Doklam as of Monday afternoon."
#UPDATE: India has pulled back all border personnel and equipment from the border standoff site at Doklam as of Monday afternoon: Chinese FM pic.twitter.com/nTbHO6cu9y

— People's Daily,China (@PDChina) August 28, 2017
1:29 pm: Reuters quoted Chinese foreign ministry as saying: "Indian forces have already withdrawn and Chinese forces will continue to patrol in Doklam.
1:28 pm: China Global Television network says China and India agree to end Donglang (Doklam) border standoff.
1:27 pm: China's official news agency Xinhua confirmed India's troop withdrawal from the site.
1:25 pm: The Ministry of External Affairs said, "In recent weeks, India and China have maintained diplomatic communication in respect of the incident at Doklam. During these communications, we were able to express our views and convey our concerns and interests. On this basis, expeditious disengagement of border personnel at the face-off site in Doklam has been agreed-to and is ongoing."