Doctors' strike Today India LIVE News Updates: Doctors across West Bengal on Monday announced to withdraw the ongoing protest after West Bengal Chief Minister Mamata Banerjee agreed to their demands during a meeting at Nabanna. The 31 representatives made the formal announcement at NRS Medical College and Hospital in Kolkata, where the death of a patient followed by an attack on two junior attacks triggered the week-long strike.
The Indian Medical Association (IMA), on the other hand, is observing a nationwide strike, with the withdrawal of non-essential medical services, including OPD services, for 24 hours starting 6 am today. Emergency, casualty and ICU services, will remain unaffected. Doctors at AIIMS in the national capital, who had earlier decided to stay away, joined the protests after a junior doctor was assaulted at its trauma centre earlier today.
Meanwhile, the Supreme Court today said it will hear on June 18 a plea seeking safety and security of doctors in government hospitals across the country. The plea was filed on Friday in the wake of protests by doctors in Bengal against the assault on their colleagues by the family of a patient, who died on Monday night. The petition has also sought directions to Union ministries of home affairs and health and West Bengal to depute government-appointed security personnel at all state-run hospitals across the country to ensure safety and security of doctors.
Live Blog
Indian Medical Association has called for a nationwide strike today. Doctors in Bengal have agreed to resolve the impasse. Follow LIVE updates in Bangla, Tamil and Malayalam
Bengal Guv welcomes 'amicable settlement' between govt, doctors
West Bengal Governor Keshari Nath Tripathi welcomed the "amicable settlement" between the government and protesting doctors. "He appreciates the initiative taken by the Chief Minister and also the junior doctors to resolve the impasse. He hopes that the doctors will take up the work of care and treatment of patients," a statement released by the press secretary to the Governor read.
'Don't be abusive, violent'
"This was not a protest to hike our salaries. This was a protest to ensure our security. If you have any complaints, you can formally register that. Don't abuse us, don't be violent. We condemn any kind of assault on any person from any profession," the doctors said.
Mamata Banerjee has assured of steps in next three days, say junior doctors
"The Chief Minister has sent a summary of the points we discussed in the meeting. She has promised us to take steps accordingly within the next three days. We are thinking of and looking forward to a constructive doctor-patient relationship besides a constructive medical infrastructure," the doctors said.
Expect Mamata govt to solve all issues, say junior doctors
"We extend our heartfelt gratitude to the CM. After an enormous movement, the meeting and discussions with our CM met a logical end. Considering everything, we expect the government to solve the issues as discussed in due time," the junior doctors said.
Bengal doctors call off strike
The doctors in Bengal have formally called off the strike.
Healthcare services severely hit across country as doctors go on strike
Healthcare services were severely affected across the country today as doctors wearing helmets and forming human chains went on a strike in solidarity with their protesting colleagues in Bengal. A large number of patients and their relatives caught unaware of the strike, were seen waiting outside various hospitals, appealing to authorities for help. In many government and private hospitals across the country, OPDs remained closed and scheduled surgeries were postponed. However, emergency services remained operational.
Watch: Doctors celebrate at NRS after meeting with Mamata Banerjee
WATCH: Jubilant junior doctors at NRS Medical College and Hospital celebrate after their meeting with Mamata Banerjee pic.twitter.com/riaQENvUfL

— The Indian Express (@IndianExpress) June 17, 2019
Will revisit the issue of framing central law to protect doctors: Union health minister
Union Health Minister Harsh Vardhan today said the government will "revisit" the issue of drafting a central law regarding the safety of medicos at healthcare facilities. Vardhan said he has already written to all states requesting chief ministers to consider enacting specific legislation for protecting doctors and medical professionals from any form of violence, along with suggesting a model law proposed by the IMA. "We will revisit this problem and see if we can do something at the central level about drafting any such law. It was visited earlier by our law people," he told reporters outside Parliament.
Kolkata: Administrative functions resume at NRS hospital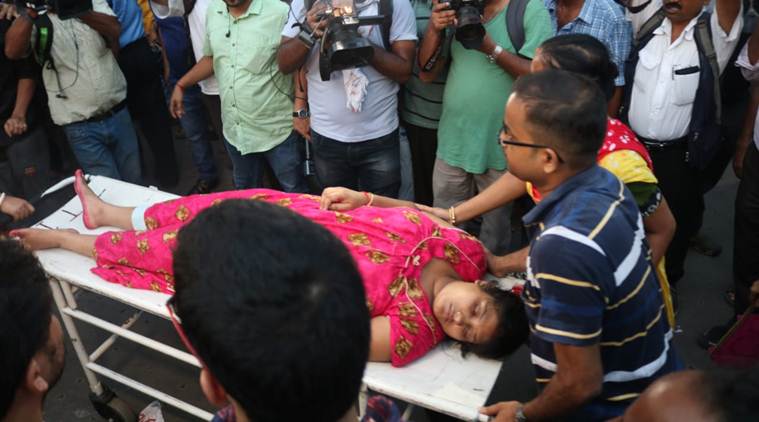 Following the meeting, administrative functions resumed at Kolkata's NRS hospital. (Express photo/Shashi Ghosh)
Tamil Nadu doctors wear helmets, join protest seeking protection
Doctors in Tamil Nadu formed human chains, wore black badges and helmets as they joined their fraternity in the rest of the country to seek a central law to ensure protection and safety for them. Though services, including outpatient consultations, were not hit in the government sector, those in the private category were affected. Doctors in government hospitals worked wearing black badges. "We want protection and that was conveyed by wearing black badges. Our work is on as usual," a government medical college hospital dean was quoted as saying by PTI.
Tripura: 1,000 doctors join strike, emergency services on
In Tripura, more than 1,000 doctors joined the nationwide strike led by the IMA. Speaking to indianexpress.com, All Tripura Government Doctors Association Joint Secretary Koushik Chakraborty said OPD services across the state were stopped as a mark of protest against the attack on doctors. However, Chakraborty said no patient would return unattended from government hospitals as senior doctors and specialists joined the emergency services to compensate for the absence of OPD.
Doctors assure to withdraw protest during meeting with Mamata
The doctors have assured to withdraw the protest in Bengal after holding talks with protesters at NRS hospital in Kolkata.
I cannot do everything on my own: Mamata Banerjee tells doctors
"I have tried to understand most of your problems. You have made some very good suggestions and we shall take that into consideration. I am grateful to you. But yes, we treat our doctors and teachers like god. A lot of people are suffering now. I request you all to take proper care. I cannot do everything without your support. We cannot consider everyone as bad. We will ensure such cases don't happen again. I would say take strong action on spot in case of such situations in the future," Mamata Banerjee said.
Doctors complaint on shortage of space in hospitals
One of the doctors present complained against the shortage of space in hospitals and requested to speed up the process of constructing more hospital buildings.
'Helpline number for assault on doctors': Representative suggests Mamata
The Chief Minister also asked a police officer to take note of a suggestion by a representative that a helpline number and an email to report an assault should be set up across hospitals.
CM continues to listen to grievances of protesting doctors
The Chief Minister continues to listen to the grievances of the representatives at Nabanna.
Mamata meets junior doctors' demands, directs formation of grievance redressal cell
During the meeting, the Chief Minister also directed the formation of grievance redressal units in all West Bengal hospitals as proposed by junior doctors.
Additional 125 police personnel inside NRS hospital: Health secretary Rajiv Sinha
During the meeting, Rajiv Sinha, the health secretary of the state, said the government will deploy additional 125 police personnel inside the NRS hospital to enhance security. The Chief Minister urged the doctors to frame a package to set up reinforced gates at emergency departments.
5 arrested in NRS incident: Mamata Banerjee tells doctors
"We have taken adequate measures, arrested five people involved in NRS hospital incident," Mamata Banerjee said.
Have always condemned attack against doctors, says Mamata Banerjee
After one of the representatives from Cooch Behar said, "We want you to stand beside junior doctors and support them. If you tell them, that it is not right to attack the doctors, it'll be better," Mamata replied, "We have always condemned the attack against the doctors."
TMC leader Kunal Ghosh threatens to start fasting if doctors do not call of their protest
Trinamool Congress leader Kunal Ghosh sits in front of NRS Medical College and Hospital demanding withdrawl of protest by the junior doctors. He threatens to start fasting if the protest is not called of.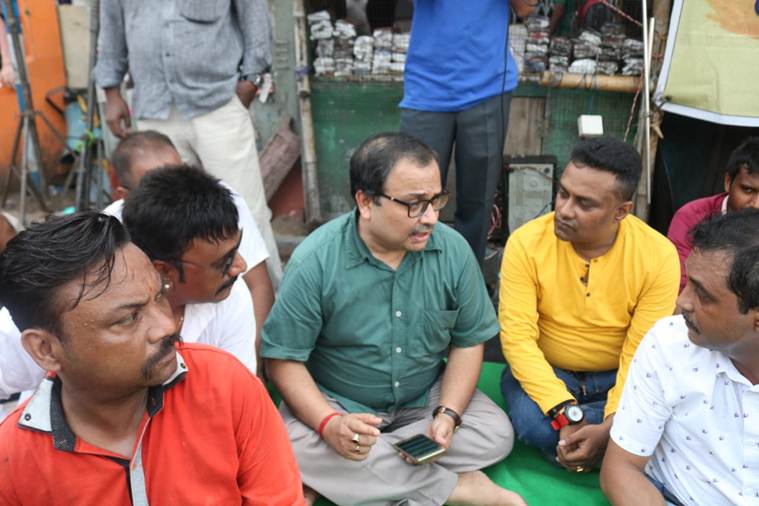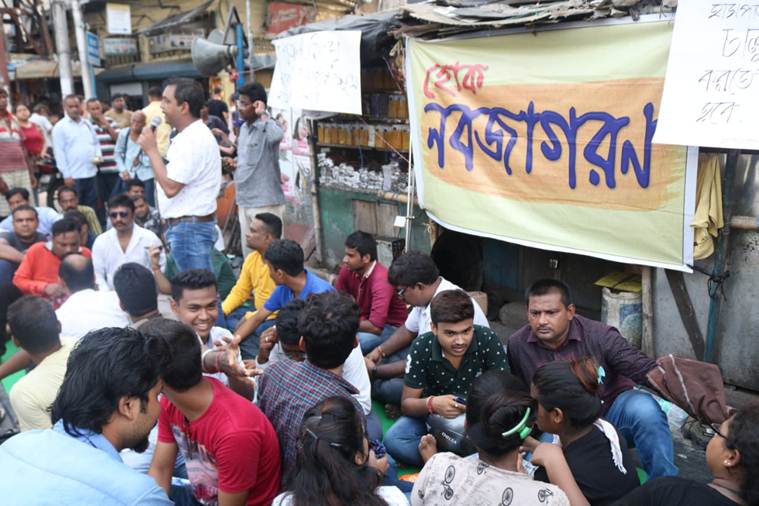 Only two tv channels allowed to cover Mamata-doctors meeting
Apart from West Bengal health secretary, MoS Chandrima Bhattacharya and state officials, 31 junior doctors are at the meeting with Banerjee. Only two regional news channels have been allowed to cover the meeting between Banerjee and junior doctors at the state secretariat.
Appoint one nodal officer at each hospital: Mamata tells cops
Among other suggestions, the Chief Minister said one nodal officer must be appointed to supervise the security situation at the hospital.
PR team to ensure communication with patients, says Mamata Banerjee
Mamata Banerjee also proposed setting up a Public Relations team for state hospitals to communicate with the patients. This team, she said, will be responsible for updating the patients' family with his/her condition. This will eliminate the risk of doctors being subject to unruly behaviour by the families of the patients, she said.
Two relatives to accompany patient in emergency cases, says Mamata Banerjee
The Chief Minister also asked the doctors to make a plan, incorporating the measures they want to be taken to step up security across all government hospitals. She also suggested a collapsible gate near the emergency section. In case of emergencies, only two relatives can accompany the patient, she said.
'Ensure no communication gap': Mamata asks doctors
Responding to the representatives' concerns, Mamata Banerjee said, "Ensure there is no communication gap between the patients and their relatives and the doctors."
Representatives seek stringent punishment against those attacking doctors
"We have come here with 12 demands. The punishment against the attackers should be such that a message is sent out to all. We understand the situation the public is in. But we have not option but to continue with the protest," the representative said.


Hopeful of appropriate laws against attacks on doctors: Representatives to Mamata
"We are hopeful that you will take appropriate measures to ensure our security," the representative told the Chief Minister.
'Working in the midst of fear': Representative tells Mamata Banerjee
"We are having to work in the midst of all the fear. We want to come to a solution and resume our work," the representative added.
Eager to return to work: Medical representative tells CM Mamata
"We have tried to talk to you previously on several occassions. We want to return to work at the earliest. But we cannot carry on this way (with the attacks)," one of the representatives said.
CM Mamata begins meeting in Nabanna
Chief Minister Mamata Banerjee begins addressing the representatives in Bengaluru.
Bengal: Mamata arrives for meeting at Nabanna
West Bengal: Chief Minister Mamata Banerjee arrives for meeting with representatives of doctors at Nabanna.
West Bengal: CM Mamata Banerjee arrives for meeting with representatives of doctors at Nabanna. pic.twitter.com/ebcD15p026

— ANI (@ANI) June 17, 2019
Watch: West Bengal Health Department bus carrying representatives arrives in Nabanna
WATCH: West Bengal Health Department bus carrying representatives of doctors scheduled to meet CM Mamata Banerjee arrives in Nabanna.
WATCH: West Bengal Health Department bus carrying representatives of doctors scheduled to meet CM Mamata Banerjee arrives in Nabanna pic.twitter.com/eSTzL2dR9d

— The Indian Express (@IndianExpress) June 17, 2019
Medical services in Karnataka hit as doctors protest, CM Kumaraswamy urges doctors to resume work
Hundreds of private hospitals, nursing homes and clinics in Karnataka suspended outpatient services today to join the nationwide protest. The strike had a telling effect on medical services as people struggled to get treatment in private hospitals. However, government hospitals remained open following a circular by the Commissioner of Health and Family Welfare and there was a huge rush of patients at these facilities since morning. Chief Minister H D Kumaraswamy appealed to the doctors to attend to duty immediately. "Attack on Doctors is condemnable; thousands of patients will be affected if Doctors are on strike. Already at several hospitals patients have faced problem. The state government had issued a circular three days ago prohibiting the strike. Doctors should attend duty immediately," he had said in a tweet posted in Kannada. In another tweet earlier in the day, Kumaraswamy said assault on anyone was unacceptable and requested the doctors to ensure that their protest was peaceful and did not cause any problems to patients.
See photos: Bus arranged for medical representatives ahead of meeting with CM
A state health department bus was arranged for the medical college representatives ahead of the meeting at Nabanna.
West Bengal: State Health Department bus carrying representatives of doctors scheduled to meet CM Mamata Banerjee in Nabanna, today. pic.twitter.com/vNosuVOfKa

— ANI (@ANI) June 17, 2019
Telangana doctors boycott work
Doctors across Telangana also boycotted elective medical services in government and private hospitals, staged protests and took out rallies to protest against the attack on two junior doctors in Bengal. They condemned the attack on the junior doctors at the Kolkata hospital, staged sit-ins, took out rallies near hospitals in Hyderabad and other parts of the state, hitting medicare services. Holding placards that read "SAVE DOCTORS" and "Zero Tolerance To Healthcare Violence", they raised slogans for special protection law and sought security to prevent more attacks. They demanded that a commission be set up to probe the attacks on doctors.
Bengal: At least 32 representatives from medical colleges invited for meeting with CM
In Bengal, ahead of the meeting with the Chief Minister, the government has allowed the entry of three or four representatives from medical colleges in addition to the existing 28 members.
Chennai: Doctors join nationwide protest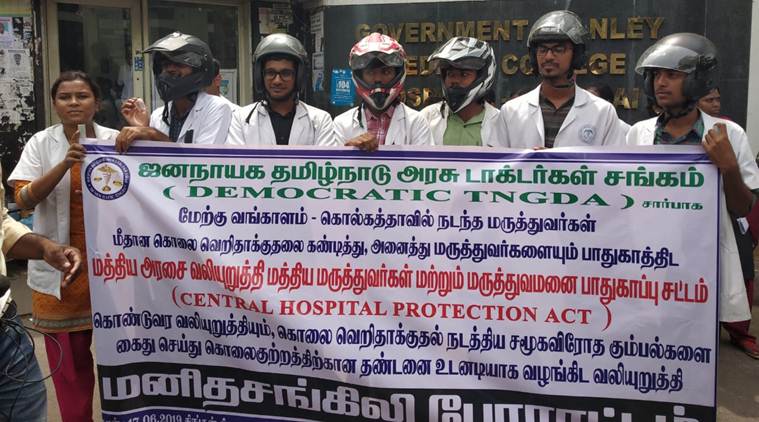 Doctors at Stanley Medical College and Hospital in Chennai join the nationwide protest on Monday. (Express photo/Janardhan Koushik)
Bengal govt sets up live transmission, media persons not allowed
Ahead of the meeting, the state government has made arrangements of live transmission of the meeting. However, media persons will not be allowed to enter the meeting.
28,000 Gujarat doctors join nationwide stir, OPD services hit
Non-essential health services were affected in Gujarat on Monday as nearly 28,000 doctors boycotted work in response to their apex body IMA's strike call following attack on two medical practitioners in West Bengal, an official said. Junior doctors and interns held protests in Ahmedabad, Surat, Rajkot, Vadodara, Jamnagar and other major towns of the state and did not report to work in the Out-Patient Departments (OPDs) of various government and private hospitals, he said. (PTI)