December, 2002: On Christmas eve, the then prime minister A B Vajpayee inaugurated the first 8.5-km section of Delhi Metro. A marked change from Kolkata, the only other metro in India at the time, it offered an elevated view of the city in air-conditioned coaches.
Not surprisingly, over 1.14 lakh passengers queued up for a joyride the next day. But as the number of joyrides declined, the average ridership of 82,179 passengers per day in 2002 fell to 42,385 in 2003, way short of targets.
November, 2016: A significant milestone of Delhi Metro Phase III is achieved with work completed on all new tunnels in one of the "largest-ever tunneling projects taken up in any urban area across the world", with 30 machines used to bore close to 80 km underground. Meanwhile, over 28 lakh passengers have been funnelling into 160 stations every day, bringing the Metro under pressure again — for not being able to meet demand.
"That is the irony," says Mangu Singh, managing director, Delhi Metro Rail Corporation (DMRC). "What needs to be understood is that in a Metro system, corrections cannot be done overnight. The planning and execution takes years."
And now, at a time when the century-old New York subway is waking up to the concept of interconnected coaches to make room for its 6 million riders per day, Delhi Metro is set to introduce the most advanced technology yet with the rollout of Phase III next year (see box), including the big shift — operator-less trains on two lines.
"Be it in the construction process, rolling stock or communication-based train control system, we have the best technology in the world in this upcoming phase. The tunnel-boring machines that we started out with in 1997 have changed and we have far more sophisticated TBMs and monitoring equipment today. The signalling system is far more sophisticated, enabling high frequency trains. This would mean not only increased carrying capacity but also higher level of safety. There will be no possibility of collisions. Trains will run automatically without any human intervention, thereby eliminating human error," says Singh.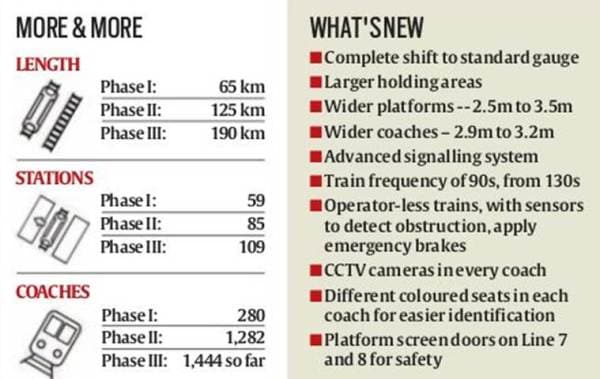 The new communication system will have sensors and cameras on the sides and in front of train coaches to signal the closure of doors or the need for emergency braking. If an obstruction comes up on the tracks, the train will halt immediately. As the train operators will be eased out, the driver's cabin will make space for more commuters. Each coach can accommodate a maximum of 380 passengers, which translates to 2,280 passengers in each train set of six coaches and the cabin-less trains will be able to accommodate 40 more commuters. Around 120 such coaches are being manufactured in South Korea while the remaining 366 coaches will come from a BEML plant in Bengaluru as the Delhi Metro focuses on indigenisation in its procurement process.
"Every coach on the new lines will have CCTV cameras installed and be connected to the central control room. If passengers raise an alert for a medical emergency, they can directly speak to the control room and, with help of the centralised system, be traced easily. Each coach will have a different coloured seat, instead of the metal ones, that will additionally help station staff identify the coach from which the distress call was made," says Singh.
With Phase III moving from a largely broad-gauge network to standard gauge, the new coaches will be broader — from 2.9 metres to 3.2 metres. Platforms that were roughly 2.5-3 metres wide will be extended to 3.5 metres and, with the installation of platform screen doors on Line 7 and 8, passengers can queue up closer to the edge of the platform without worrying about falling onto the tracks. The screens will also bring down instances of suicides on tracks and rule out the possibility of passengers getting caught between the closing doors.
"But it is time we point out a very pertinent fact. The incidence of sureshot death in case of suicides on Metro tracks is very low. More victims are maimed than killed. This year, from January to August, of the 27 passengers who fell or jumped on Metro tracks, 11 died while the remaining 16 were grievously injured but saved due to timely application of emergency brakes," Singh said.
So what will all this — the technology, the enhancements — add up to in numbers? By 2017-end, when the 380-km network branches out into 253 stations across the capital, the current ridership is expected to touch 40-45 lakh passengers per day.